Calvinist Standard Version (CSV)
David Cloud, Way of Life Literature, P.O. Box 610368, Port Huron, MI 48061
866-295-4143,
fbns@wayoflife.org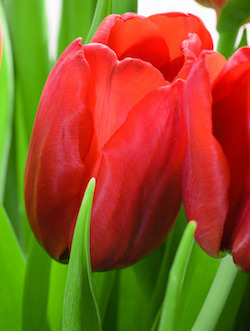 A
ccording to Calvinist TULIP theology, God unconditionally and "sovereignly" elects who will be saved, and this election has nothing to do with anything the sinner does, including exercising faith in the gospel.


Consider the words of the Westminster Confession: "By the decree of God, for the manifestation of his glory, some men and angels are predestined unto everlasting life and others foreordained to everlasting death. These angels and men, thus predestinated and foreordained, are particularly and unchangeably designed; and their number is so certain and definite that it cannot be either increased or diminished. ... The rest of mankind, God was pleased, according to the unsearchable counsel of his own will, whereby he extendeth or withholdeth mercy as he pleaseth, for the glory of his sovereign power over his creatures, to pass by, and to ordain them to dishonor and wrath for their sin, to the praise of his glorious justice."

John Calvin expressed the doctrine of unconditional election in these words: "Predestination we call the decree of God, by which He has determined in Himself, what He would have to become of every individual of mankind. For they are not all created with a similar destiny: but eternal life is foreordained for some, and eternal damnation for others" (
Institutes of the Christian Religion
, Book III, chap. 21).

Calvin emphasized his belief in sovereign reprobation as follows: "[God] devotes to destruction whom he pleases … they are predestinated to eternal death without any demerit of their own, merely by his sovereign will. … he orders all things by his counsel and decree in such a manner, that some men are born devoted from the womb to certain death, that his name be glorified in their destruction. ... God chooses whom he will as his children … while he rejects and reprobates others" (
Institutes of the Christian Religion
, Book III, chap. 23).

In light of this theology, we believe it is fair to say that a Calvinist Standard Version would read as follows:

Psalm 78:41 - Yea, they turned back and tempted God, and tried to limit the Holy One of Israel, though we know that this is not possible.

Isaiah 45:22 - Look unto me, and be ye saved, mine elect in all the ends of the earth: for I
am
God, and
there is
none else.

Isaiah 53:6 - All we like sheep have gone astray; we have turned every one to his own way; and the LORD hath laid on him the iniquity of the elect.

Isaiah 55:1-3 - Ho, every one that thirsteth among mine elect, come ye to the waters, and he that hath no money; come ye, buy, and eat; yea, come, buy wine and milk without money and without price. Wherefore do ye spend money for
that which is
not bread? and your labour for
that which
satisfieth not? hearken diligently unto me, and eat ye
that which is
good, and let your soul delight itself in fatness. Incline your ear, and come unto me: hear, and your soul shall live; and I will make an everlasting covenant with you,
even
the sure mercies of David.

Matthew 11:28 - Come unto me, all
ye
elect that labour and are heavy laden, and I will give you rest.

Matthew 23:37 - O Jerusalem, Jerusalem,
thou
that killest the prophets, and stonest them which are sent unto thee, how often would I have gathered thy children together, even as a hen gathereth her chickens under
her
wings, but ye were not mine elect.

Mark 16:15-16 - And he said unto them, Go ye into all the world, and preach the gospel to every creature. He that believeth of the elect and is baptized shall be saved; but he that believeth not shall be damned, knowing that they are not the elect.

John 1:11-12 - He came unto his own, and his own received him not. But as many of the elect as received him, to them gave he power to become the sons of God,
even
to them that believe on his name:

John 3:14-16 - And as Moses lifted up the serpent in the wilderness, even so must the Son of man be lifted up: That whosoever of the elect believeth in him should not perish, but have eternal life. For God so loved some of the world, that he gave his only begotten Son, that whosoever of the elect who believeth in him should not perish, but have everlasting life.

John 12:46 - I am come a light into the world, that whosoever believeth on me of the elect should not abide in darkness.

John 12:32-33 - And I, if I be lifted up from the earth, will draw some
men
unto me. This he said, signifying what death he should die.

Acts 10:43 - To him give all the prophets witness, that through his name whosoever believeth in him of the elect shall receive remission of sins.

Romans 9:33 - As it is written, Behold, I lay in Sion a stumblingstone and rock of offence: and whosoever believeth on him of the elect shall not be ashamed.

Romans 10:11 - For the scripture saith, Whosoever believeth on him of the elect shall not be ashamed.

Romans 10:13 - For whosoever of the elect shall call upon the name of the Lord shall be saved.

Romans 10:21 - But to Israel he saith, All day long I would have stretched forth my hands unto a disobedient and gainsaying people had you been of mine elect.

Romans 11:32 - For God hath concluded them all in unbelief, that he might have mercy upon some.

1 Corinthians 10:33 - Even as I please all
men
in all
things
, not seeking mine own profit, but the
profit
of many, that the elect may be saved.

2 Corinthians 5:18-19 - And all things
are
of God, who hath reconciled us to himself by Jesus Christ, and hath given to us the ministry of reconciliation; To wit, that God was in Christ, reconciling the world of the elect unto himself, not imputing their trespasses unto them; and hath committed unto us the word of reconciliation.

1 Timothy 1:15 - This
is
a faithful saying, and worthy of all acceptation, that Christ Jesus came into the world to save some sinners; of whom I am chief.

1 Timothy 2:3-8 - For this
is
good and acceptable in the sight of God our Saviour; Who will have some men to be saved, and to come unto the knowledge of the truth. For
there is
one God, and one mediator between God and men, the man Christ Jesus. Who gave himself a ransom for some, to be testified in due time.

Hebrews 2:9 - But we see Jesus, who was made a little lower than the angels for the suffering of death, crowned with glory and honour; that he by the grace of God should taste death for some men.

2 Peter 3:9 - The Lord is not slack concerning his promise, as some men count slackness; but is longsuffering to us-ward, not willing that any of the elect should perish, but that all should come to repentance.

1 John 2:2 - And he is the propitiation for our sins: and for ours only, but not for
the sins of
the whole world.

Revelation 22:17 - And the Spirit and the bride say, Come. And let him that heareth say, Come. And let him that is athirst come. And whosoever will of the elect, let him take the water of life freely.


- Receive these reports by email
- www.wayoflife.org

______________________


Sharing Policy: Much of our material is available for free, such as the hundreds of articles at the Way of Life web site. Other items we sell to help fund our expensive literature and foreign church planting ministries. Way of Life's content falls into two categories: sharable and non-sharable. Things that we encourage you to share include the audio sermons, O Timothy magazine, FBIS articles, and the free eVideos and free eBooks. You are welcome to make copies of these at your own expense and share them with friends and family, but they cannot be posted to web sites. You are also welcome to use excerpts from the articles in your writings, in sermons, in church bulletins, etc. All we ask is that you give proper credit. Things we do not want copied and distributed freely are items like the Fundamental Baptist Digital Library, print editions of our books, electronic editions of the books that we sell, the videos that we sell, etc. The items have taken years to produce at enormous expense in time and money, and we use the income from sales to help fund the ministry. We trust that your Christian honesty will preserve the integrity of this policy. "For the scripture saith, Thou shalt not muzzle the ox that treadeth out the corn. And, The labourer is worthy of his reward" (1 Timothy 5:18).
Goal:Distributed by Way of Life Literature Inc., the Fundamental Baptist Information Service is an e-mail posting for Bible-believing Christians. Established in 1974, Way of Life Literature is a fundamental Baptist preaching and publishing ministry based in Bethel Baptist Church, London, Ontario, of which Wilbert Unger is the founding Pastor. Brother Cloud lives in South Asia where he has been a church planting missionary since 1979. Our primary goal with the FBIS is to provide material to assist preachers in the edification and protection of the churches.

Offering: We take up a quarterly offering to fund this ministry, and those who use the materials are expected to participate (Galatians 6:6) if they can. We do not solicit funds from those who do not agree with our preaching and who are not helped by these publications. We seek offerings only from those who are helped. OFFERINGS can be mailed or made online with with Visa, Mastercard, Discover, or Paypal. For information see: www.wayoflife.org/about/makeanoffering.html.
Publisher of Bible Study Materials