Updated March 16, 2015 (first published May 29, 2001)
David Cloud, Way of Life Literature, P.O. Box 610368, Port Huron, MI 48061
866-295-4143,
fbns@wayoflife.org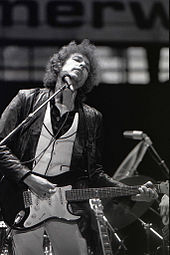 F
rom my "hippie" days, I well remember the heyday of rock legend Bob Dylan (birth name Robert Zimmerman). His hit song "The Times They Are A-Changin" appeared in 1964. I had started listening to rock music in the early 1960s and was consumed with it until I was saved in 1973.


Dylan, who was included on Time magazine's list 100 most important people of the twentieth century, helped to popularize the merging of folk and rock music. He was one of the chief poets of the '60s generation. His songs posed many questions, but he had no answers. In "Blowing in the Wind," he asked such things as, "How many roads must a man walk down before he is called a man?" What is the answer? "The answer, my friends, is blowing in the wind..." This means that he doesn't know the answer and he is not sure anyone knows the answer. Sadly, that is the philosophy of most of Dylan's fans because they have rejected the Bible as the Word of God.

Dylan's vast influence has been anything but godly. He lived out-of-wedlock with folk singer Joan Baez, and introduced the Beatles to marijuana (Peter Brown,
The Love You Make: An Insider's Story of the Beatles
). Dylan "went through some profound drug experiences during 1964-5, taking up Baudelair's formula for immortality: 'A poet makes himself a seer by a long prodigious and rational disordering of the senses.' He … tried just about everything he could to 'open his head' as biographer Tony Scaduto puts it" (Henry Shapiro,
Waiting for the Ma
n, p. 144). Many of Dylan's songs were about drugs, including "Lay Down Your Weary Tune," "Subterranean Homesick Blues," and "Mr. Tambourine Man."

Dylan's backup group, known simply as the Band, was formerly called Ronnie Hawkins and the Hawks. They "had a reputation for pill popping, whoring, and brawling that was second to none" (Robert Palmer,
Rock & Roll an Unruly History
, p. 3).

The cover to Dylan's
Desire
album (1976) depicts him smoking marijuana in one corner, a black magic tarot card in another corner, and a huge Buddha in a bottom corner. Next to Buddha are the words: "I have a brother or two and a whole lot of Karma to burn … Isis and the moon shine on me" (Muncy,
The Role of Rock
, p. 167). Isis, of course, is an ancient goddess.

In 1977, Dylan divorced Sara Lowndes, his wife of 12 years and the mother of his four children. In 1986, he married his backup singer Carolyn Dennis after they had a child out of wedlock. They divorced in 1992.

In 1978, Dylan attended a home Bible study with girlfriend Mary Alice. She had "re-dedicated her life to Christ" and was concerned that she was living with an unsaved man who was not her husband. She invited two assistant pastors from the Hollywood Vineyard Church (associated with the Vineyard Christian Fellowship under the leadership of the late John Wimber) to visit Dylan's home. Dylan's testimony was as follows: "One thing led to another ... until
I had this feeling, this vision and feeling
. I truly had a born-again experience, if you want to call it that. It's an over-used term, but it's something that people can relate to" (Steve Turner,
Hungry for Heaven
, p. 160, citing a November 1980 interview with Robert Hillburn of the
Los Angeles Times
).

From this testimony, we can see the influence of Vineyard theology, which focuses on experiential feelings, visions, voices, personal prophecies, healing, tongues, and such things. This was particularly true during the heyday of John Wimber's influence. (See "John Wimber" in the
Directory of Contemporary Christian Worship Musicians
, available as a free eBook from
www.wayoflife.org
.) The experience-oriented theology does not produce stability in the Christian life.

Dylan spent three and a half months at the Vineyard church's School of Discipleship, and his next three albums,
Slow Train Coming
(1979),
Saved
(1980), and
Shot of Love
(1981), were gospel albums of sorts.

Dylan did not attend church regularly and soon quit altogether. By the early 1980s, he repudiated his claim to the Christian faith and returned to his eclectic religious faith and rock & roll lifestyle.

The
Washington Post
, July 21, 1983, stated that Dylan believes in reincarnation and claims that "everyone is born knowing the truth."

An article in the
San Luis Obispo
(California)
Register
for March 16, 1983, quoted Dylan as saying: "Whoever said I was Christian? Like Gandhi, I'm Christian, I'm Jewish, I'm a Moslem, I'm a Hindu. I am a humanist."

In 1984, Dylan told Kurt Loder of
Rolling Stone
magazine: "I've never said I'm born again. That's just a media term. I don't think I've been an agnostic. I've always thought there's a superior power, that this is not the real world and that there's a world to come" (
Rolling Stone
, June 21, 1984; reprinted in
Dylan on Dylan: The Essential Interviews
, p. 288).

When asked by Loder if he belonged to any church, Dylan replied, "Not really; uh, the Church of the Poisoned mind."

In 1997, Dylan made the following statement to David Gates of
Newsweek
magazine:

"Here's the thing with me and the religious thing. This is the flat-out truth: I find the religiosity and philosophy in the music. I don't find it anywhere else. Songs like 'Let Me Rest on a Peaceful Mountain' or 'I Saw the Light'--that's my religion. I don't adhere to rabbis, preachers, evangelists, all of that. I've learned more from the songs than I've learned from any of this kind of entity. The songs are my lexicon. I believe the songs" (David Gates, "Dylan Revisited,"
Newsweek
, October 6, 1997).


Even rock historian Steve Turner, who has attempted to justify Dylan's apostasy, admits: "The womanizing and drunkenness that Dylan once saw as evidence of the old life have apparently continued almost uninterrupted" (Turner, "Watered Down Love,"
Christianity Today
, May 21, 2001).

In September 1997, Dylan performed before Pope John Paul II at a Roman Catholic youth festival in Bologna, Italy. A crowd of 300,000 young people attended the festival. The 56-year-old Dylan sang two songs directly to the Pope. Dylan then took off his cowboy hat and bowed before him. The Catholic organizer of the festival, Cardinal Ernesto Vecchi, said that he had invited Dylan because he is the "representative of the best type of rock" and "he has a spiritual nature." The Associated Press exclaimed, "It's the stuff of which legends are made: the rebel who's been knock, knock, knocking on heaven's door meeting the man with the keys to the kingdom."

Dylan has dabbled in Lubavitch Hasidism, an ultra-orthodox form of Judaism, suggesting that he was exploring his Jewish roots. "Bob Dylan, the Midwestern Jew who drifted away from Judaism while pursuing his career as singer and songwriter, appeared at synagogue prayers on the Yom Kippur Day of Atonement and was honored with a call to the reading of the Torah, according to Shmais.com. He attended the Chabad synagogue of Beth Tfiloh in Atlanta, Georgia. The crowd of 900 other worshippers quickly identified the 66-year-old Dylan, whose original name is Robert Zimmerman. He was called to the sixth of seven parts of the Torah reading and remained for the sermon and the memorial service of Yizkor" ("Day of Atonement Draws Dylan to the Torah,"
Arutz Sheva
, Israel National News, Sept. 24, 2007).

In a 2015 interview with
AARP
magazine, Dylan praised Billy Graham. He said:

"Billy Graham was the greatest preacher and evangelist of my time--that guy could save souls and did. I went to two or three of his rallies in the '50s or '60s. This guy was like rock 'n' roll personified--volatile, explosive. He had the hair, the tone, the elocution--when he spoke, he brought the storm down. Clouds parted. Souls got saved, sometimes 30- or 40,000 of them. If you ever went to a Billy Graham rally back then, you were changed forever. There's never been a preacher like him. He could fill football stadiums before anybody. ... Long before Mick Jagger sang his first note or Bruce strapped on his first guitar--that's some of the part of rock 'n' roll that I retained. I had to. I saw Billy Graham in the flesh and heard him loud and clear" ("Looking Deeper into Dylan,"
AARP
the magazine, Feb.-Mar. 2015).

This is a strange statement. Dylan was changed forever in the 1950s and 1960s by Graham's preaching? Dylan, the drug user who taught the 1960s generation that there are no answers to life's mysteries (e.g., "Blowin' in the Wind"), who included Tarot cards and Buddhas on his album covers, who made a profession of faith in Christ in the 1980s only to repudiate it?

Actually, Bob Dylan well represents a large percentage of Billy Graham's converts. Multitudes of people professed faith in Christ, but biblical evidence of the new birth was rare. Graham helped Christianize America, but it was a house built on sand.


A Bargain with the Devil?


In an interview with Ed Bradley, aired on
60 Minutes
, June 26, 2005, the 63-year-old rock singer said that his early songs were "almost magically written … kind of a penetrating magic." He also said that he made a bargain with the devil.

Question: Why do you still do it? Why are you still out here?

Dylan: It goes back to that destiny thing. I made a bargain with it a long time ago, and I'm holding up my end.

Q: What was your bargain?

Dylan: To get where I am now.

Q: Should I ask whom you made the bargain with?

Dylan: With the chief commander.

Q: On this earth?

Dylan: (laughing) On this earth and the world we can't see.

It could be argued that Dylan was referring to a bargain he made with God, but that makes no sense. As Brian Snider wrote to me on this matter: "Who makes a bargain with God to be a rock star? Everyone knows you make that deal with the devil. Down at the crossroads."

This refers to the old blues concept of selling one's soul to the devil, something that Robert Johnson and others have sung about.

A bargain with the devil would explain Dylan's strange life.


- Receive these reports by email
- www.wayoflife.org

______________________


Sharing Policy: Much of our material is available for free, such as the hundreds of articles at the Way of Life web site. Other items we sell to help fund our expensive literature and foreign church planting ministries. Way of Life's content falls into two categories: sharable and non-sharable. Things that we encourage you to share include the audio sermons, O Timothy magazine, FBIS articles, and the free eVideos and free eBooks. You are welcome to make copies of these at your own expense and share them with friends and family. You may also post parts of reports and/or entire reports to websites, blogs, etc as long as you give proper credit (citation). A link to the original report is very much appreciated as the reports are frequently updated and/or expanded. Things we do not want copied and distributed are "Store" items like the Fundamental Baptist Digital Library, print editions of our books, electronic editions of the books that we sell, the videos that we sell, etc. The items have taken years to produce at enormous expense in time and money, and we use the income from sales to help fund the ministry. We trust that your Christian honesty will preserve the integrity of this policy. "For the scripture saith, Thou shalt not muzzle the ox that treadeth out the corn. And, The labourer is worthy of his reward" (1 Timothy 5:18). Questions? support@wayoflife.org
Goal:Distributed by Way of Life Literature Inc., the Fundamental Baptist Information Service is an e-mail posting for Bible-believing Christians. Established in 1974, Way of Life Literature is a fundamental Baptist preaching and publishing ministry based in Bethel Baptist Church, London, Ontario, of which Wilbert Unger is the founding Pastor. Brother Cloud lives in South Asia where he has been a church planting missionary since 1979. Our primary goal with the FBIS is to provide material to assist preachers in the edification and protection of the churches.

Offering: Offerings are welcome if you care to make one. If you have been helped and/or blessed by our material offerings can be mailed or made online with with Visa, Mastercard, Discover, or Paypal. For information see: www.wayoflife.org/about/makeanoffering.html.
Publisher of Bible Study Materials
Publisher of Bible Study Materials