Beware of Bethel Church and Bethel Music
David Cloud, Way of Life Literature, P.O. Box 610368, Port Huron, MI 48061
866-295-4143,
fbns@wayoflife.org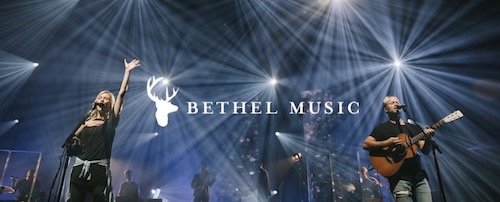 B
ethel Church
is a former Assemblies of God church in Redding, California, that withdrew in 2005 to become a "nondenominational" charismatic network of churches and ministries. Bethel's senior pastors are the husband/wife team Bill and Beni Johnson.

Bethel Music publishes popular contemporary worship songs, promotes CCM tours worldwide, and operates WorshipU, an influential educational program. Bethel's most famous musician is Jeremy Riddle, co-author of "This Is Amazing Grace." The heretical emphasis is "encountering God" and "pursuing the presence of God" by means of releasing oneself to heavily sensual music. "At every service, our worship teams usher in the presence of God."

Bethel's series "Without Words" uses instrumental music "to push the creative boundaries of worship." There are no lyrics. Bethel's "dance and flag ministry" also "reveals God's heart with no words." This is blind, emotional mysticism to feed the modern frenzy for "an experience." It is open disobedience to the Bible's command to "be sober, be vigilant" and is a perfect recipe for spiritual delusion. True spiritual edification requires a biblical message that is understood. This is the theme of 1 Corinthians 14, where "edify" is a synonym for "understanding." "... except ye utter by the tongue words easy to be understood, how shall it be known what is spoken? for ye shall speak into the air. ... I will sing with the spirit, and I will sing with the understanding also. ... Let all things be done unto edifying" (1 Corinthians 14:9, 15, 26).

Bethel Church also founded Jesus Culture, a contemporary, charismatic, ecumenical, music-oriented youth ministry that has its own Jesus Culture Music. Jesus culture's conferences are attended by tens of thousands.

Bethel's School of Supernatural Ministry has graduated 10,000 since 1998. "Students learn how to read, understand, and 'do' the Bible, how to practice His presence, to witness, heal the sick, prophesy, preach, pray, cast out demons and much more."

Bethel teaches and practices all sorts of charismatic heresies, such as the continuation of apostles and prophets, gibberish tongues, the promise of healing in the atonement, angelic and demon sightings, clairvoyance, grave soaking (lying on a grave to soak up the deceased's "anointing"), and the appearance of "glory clouds," gold dust, and angel "feathers."

Bill Johnson claims that without signs and wonders miracles you won't have the true gospel (www.youtube.com/watch?v=9cSTJiInc74).

Beni Johnson teaches that there are a variety of angels: messenger angels, healing angels, fiery angels." She says that one of her students in the Supernatural School of Ministry was told by God to go to a chapel and shout "Wakey Wakey!" Suddenly, a "huge angel" stepped out and said, "I am the angel from the 1904 revival and you just woke me up." When she asked, "Why have you been asleep?" the angel replied, "Because no one has been calling out for revival anymore."

Following is an eyewitness report of a visit to Bethel Church in 2017. It is excerpted from "Getting Wasted with the Holy Spirit at Bethel Redding," www.spiritoferror.org: "When I recently attended the Firestarters adult Sunday School class at Bethel Church in Redding, California, I was shocked by the teacher's announcement at the start of the class. 'There are only three rules in this class. Rule 1: Get drunk. Rule 2: Stay drunk. Rule 3: Get other people drunk.' Those are not exactly words you expect to hear at a church. Yet the encouragement to 'get drunk' was a theme that ran through the entire two-hour class. 'Let's get drunk. Let's enjoy ourselves,' the teacher said. He also told the students, who were standing at the time, to hold out their hands in the air in front of their bodies to form the outline of imaginary, huge bottles of 'heavenly wine,' then pretend to chug from them. Many of the students responded gleefully to the teacher's directions. They acted as if they were actually drunk--laughing uncontrollably, staggering, and some even falling down. One middle-aged woman, at a table near mine, lay back in her chair, as if passed out, for much of the class. At a point later during the class--between the testimony sharing time and instruction on learning to prophesy--the teacher sensed it was time for another drink. He told the students, who were now seated, 'Pick up a pitcher off the table and drink it down'--to which many laughed again, and dutifully responded by forming more 'air pitchers' with their hands and pretending to drink from them. Participants in the class would describe their actions as 'drinking from the Holy Spirit'--as would other participants in the New Apostolic Reformation."

On Nov. 6, 2019, Bill Johnson tweeted, "To raise a generation of powerful people, we must build trust. We must have the core belief that people are good." In contrast, Jesus' core belief is that "there is none good but one, that is, God" (Mark 10:18).

In December 2019, Bethel Church prayed for a week for the resurrection of a two-year-old girl named Olive, who was pronounced dead on December 14. She was the daughter of Kalley Helligenthal, a singer and songwriter for Bethel Music. The church held contemporary worship prayer services daily in expectation of a resurrection. On its Facebook page, the church stated, "When you are a friend of God and know that He is your heavenly Father, you trust Him and ask for big, outlandish miracles." Bill Johnson, instead of giving these people biblical counsel, lent his support to the misguided effort, saying, "We have a biblical precedent: Jesus raised the dead. Jesus raised the dead--not only that, he introduced himself as the resurrection and the life. In fact, in John 11:40, he says: 'If you believe, you will see the glory of God.'" Yes, Jesus raised the dead. He did that as the a sign of promised Messiah. See John 5:36; 10:37-38; 14:11; 15:24; 20:30-31. And the apostles raised the dead (Ac. 9:36-42). They did that as a sign of an apostle (2 Co. 12:12). But there is
zero
support from God's Word rightly divided for churches today to pray for bodily resurrections. Born again saints are waiting for the resurrection by faith. "And not only
they,
but ourselves also, which have the firstfruits of the Spirit, even we ourselves groan within ourselves, waiting for the adoption,
to wit,
the redemption of our body" (Ro. 8:23). Johnson ripped John 11:40 out of the context of Lazarus's resurrection by Jesus Christ Himself as a sign of the Messiah. This type of thing brings great reproach upon the name of Christ. Many secular newspapers and online forums picked the story, and doubtless a great many saw it as another example of the foolishness and powerlessness of "Christianity," when in reality it is another example of the bankruptcy and confusion of
false
Christianity, which the Bible warns of. "But what I do, that I will do, that I may cut off occasion from them which desire occasion; that wherein they glory, they may be found even as we. For such
are
false apostles, deceitful workers, transforming themselves into the apostles of Christ. And no marvel; for Satan himself is transformed into an angel of light. Therefore
it is
no great thing if his ministers also be transformed as the ministers of righteousness; whose end shall be according to their works" (2 Co. 11:12-15).

Bethel and Hillsong are associated. Bill Johnson and Brian Houston (senior pastor of Hillsong Church in Sydney, Australia) spoke at the Open Heavens conference in Redding, California, in October 2016.


- Receive these reports by email
- www.wayoflife.org

______________________


Sharing Policy: Much of our material is available for free, such as the hundreds of articles at the Way of Life web site. Other items we sell to help fund our expensive literature and foreign church planting ministries. Way of Life's content falls into two categories: sharable and non-sharable. Things that we encourage you to share include the audio sermons, O Timothy magazine, FBIS articles, and the free eVideos and free eBooks. You are welcome to make copies of these at your own expense and share them with friends and family. You may also post parts of reports and/or entire reports to websites, blogs, etc as long as you give proper credit (citation). A link to the original report is very much appreciated as the reports are frequently updated and/or expanded. Things we do not want copied and distributed are "Store" items like the Fundamental Baptist Digital Library, print editions of our books, electronic editions of the books that we sell, the videos that we sell, etc. The items have taken years to produce at enormous expense in time and money, and we use the income from sales to help fund the ministry. We trust that your Christian honesty will preserve the integrity of this policy. "For the scripture saith, Thou shalt not muzzle the ox that treadeth out the corn. And, The labourer is worthy of his reward" (1 Timothy 5:18). Questions? support@wayoflife.org
Goal:Distributed by Way of Life Literature Inc., the Fundamental Baptist Information Service is an e-mail posting for Bible-believing Christians. Established in 1974, Way of Life Literature is a fundamental Baptist preaching and publishing ministry based in Bethel Baptist Church, London, Ontario, of which Wilbert Unger is the founding Pastor. Brother Cloud lives in South Asia where he has been a church planting missionary since 1979. Our primary goal with the FBIS is to provide material to assist preachers in the edification and protection of the churches.

Offering: Offerings are welcome if you care to make one. If you have been helped and/or blessed by our material offerings can be mailed or made online with with Visa, Mastercard, Discover, or Paypal. For information see: www.wayoflife.org/about/makeanoffering.html.
Publisher of Bible Study Materials
Publisher of Bible Study Materials