History of the King James Bible
by David W. Cloud

This Bible Conference was held in Singapore in recognition of the 400th anniversary of the publication of the King James Bible.

The messages cover John Wycliffe, William Tyndale and the King James translators. 2.5 hours on one DVD.

This set comes on one DVD. The download set consists of 3 individual .mp4 video files.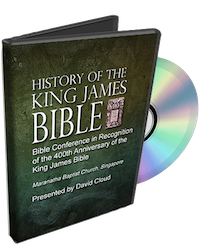 Publisher of Bible Study Materials