Sowing & Reaping: A Course in Evangelism
by David W. Cloud,

Formats: Softcover, eBook
This course is unique in several ways. It is unique in its approach. While it is practical and down-to-earth, it does not present a formulaic approach to soul winning, recognizing that individuals have to be dealt with as individuals. The course does not include any sort of psychological manipulation techniques. It does not neglect repentance in soul winning, carefully explaining the biblical definition of repentance and the place of repentance in personal evangelism. It explains how to use the law of God to plow the soil of the human heart so that the gospel can find good ground.

The course is unique in its objective. The objective of biblical soul winning is not to get people to "pray a sinner's prayer"; the objective is to see people soundly converted to Christ. This course trains the soul winner to pursue genuine conversions as opposed to mere "decisions." The course is also unique in its breadth. It covers a wide variety of situations, including how to deal with Hindus and with skeptics and how to use apologetics or evidences in evangelism. There is a memory course consisting of 111 select verses and links to a large number of resources that can be used in evangelism, many of them free. The course is suitable for teens and adults and for use in Sunday School, Youth Ministries, Preaching, and private study.

OUTLINE: The Message of Evangelism, Repentance and Evangelism, God's Law and Evangelism, The Reason for Evangelism, The Authority for Evangelism, The Power for Evangelism, The Attitude in Evangelism, The Technique of Evangelism, Using Tracts in Evangelism, Dealing with Skeptics. Pastor Roger Voegtlin, Fairhhaven Baptist College, writes: "Your book Sowing and Reaping is excellent. I recommend it strongly. Our staff and many of our graduates use your materials regularly and, I'm sure, will find this especially helpful. The book is thorough as your materials always are and will be a help to sincere soul winners."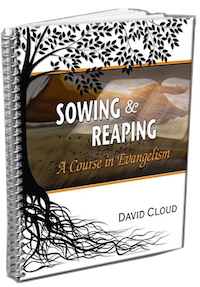 Book: Spiral Bound, 8.5 x 11 in.
eBook: PDF, mobi (Kindle), and ePub formats. Select eBook format in cart.
or call... 1-866-295-4143 (toll free: USA & Canada) all other Int'l calls: 1-519-652-2619
Publisher of Bible Study Materials
Publisher of Bible Study Materials
If you live in Canada -
For your order to be charged in Canadian funds and to ship within Canada, please place your order by phone. Call toll free 1-866-295-4143.
Note that all cart orders process in US dollars and ship from the USA.

_________

CART TERMS
(if you use the cart)
- Prices shown are US Funds
- Items ship from Port Huron, MI. USA.
- Cart accepts Visa, Master Card, Discover, AmEx, PayPal.
- Shipping is real time USPS lookup base on weight.
- International customers: Call or use cart.
- No refunds. Defective material will be replaced.


SHIPPING

- Orders typically ship in 3-4 days.
- Your order will typically arrive in 2-3 weeks.


DOWNLOADS
- Customer is responsible for backups.
- We cannot guarantee file replacement.