Publisher of Bible Study Materials
Publisher of Bible Study Materials
Things Hard to Be Understood
by David W. Cloud,
6th edition, 2014, 441 pgs

Formats: Softcover, eBook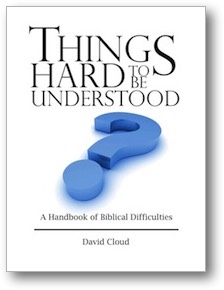 T
his very practical volume deals with a variety of biblical difficulties. Find the answer to the seeming contradictions in the Bible. Meet the challenge of false teachers who misuse biblical passages to prove their doctrine.


Find out the meaning of difficult passages that are oftentimes overlooked in the Bible commentaries. Be confirmed in your confidence in the inerrancy and perfection of the Scriptures. Learn the meaning of difficult expressions such as "the unpardonable sin." One unique feature of this volume is that it contains no criticism of the King James Bible. We don't believe that it has any errors and we do not believe that any correction of it is necessary to solve the alleged contradictions and other difficulties.

Another thing that sets this volume apart from others on this topic is its practical nature and the fact that it is written from a fundamentalist, Bible-believing Baptist viewpoint. Our objective is to help protect God's people from the false teachers that abound in these last days. They raise nagging questions and doubts by misusing passages of Scripture to support their specious doctrines. They take Scripture out of context and otherwise abuse it, and we have dealt with many examples of this.

For example, we examine verses misused by Seventh-day Adventists to support their doctrines of soul sleep and annihilation, verses misused by the Roman Catholic Church to support its doctrines of Mary and the Papacy and purgatory, verses misused by ecumenists and to justify their unscriptural goals (i.e., Mat. 7:1; Mk. 9:38-40; Jn. 13:35; 17:21; Acts 5:38-39; Rom. 14:4; 1 Cor. 4:5; 6:12-13; Eph. 4:3-6; and Jam. 4:11), verses misused to support infant baptism and baptismal regeneration (i.e., Mk. 16:6-17; Jn. 3:5; Acts 2:38; 22:16; Rom. 6:3-4; 1 Cor. 1:16; Titus 3:5; 1 Pet. 3:21), verses misused to support Calvinism (i.e., Jn. 6:37-40; 6:44; Acts 13:46-48; Rom. 8:29; 9:13-33; 11:19-32), and verses misused by those who deny the doctrine of eternal security.

We deal with things such as the blasphemy against the Holy Spirit, cremation, hair coverings, the first shall be last, did Jesus die on Friday, God forbid, God's repentance, healing in the atonement, judging, the letter of the law, Melchizedek, self defense, sinless perfectionism, soul sleep, and the Trinity. Jerry Huffman, editor of Calvary Contender, testified: "You don't have to agree with everything to greatly benefit from this helpful book."
Book: Softcover, 6th edition, 2014, 441 pages, 7x8.5 in.
eBook: PDF, mobi (Kindle), and ePub formats. Select eBook format in cart.
or call... 1-866-295-4143 (toll free: USA & Canada) all other Int'l calls: 1-519-652-2619
If you live in Canada -
For your order to be charged in Canadian funds and to ship within Canada, please place your order by phone. Call toll free 1-866-295-4143.
Note that all cart orders process in US dollars and ship from the USA.

_________

CART TERMS
(if you use the cart)
- Prices shown are US Funds
- Items ship from Port Huron, MI. USA.
- Cart accepts Visa, Master Card, Discover, AmEx, PayPal.
- Shipping is real time USPS lookup base on weight.
- International customers: Call or use cart.
- No refunds. Defective material will be replaced.


SHIPPING

- Orders typically ship in 3-4 days.
- Your order will typically arrive in 2-3 weeks.


DOWNLOADS
- Customer is responsible for backups.
- We cannot guarantee file replacement.