B
OOK
- B
ible Course available.
Repentance & Soul Winning
by David W. Cloud
6th Edition, 185 pgs, April 2022
Formats: Softcover, eBook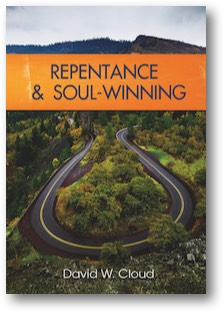 T
his is an in-depth study on biblical repentance and a timely warning about unscriptural methods of presenting the gospel. The opening chapter, entitled "Fundamental Baptists and Quick Prayerism" traces the change in the doctrine of repentance among fundamental Baptists during the past 50 years.

Three is an extensive study on biblical repentance and includes what repentance is not, a study of every Bible passage dealing with repentance, repentance defined by preachers of old, illustrations of repentance, and God's repentance.

A new chapter in the book is titled "Rejecting "Quick Prayerism" but Still Practicing It."

Chapter Three looks at four "Unscriptural Presentations of Repentance": (1) An Easy Prayerism Presentation: Failing to deal plainly with repentance. (2) An Insufficient Presentation: Failing to define the terms of the Gospel so the hearers plainly understand, and failing to contrast the true Gospel with false gospels. (3) A Positive Presentation: Failing to lay a proper foundation of the holiness of God and the sinfulness of man. (4) A Need-Oriented Presentation: Failing to make a distinction between genuine salvation and mere reformation and ritual.

A Chapter entitled "Does Salvation Make a Difference," demonstrating that profession without a corresponding change of life is not biblical salvation. Another Chapter, "Pentecost vs. Hylescost," contrasts Jack Hyles evangelistic methodology with the Bible.

A chapter on "Questions Answered" answers questions that commonly arise pertaining to this subject, including "Are you preaching lordship salvation?" and "Isn't your definition of repentance a works salvation?"
Course materials are available for this title.
Course consists of:

- Textbook - Syllabus
- Review Questions - Tests, Answer Keys
- Grading Sheet
Learn More:
Review the course Syllabus by clicking the link at left. Read the
FAQ
.
Book: Softcover, Sixth edition April 2022, 185 pages, 5.5x8.5 in.
eBook: PDF file (Identical to book in page size and page layout.)
or call... 1-866-295-4143 (toll free: USA & Canada) all other Int'l calls: 1-519-652-2619
If you live in Canada -
For your order to be charged in Canadian funds and to ship within Canada, please place your order by phone. Call toll free 1-866-295-4143.
Note that all cart orders process in US dollars and ship from the USA.

_________

CART TERMS
(if you use the cart)
- Prices shown are US Funds
- Items ship from Port Huron, MI. USA.
- Cart accepts Visa, Master Card, Discover, AmEx, PayPal.
- Shipping is real time USPS lookup base on weight.
- International customers: Call or use cart.
- No refunds. Defective material will be replaced.


SHIPPING

- Orders typically ship in 3-4 days.
- Your order will typically arrive in 2-3 weeks.


DOWNLOADS
- Customer is responsible for backups.
- We cannot guarantee file replacement.
Publisher of Bible Study Materials
Publisher of Bible Study Materials