Publisher of Bible Study Materials
Publisher of Bible Study Materials
The Joy of Digital SLR Photography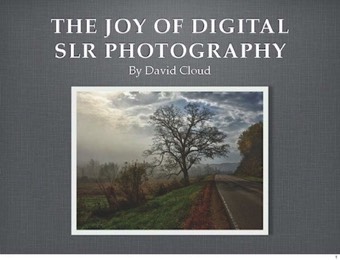 An advanced course on digital SLR (Single Lens Reflex) photography that covers many aspects of technique and technology, including megapixels, aperture, shutter speed, exposure, focus, ISO, flash, tripods, polarizer filters, photography basics, composition, HDR, and care of equipment.

The last section teaches the student how to analyze his or her photos in order to improve them. 525 pages, full color.


The book is only available in PDF digital format.

$24.95

-------
Please Note: Since the pages are all color we do not recommend this book for non-color devices such as the B&W Kindle. This book works well on "larger screen" portable devices such as the Kindle Fire and iPad. It works best with devices and apps that will display single landscape pages full screen. Though a large eBook, we found that the pdf worked well on Kindle for iPad. For other devices try an assortment of apps if available. The pdf also, of course, works great on computers (with appropriate reader software.)

The Joy of Digital SLR Photography
or call... 1-866-295-4143 (toll free: USA & Canada) all other Int'l calls: 1-519-652-2619
If you live in Canada -
For your order to be charged in Canadian funds and to ship within Canada, please place your order by phone. Call toll free 1-866-295-4143.
Note that all cart orders process in US dollars and ship from the USA.

_________

CART TERMS
(if you use the cart)
- Prices shown are US Funds
- Items ship from Port Huron, MI. USA.
- Cart accepts Visa, Master Card, Discover, AmEx, PayPal.
- Shipping is real time USPS lookup base on weight.
- International customers: Call or use cart.
- No refunds. Defective material will be replaced.


SHIPPING

- Orders typically ship in 3-4 days.
- Your order will typically arrive in 2-3 weeks.


DOWNLOADS
- Customer is responsible for backups.
- We cannot guarantee file replacement.