Publisher of Bible Study Materials
Publisher of Bible Study Materials
B
OOK
(Slide Images)
- B
ible Course available.
Introduction to Bible Geography
- Free PowerPoint Course
by David W. Cloud,
2022

Formats: Softcover, eBook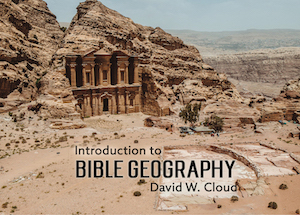 A PowerPoint/PDF Bible Geography Course
"

280 slides - PowerPoint (or Keynote) set.
51 page Student Edition PDF (51 page pdf of selected slides)
5 page Description/Review Questions PDF document.

The abbreviated 51 page PDF edition is intended for individual students to use in classrooms and for private study and easy reference. As the teacher goes through the PowerPoints, the students can have all of the major parts of the study before them in the PDF (using a smartphone, tablet, etc.) or in a printout of the student PDF.
Course materials available.
Can be used for Self study, Church Bible Classes, Sunday School, etc.
Course Download consists of:

- Syllabus - Review Questions
- Tests - Answer Keys - Grading Sheet

Course PowerPoint and Keynote Downloads
There is no book - This is a PowerPoint course.

Powerpoint Presentations
for Windows Users
Complete set (one zip file)
307.9 mb
Keynote Presentations
for Apple Users (Mac, iPad)
Complete set (one zip file)
318.4 mb
Publisher of Bible Study Materials
Publisher of Bible Study Materials