Publisher of Bible Study Materials
Publisher of Bible Study Materials
Introduction to Bible Geography
2nd Edition - Oct. 2021

A PowerPoint/PDF Bible Geography Course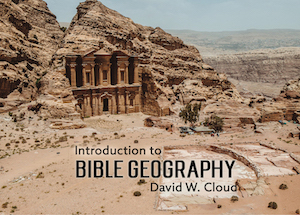 "Introduction to Bible Geography." - New 2nd Edition
290 slide Presenters edition PowerPoint (or Keynote)
51 page Student Edition PDF (51 page pdf of selected slides)
5 page Description/Review Questions PDF document.
2 page Final Test PDF document.
3 page Final Test w/Answers PDF document.

The abbreviated 51 page PDF edition is intended for individual students to use in classrooms and for private study and easy reference. As the teacher goes through the PowerPoints, the students can have all of the major parts of the study before them in the PDF (using a smartphone, tablet, etc.) or in a printout of the student PDF.
PowerPoint and Keynote Downloads
Presentations and PDF's in one zip file.

You should know how to handle and expand zip files on your device, especially if downloading to phone or tablet.
We recommend that you download to a desktop or laptop, unzip, check the files, then move to portable devices as needed.
We help as we can, but there are too many devices and apps in use today for us to advise you how to install and use these files for any particular instance.

Powerpoint Presentations
for Windows Users
Complete set (one zip file)
Keynote Presentations
for Apple Users (Mac, iPad)
Complete set (one zip file)
Publisher of Bible Study Materials
Publisher of Bible Study Materials