Publisher of Bible Study Materials
Publisher of Bible Study Materials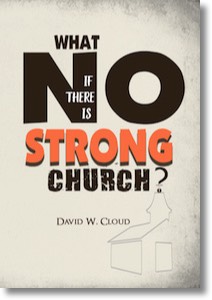 What if There Is No Strong Church?
This book addresses the situation in which many believers find themselves in that that there is no strong church in their area. We deal with the subject under nine headings: 1. Be sure that you understand the importance of the church. 2. Be careful that you are not looking for a perfect church. 3. Commute to a strong church. 4. Relocate to a place that has a strong church. 5. Attend the best church. 7. Seek to make the church stronger. 7. Be wise in dealing with pastors. 8. Give full attention to your own spiritual life. 9. In some cases, a new church can be established. The tips are very practical and deal with most situations that have come to our attention through the years. 58 pages
Softcover Edition available:
$4.99 Softcover Book, 58 pgs
---

Download Help Kindle Help eBook Info/Help

Please Read: After downloading you must add the mobi or epub file to the
library of your eReader (device) or reading app (tablet). Mobi files do not automatically
install onto the Kindle or Kindle app. You must "install it." See the Kindle help file above.
Because there are so many different devices and apps available for ebooks
it is up to you to know how use these files for your particular situation.