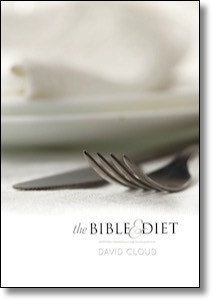 Dieting is a multi-billion dollar industry, and dietary fads are popular. There are even dietary plans that purport to be Bible-based. There is the Daniel Diet, the God Diet, the Maker's Diet, the Genesis Diet, the Edenic Diet, and others.

There are also a slew of "alternative health" regimens. Bible-believing saints seem to be nearly as susceptible as non-believers to the lure of such things as macrobiotics, chiropractic, and megavitamin programs.

As a Bible teacher, my objective is to teach what the Bible says and does not say about diet. I desire to warn about dietary plans that are based on teaching that is contrary to Scripture.

My purpose is not to set out the ideal diet or to answer every question about diet or to give medical advice. My intention is not to tell God's people what to eat; my desire is to help us think biblically about diet.

Click the blue buttons below to download this free eBook in the format of your choice. Note that Way of Life Literature retains distribution rights.


Softcover Edition available:
$4.99 Softcover Book, 88 pgs
---

Download Help Kindle Help eBook Info/Help

Please Read: After downloading you must add the mobi or epub file to the
library of your eReader (device) or reading app (tablet). Mobi files do not automatically
install onto the Kindle or Kindle app. You must "install it." See the Kindle help file above.
Because there are so many different devices and apps available for ebooks
it is up to you to know how use these files for your particular situation.