Publisher of Bible Study Materials
Publisher of Bible Study Materials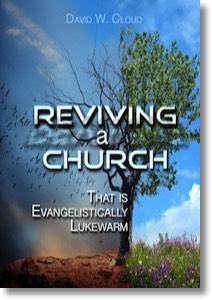 Reviving a Church that is Evangelistically Lukewarm
"I know thy works, that thou art neither cold nor hot: I would thou wert cold or hot. So then because thou art lukewarm, and neither cold nor hot, I will spue thee out of my mouth" (Jesus Christ, Revelation 3:15-16).

It is a sad but common thing for churches to grow lukewarm in their zeal to bring the unsaved to Jesus Christ.

Evangelism and prayer are perhaps two of the most difficult things to maintain in the Christian life, and the reason is that they involve spiritual warfare. Every time we engage in intercessory prayer and every time we share the gospel, we are engaging in warfare with God's avowed enemy, a fierce and determined foe who is called the "god of this world" and the "prince of the power of the air" (2 Cor. 4:4; Eph. 2:2).

We should not be surprised when we find a church in a spiritual decline, but we also should not be lethargic about it. Fruitful church life requires continual spiritual revival. This book will give you practical tips on your church can be evangelistically revived!
Softcover Edition - Clearance Priced - Limited Quantity
$2.00 Softcover Book, 27 pgs -
Clearance
Priced Item - Limited quantity