Publisher of Bible Study Materials
Publisher of Bible Study Materials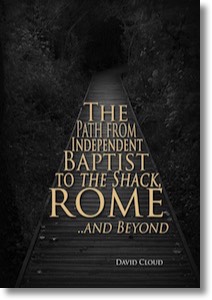 The Path from Independent Baptist to The Shack, Rome, and Beyond
In the past 20 years we have witnessed dramatic changes among independent Baptist churches. We examine some of the reasons why churches are changing and moving in the direction of the contemporary philosophy.

Chapter titles are as follows: The Danger of Soft Separatism, Heresies and High Places in Evangelicalism, The Path of Protection, Frightful Examples of Shipwrecks. 80 illustrations.
Softcover Edition - Clearance Priced - Limited Quantity
$4.00 Softcover Book, 90 pgs -
Clearance
Priced Item - Limited quantity
---

Download Help Kindle Help eBook Info/Help

Please Read: After downloading you must add the mobi or epub file to the
library of your eReader (device) or reading app (tablet). Mobi files do not automatically
install onto the Kindle or Kindle app. You must "install it." See the Kindle help file above.
Because there are so many different devices and apps available for ebooks
it is up to you to know how use these files for your particular situation.