Publisher of Bible Study Materials
Publisher of Bible Study Materials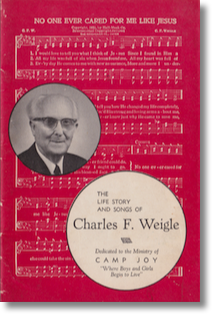 The Life Story and Songs of Charles F. Weigle
Here is the life story and music of Charles Weigle who wrote
"No One Ever Cared For Me Like Jesus"
as well as many other beloved hymns.

This book contains Charles Weigle's life story and the following songs:
• I Sing of Thee
• A Garden of Roses
• When I come to the Edge of Eternity
• There's a Light Now Shining On Me
• God Changeth Not
• Every Day for Jesus
• He Signed the Deed
• Lead Me, Dear Saviour
• A Miracle of Love
• Jesus Brought Heaven to Me
• Jesus Gave Her Water
• I'm Going to See Heaven Some Day
• There's Room In His Heart For All
• Down Deep In the Sea
• I Want to Live For Jesus
• Wondrous Grace Hath Blest My Soul
• I Have Found a Hiding-Place
• Oh, What Glory!
• I'm Goin gOn With Jesus
• Before They Die
• I Live in the Outskirts of Heaven


Note: This is a non-searchable pdf created from page scans. Some original pencil markings in the book were retained. This file is 4.2 mb.