Publisher of Bible Study Materials
Publisher of Bible Study Materials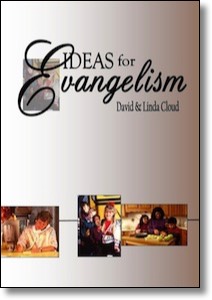 This book is packed with practical suggestions for evangelism. Following are some of the topics that are covered: The Importance of Pastoral Leadership, Training and Challenging the People, Discipleship, Standards for Church Workers, Training the Church to Be Visitor Conscious, The Church Services, Prayer, Sunday School, Vacation Bible School, Door-to-Door Visitation, New Move-ins, Religious Surveys, Advertising, Church Papers, Correspondence Courses, Adopt a Bus Kid, Testimony Gospel Tapes, Gospel Tracts, Telephone Calls, Christmas Plays, Targeting Special Community Events, Tragedy Outreach, Campus Ministry, Foreign Exchange Students, Immigrants, Foreign College Students, The Deaf, Ministry to Military Personnel, Creation Science, Evangelistic Bible Studies, Tent Meetings.
Softcover Edition available:
$9.49 Softcover Book, 233 pgs
---

Download Help Kindle Help eBook Info/Help

Please Read: After downloading you must add the mobi or epub file to the
library of your eReader (device) or reading app (tablet). Mobi files do not automatically
install onto the Kindle or Kindle app. You must "install it." See the Kindle help file above.
Because there are so many different devices and apps available for ebooks
it is up to you to know how use these files for your particular situation.