Publisher of Bible Study Materials
Publisher of Bible Study Materials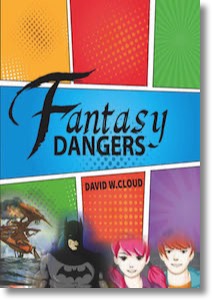 This is a loud warning in an age when individuals can connect 24/7 in the most private manner with any and every aspect of the pop culture, and there are a great many dark and perverted things with which one can fill the imagination. In fact, dark and perverted is an apt description of much of today's music, movies, television programs, video games, and novels.

Jesus warned about gaining the whole world while losing one's soul. "For what is a man profited, if he shall gain the whole world, and lose his own soul? or what shall a man give in exchange for his soul?" (Matthew 16:26).

What would He say about those who sell their souls for nothing but a figment of the imagination!
Softcover Edition available:
$3.99 Softcover Book, 33 pgs
---

Download Help Kindle Help eBook Info/Help

Please Read: After downloading you must add the mobi or epub file to the
library of your eReader (device) or reading app (tablet). Mobi files do not automatically
install onto the Kindle or Kindle app. You must "install it." See the Kindle help file above.
Because there are so many different devices and apps available for ebooks
it is up to you to know how use these files for your particular situation.