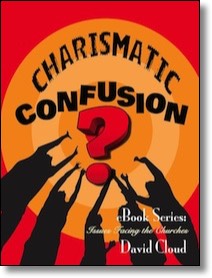 This book features eyewitness reports of three of the largest ecumenical charismatic conferences ever held in North America: New Orleans '87, Indianapolis '90, and St. Louis 2000.

The reports deal with things such as charismatic tongues, ecumenism, evangelicalism, spirit slaying, prophesying, kingdom building, rebuking the devil, fire baptism, spiritual warfare, divine healing, contemporary worship music, Roman Catholicism, Mariolatry, the Mass, and the gospel.

One chapter is on "The New Prophets."

Softcover Edition available:
$8.49 Softcover Book, 236 pgs
---

Download Help Kindle Help eBook Info/Help

Please Read: After downloading you must add the mobi or epub file to the
library of your eReader (device) or reading app (tablet). Mobi files do not automatically
install onto the Kindle or Kindle app. You must "install it." See the Kindle help file above.
Because there are so many different devices and apps available for ebooks
it is up to you to know how use these files for your particular situation.