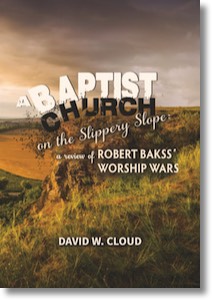 A Baptist Church on a Slippery Slope
A Review of Robert Bakss' Worship Wars
This is a review of
Worship Wars: What the Bible Says about Worship Music
(2015) by Robert Bakss, Pastor of Lighthouse Baptist Church, Rockhampton, Queensland, Australia.

Lighthouse is one of the largest and most influential Independent Baptist churches in Australia, with a Bible College, Christian School, magazine, and prominent presence on the web.

In forty-two years of ministry, Worship Wars is the most dangerous book I have read by an Independent Baptist pastor.

Worship Wars is a full-blown defense of Christian rock music and is an invitation to young people to experiment with the world's music. In this review we give 12 warnings against Bakss' book.
---

Download Help Kindle Help eBook Info/Help

Please Read: After downloading you must add the mobi or epub file to the
library of your eReader (device) or reading app (tablet). Mobi files do not automatically
install onto the Kindle or Kindle app. You must "install it." See the Kindle help file above.
Because there are so many different devices and apps available for ebooks
it is up to you to know how use these files for your particular situation.