Publisher of Bible Study Materials
Publisher of Bible Study Materials
Republished June 24, 2015 (first published Aug 15, 2012)
David Cloud, Way of Life Literature, P.O. Box 610368, Port Huron, MI 48061
866-295-4143,
fbns@wayoflife.org
The following is from the latest edition of the 400-page
Directory of Contemporary Worship Musicians
, which is available in print as well as a free eBook from the Way of Life web site -- www.wayoflife.org.

_____________________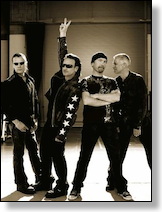 U2
was formed in 1978 and has been hugely successful. The band was selected as
Rolling Stone
magazine's Band of the Eighties and was still called "the biggest band in the world" in
Rolling Stone's
December 2004 issue. U2 front man Bono was
Time
magazine's Person of the Year in 2006.


But U2 is much more than a popular rock band. U2 has a great influence in the emerging church and the contemporary worship movement. U2's lead singer Bono is praised almost universally among contemporary and emerging Christians. Phil Johnson observes that "Bono seems to be the chief theologian of the Emerging Church Movement" (
Absolutely Not! Exposing the Post-modern Errors of the Emerging Church
, p. 9).


"Bono played a far more significant role on the formative years on those who became emergent than anyone else, from a human standpoint. Bono, in the 1980s, was, if not worshipped, then absolutely adored by millions of Christian youth who were hanging on his every word. They saw his cool kind of Christianity. He helped lead people into what eventually became the emerging church. Bono has led people into a version of Christianity that is so slippery, so undefinable, so liberal, yet he is considered the main icon of the emerging church" (Joseph Schimmel,
The Submerging Church
, DVD, 2012).


Eugene Peterson, author of
The Message
, says U2 has a prophetic voice to the world and says Bono is a prophet like John the Baptist (foreword to
Get Up Off Your Knees: Preaching the U2 Catalog
).

Brian Walsh believes that U2's lyrics should be used for seminary training and as commentaries alongside the Bible, and that U2's concerts should be studied to see "how worship really happens in a postmodern world" (
Get Up Off Your Knees
).

Mark Mulder has taught a U2 course at Calvin College, and he observes that the school shares Bono's view that the world will not be destroyed but will be renewed ("Calvin College on U2,"
Christianity Today
, Feb. 2005).

Brian McLaren and Tony Campolo say that Bono is moving the world toward the kingdom of God and increasing the kingdom of God in the here and now (McLaren and Campolo,
Adventures in Missing the Point
, 2003, pp. 50, 51).

Bill Hybels interviewed Bono at Willowcreek Community Church's Leadership Summit in 2006, and that interview has been shown in thousands of churches all over the world.

Rick Warren invited Bono to Saddleback Church to help launch his P.E.A.C.E. program.

Rob Bell testifies that the first time he really experienced God was at a U2 concert (
Velvet Elvis: Repainting the Christian Faith
, p. 72).

Emerging leader Steven Taylor calls Bono "a worship leader" and on his blog promotes "Seven Things I Learned from Bono about Worship Leading."


Christianity Today
almost worships U2. When Episcopalian ministers Raewynne Whiteley and Beth Maynard published "Get Up Off Your Knees: Preaching the U2 Catalog,"
Christianity Today
responded with a review entitled "The Legend of Bono Vox: Lessons Learned in the Church of U2."

In fact, U2 is not a church and rather is destitute of spiritual truth when judged biblically. That U2 is wildly popular with contemporary Christians is a fulfillment of the apostasy described in 2 Timothy:

"For the time will come when they will not endure sound doctrine; but after their own lusts shall they heap to themselves teachers, having itching ears; And they shall turn away their ears from the truth, and shall be turned unto fables" (2 Timothy 4:3-4).


U2's Early Christian Experience


In their teenage years, Paul Hewson ("Bono"), Dave Evans ("Edge"), and Larry Mullen visited a charismatic house church called Shalom and made professions of faith in Christ, but they have long since renounced any formal church affiliation.

U2 member Adam Clayton does not make any type of Christian profession, and in my opinion, he is the most honest of the four band members. At least he does not pretend to have faith in Christ while living a rock & roll lifestyle and denying the Bible's clear teachings.

Bono, Evans, and Mullen admit that they wrestled with quitting rock & roll when they began studying the Bible. They chose to stay with rock & roll and have been moving farther and farther away from the Bible ever since.

Of that early struggle Bono told a
Rolling Stones
magazine senior editor: "We were getting involved in reading books, the Big Book. Meeting people who were more interested in things spiritual, superspiritual characters that I can see now were possibly far too removed from reality. But we were wrapped up in that."

This idea of spiritually-minded Christians being "too far removed from reality" is a common smokescreen used by rebels to excuse their worldliness. The Bible says:


"If ye then be risen with Christ, seek those things which are above, where Christ sitteth on the right hand of God. Set your affection on things above, not on things on the earth. For ye are dead, and your life is hid with Christ in God. When Christ, who is our life, shall appear, then shall ye also appear with him in glory" (Colossians 3:1-4).


Bono mocks as "superspiritual" those who reject the things of this world to set their minds on heavenly things, but that is precisely what God wants His people to do.

U2 guitarist Dave Evans testified that he chose rock & roll over holiness:


"It was reconciling two things that seemed for us at that moment to be mutually exclusive. We never did resolve the contradictions. That's the truth. ... Because we were getting a lot of people in our ear saying, 'This is impossible, you guys are Christians, you can't be in a band. It's a contradiction and you have to go one way or the other.' They said a lot worse things than that as well. So I just wanted to find out. I was sick of people not really knowing and me not knowing whether this was right for me. So I took two weeks. Within a day or two I just knew that all this stuff [separating from the world] is ——- [vulgarity]. We were the band. Okay, it's a contradiction for some, but it's a contradiction that I'm able to live with. I just decided that I was going to live with it. I wasn't going to try to explain it because I can't" (Bill Flanagan,
U2 at the End of the World
, 1996, pp. 47, 48).


Note that Evans did not base his decision upon the Word of God. Contrary to Proverbs 3:5-6, he leans on his own understanding, and in accordance with 2 Timothy 4:3-4 he follows his own lusts.

In an interview with Joseph Schimmel, Chris Row of Shalom Fellowship, Bono's former pastor in Ireland, said that Bono, Evans, and Mullen chose rock & roll over the Bible. He said that when Bono flew him to Los Angeles to perform his marriage, he wasn't allowed to go backstage at a U2 concert because they didn't want him to see the things that went on there (Schimmel,
The Submerging Church
, 2012, DVD).

There is no evidence in U2's lives, music, or performances that they honor the Word of God. They have been at the heart and soul of the wicked rock & roll scene for over three decades. They are one of the most popular rock & roll bands alive today and this certainly would not be the case if they were striving to obey the Bible and live holy lives to the glory of Jesus Christ and if they were preaching absolute truth, the reality of heaven and hell, and salvation only through Christ's atonement.

To the contrary, their lives have been anything but holy and their message anything but Scriptural.


U2's Christianity


The members of U2 don't support any denomination or church. In fact, they rarely attend church, "preferring to meet together in private prayer sessions" (
U2: The Rolling Stone Files
, p. 21). Sundays find them in a pub rather than in a pew. They are "not rabid Bible thumpers" (Ibid., p. 14). In the song "Acrobat," Bono sings, "I'd join the movement/ If there was one I could believe in ... I'd break bread and wine/ If there was a church I could receive in."

One church Bono does attend from time to time is Glide Memorial United Methodist in San Francisco. "When he's in the area Bono is a frequent worshipper at Glide..." (Flanagan,
U2 at the End of the World
, p. 99). Bono attended Glide Memorial during a special service to honor Bill Clinton's 1992 presidential election. Speaking at a meeting connected with the 1972 United Methodist Church Quadrennial Conference, Cecil Williams, pastor of the Glide Memorial Methodist Church, said, "I don't want to go to no heaven ... I don't believe in that stuff. I think it's a lot of - - - - [vulgarity]." A Jewish rabbi is on Williams' staff. Williams was the Grand Marshall of the San Francisco Gay Pride parade and the chairman of his board was a homosexual. He has been "marrying" homosexuals since 1965 and says, "I have not married a single couple at Glide who weren't already living together" (Williams, speaking at the Centenary United Methodist Church, St. Louis, quoted in
Blu-Print
, April 25, 1972). Long ago Williams' church replaced the choir with a rock band, and its "celebrations" have included immoral dancing and even complete nudity. After attending a service at Glide Memorial, a newspaper editor wrote, "The service, in my opinion, was an insult to every Christian attending and was the most disgusting display of vulgarity and sensuousness I have ever seen anywhere."

This is U2's type of Christianity.

The book
Bono on Bono: Conversations with Michka Assayas
(Hodder & Stoughton, 2005) contains a wide-ranging interview with a music reporter that extended over a long period of time. Nowhere in this 337-page book does Bono give a scriptural testimony of having been born again, without which Jesus said no man can see the kingdom of heaven.

Bono says that he believes Jesus is the Messiah and that He died on the cross for his sins and that "he is holding out for grace," but Bono's "grace" is a grace that does not result in radical conversion and a new way of life; it is a grace without repentance; it is a grace that does not produce holiness. Nowhere does he warn his myriads of listeners to turn to Christ before it is too late and before they pass out of this life into eternal hell.

In fact, the only thing he says about heaven or hell is that both are on earth. "I think, rather like Hell, Heaven is on Earth. That's my prayer ... that's where Heaven for me is..." (
Bono on Bono
, p. 254). It sounds as if Bono has been listening more to John Lennon than the Bible, and in fact, he says that when he was 11 years old he listened to Lennon's album
Imagine,
and it "really got under my skin, the blood of it" (p. 246). On this album Lennon sang, "Imagine there is no heaven above and no hell below."

The members of U2 do not believe Christianity should have rules and regulations. "I'm really interested in and influenced by the spiritual side of Christianity, rather than the legislative side, the rules and regulations" (Edge,
U2: The Rolling Stone Files
, p. 21). The Lord Jesus Christ said those who love Him would keep His commandments (John 14:15, 23, 15:10). The apostle John said, "For this is the love of God, that we keep his commandments: and his commandments are not grievous" (1 John 5:3). There are more than 80 specific commandments for Christians in the book of Ephesians alone, the same book that says we are saved by grace without works. Though salvation is by grace, it always produces a zeal for holiness and obedience to God's commands, for we are "saved unto good works" (Ephesians 2:8-10). According to Titus 2, the grace of God teaches the believer to deny ungodliness and worldly lusts and to live soberly, righteously, and godly in this present world.

Bono says that the older he gets the more comfort he finds in Roman Catholicism. "Let's not get too hard on the Holy Roman Church here. The Church has its problems, but the older I get, the more comfort I find there ... murmuring prayers, stories told in stained-glass windows, the colors of Catholicism--purple mauve, yellow, red--the burning incense. My friend Gavin Friday says Catholicism is the glam-rock of religion" (
Bono on Bono,
p. 201).

Though he speaks positively of Romanism, Bono has nothing good to say about "fundamentalism," falsely claiming that it is a denial that God is love (
Bono on Bono
, p. 167) and calling it vile names (p. 147).

The problem is that Bono defines love by the rock & roll dictionary rather than by the Bible, which says, "For this is the love of God, that we keep his commandments: and his commandments are not grievous" (1 John 5:3).


U2's Lifestyle


The members of U2 live in blatant contradiction to the reality of biblical grace. They are described in the following passages:


"They profess that they know God; but in works they deny him, being abominable, and disobedient, and unto every good work reprobate" (Titus 1:16).

"Having a form of godliness, but denying the power thereof: from such turn away" (2 Timothy 3:5).

"For the time will come when they will not endure sound doctrine; but after their own lusts shall they heap to themselves teachers, having itching ears; And they shall turn away their ears from the truth, and shall be turned unto fables" (2 Timothy 4:3-4).

"He that saith, I know him, and keepeth not his commandments, is a liar, and the truth is not in him" (1 John 2:4).


The lives of the U2 rock stars exemplify their no-rules philosophy.

In 1992 "Bono was named premier male sexpot" (
U2: The Rolling Stone Files
, p. xxxvi).

Of sex, Bono says: "You know, if you tell people that the best place to have sex is in the safe hands of a loving relationship, you may be telling a lie! There may be other places" (Flanagan,
U2 at the End of the World,
p. 83).

Bill Flanagan, a U2 friend who has traveled extensively with the group, in his authorized biography describes them as heavy drinkers and constant visitors to bars, brothels, and nightclubs. He says, "If I wanted to I could fill up hundreds of pages with this sort of three-sheets-to-the-wind [drunken], navel-gazing dialogue between U2 and me" (Flanagan,
U2 at the End of the World,
p. 145). Bono admits that he lives "a fairly decadent kind of selfish-art-oriented lifestyle" (Flanagan, p. 79). Their language is interspersed with the vilest vulgarities and even with profanity. Of basketball star Magic Johnson's widely publicized sexual escapades, Bono flippantly and foolishly says: "Be a sex machine, but for Christ's sake use a condom" (Flanagan, p. 105).

Many of Bono's statements cannot be printed in a Christian publication. The cover and lyric sheet to their
Achtung Baby
album contained photos of the band in homosexual drag (men cross-dressing like women), a picture of Bono in front of a topless woman, and a frontal photo of Adam Clayton completely nude. Bono said the band enjoyed dressing like homosexual drag queens. "Nobody wanted to take their clothes off for about a week! And I have to say, some people have been doing it ever since!" (Bono, cited by Flanagan, p. 58). Bono told the media that he and his bandmates planned to spend New Year's Eve 2000 in Dublin, because "Dublin knows how to drink" (Bono,
USA Today
, Oct. 15, 1999, p. E1). Bono has simulated sex with women during his concerts. Their concerts have included video clips portraying nudity and cursing. The band members have had serious marital problems, and Dave Evans is divorced.


People
magazine described Bono's "nine-hour binge which left him brainless." "The U2 star ... got struck into beer, wine, cocktails and bubbly celebrating the American release of the band's Rattle And Hum film. 'He was slobbering, shouting and showing off,' said a bartender at the Santa Monica niterie that hosted the bash. 'Even the rest of the band told him to calm down. They should have been kicked out but because of who they are we let them stay...'" (
People
, Oct. 23, 1988, p. 15).

When asked about his position on homosexuality, Bono said: "My bottom line on any sexuality is that love is the most important thing. That love is it. Any way people want to love each other is OK by me" (Bono,
Mother Jones
magazine, May/June 1989).

At Wheaton College in 2002, Bono said, "It's a remarkable thing, the idea that there's some sort of hierarchy to sin. It's something I can never figure out, the idea that sexual immorality is somehow much worse than, say, institutional greed. Somewhere in the back of the religious mind is this idea that we reap what we sow is missing the entire New Testament and the concept of grace completely" ("Backstage with Bono," Christianitytoday.com music interviews, Dec. 9, 2002).

The
Christianity Today
reporter understood that Bono was saying that reaping what we sow is not a biblical teaching and is contrary to grace. In fact, the Bible plainly says, "Be not deceived; God is not mocked: for whatsoever a man soweth, that shall he also reap" (Galatians 6:7), and that was stated in the very context of Paul's teaching about grace. God's grace through Christ is offered to all men, but its reception requires repentance and faith (Acts 20:21). Nowhere in the New Testament do we find Christ or the apostles fretting about "institutional greed" or rebuking the Roman government for its institutional sins, but the New Testament says a LOT about PERSONAL sin and sexual immorality! Most of the New Testament epistles warn about sexual immorality.

Appearing on the Golden Globe Awards broadcast by NBC television in 2003, Bono shouted a vile curse word. The incident was investigated by the Federal Communications Commission (FCC), which deemed his language "profane" but decided not to fine the stations. Imagine an alleged Christian shouting such vile things on the public airwaves that he is investigated by the FCC!

In 2006 Bono said: "I recently read in one of St. Paul's letters where it describes all of the fruits of the spirit, and I had none of them" ("Enough Rope with Andrew Denton," March 13, 2006).

In October 2008, Fox News reported that Bono and rocker friend Simon Carmody partied with teenage girls on a yacht in St. Tropez. The report, which was accompanied by a photo of Bono holding two bikini-clad teenagers on his lap at a bar, said, "Bono, Carmody and the girls partied into the night on the yacht" ("Facebook Pictures Show Married U2 Singer Bono's Rendezvous with Sexy Teens,"
Fox News
, Oct. 27, 2008).


U2's Message


U2's Christian supporters tout the band's "biblical" lyrics as evidence of the reality of their Christianity. But U2's ambiguous lyrics do not present a clear Christian message, and the few songs that do mention Christ typically do so in a strange, unscriptural manner. "The listener senses something religious is being dealt with but can't be quite sure what" (Steve Turner,
Hungry for Heaven
, p. 172). They never preach the gospel of Jesus Christ in a plain manner so that their listeners could be born again. They pose moral questions in some of their songs, but they give no Bible answers. "U2 don't pretend to have the answers to the world's troubles. Instead, they devote their energies to letting us know that they are concerned and to creating an awareness about those problems" (
U2: The Rolling Stone Files
, p. 10). What a pitiful testimony for professing Christian musicians who COULD be preaching the light of the Word of God to a dark and hell-bound world.

Consider, for example, the lyrics to "When Love Comes to Town":


"I was there when they crucified my lord/ I held the scabbard when the soldier drew his sword/ I threw the dice when they pierced his side/ But I've seen love conquer the great divide. When love comes to town I'm gonna catch that train/ When love comes to town I'm gonna catch that flame/ Maybe I was wrong to ever let you down/ But I did what I did before love came to town."


This is typical of U2 songs. It intermingles thoughts about a girl at the beginning with thoughts possibly about the cross at the end, but nothing is clear. Listeners can interpret the ambiguous lyrics in a multitude of ways.

Consider the song "All Because of You" from U2's 2004 album
How to Dismantle an Atomic Bomb
. "I'm alive/ I'm being born/ I just arrived, I'm at the door/ Of the place that I started out from/ And I want back inside." That's a confusing, really meaningless message.

One of U2's most popular songs even proclaims that they haven't found what they are looking for. "You broke the bonds/ You loosed the chains/ You carried the cross/ And my shame/ You know I believe it/ But I still haven't found/ What I'm looking for" ("I Still Haven't Found What I'm Looking For").

This is a strange message for an alleged Christian rock band to broadcast to a needy world! They sing about Christ and the cross and then state that they haven't found what they are looking for.


A Social Gospel


The group is active in political causes, but they are liberal, humanistic ones. For example, in 1992 they played a benefit concert for the environmentalist/pacifist group Greenpeace and joined Greenpeace in protesting against a nuclear power plant. One of their hits, "Pride," is a tribute to the civil rights leader Martin Luther King; and in 1994, U2 received the Martin Luther King Freedom Award. King was an adulterous, theological modernist who taught a false social gospel. U2 supported the adulterous, abortion- and homosexual-supporting Bill Clinton in his 1992 run for president. Clinton conversed with them on a national radio talk show during the election campaign and met them in a hotel room in Chicago. At the same time they mocked George Bush during their USA concerts that year. They featured a video clip depicting Bush chanting the words to "We Will Rock You" by the homosexual rock group Queen. Members of U2 performed at Bill Clinton's televised inaugural ball on MTV. Bono said he was glad that Clinton's election was a victory for homosexuals (Flanagan, p. 100).

Bono's passion in recent years has been AIDS and poverty in Africa. He has petitioned Western governments to cancel the debts of African nations and to increase foreign aid. While Bono does call upon African leaders to "practice democracy, accountability, and transparency," he does not tie this in with foreign aid and does not put the blame of Africa's AIDS and poverty problem where it truly belongs, which is government corruption, pagan religion, and its corollary, the lack of moral character and immorality. If the entire wealth of America, the United Kingdom, and Europe were transferred to Africa tomorrow, it would not result in significant and lasting change unless these factors were first addressed, and Bono's plan does not significantly address them nor require any such radical systemic change. Instead, Bono puts the largest part of the blame for Africa's ills upon the unfair trade practices of and lack of aid by Western nations and an alleged lack of compassion on the part of Christians.

Speaking before Wheaton College in December 2002, Bono said, "Christ talks about the poor [and says] 'whatever you have done to the least of these brothers of mine, you've done to me.' In Africa right now, the least of my brethren are dying in shiploads and we are not responding. We're here to sound the alarm" (
Christianity Today
, Dec. 9, 2002). Bono thus grossly misapplies Christ's statement in Matthew 25:40, applying it to the unsaved in general rather than to the nation Israel. This is the Fatherhood of God heresy that Mother Teresa also held, that all men are the children of God regardless of whether they have faith in Christ. Further, if Matthew 25:40 is a reference to the unsaved in general, the apostles and early Christians failed miserably, for there is no record that they attempted to relieve the social ills of the Roman Empire in general. In fact, the context of Matthew 25:32-46 is immediately following the return of Christ at the end of the Tribulation, and it describes how Christ will judge the nations on the basis of how they treated His people the Jews, which will be so viciously persecuted during that period. Compare Revelation 7:4-14.


Universalism and a False Christ


Bono's christ is a false one. He says he is "attracted to people like Martin Luther King, Gandhi, Christ, to pacifism" (
U2: The Rolling Stone Files
, p. xxviii). The Lord Jesus Christ of the Bible is not a pacifist. He is not anything like the adulterous Martin Luther King or the Hindu Gandhi. Christ did instruct His people not to resist evil in the sense of taking up arms for religious causes. When persecuted, we are to endure it (1 Cor. 4:12); but Christ did not teach pacifism. Christ's forerunner, John the Baptist, warned soldiers to be content with their wages, but he did not rebuke them for carrying arms as soldiers (Lk. 3:14). Before his death, Christ instructed his followers to provide swords for themselves (Lk. 22:32-38). Christ said he came not to send peace but a sword (Mt. 10:34). In fact, the Lord Jesus Christ will return on a white horse to make war with his enemies (Rev. 19:11-16). The Christ of the Bible is no pacifist and He did not establish a pacifist movement.

When asked by
Mother Jones
magazine if he believed that Jesus is the only way and if that excludes other people from heaven, Bono replied: "I don't accept that. I don't accept that fundamentalist concept. I believe--what is it? 'The way is as narrow as the eye of the needle,' and all that--But I think that's just to keep the fundamentalists out. I never really accepted the whole 'born again' tag" ("Bono Bites Back,"
Mother Jones
magazine, May 1989).

For their Vertigo Tour in 2005, U2 promoted "Coexist" as an icon for world peace. Bono wore a "coexist" headband that featured the cross of Christianity, the crescent moon of Islam, and the star of David of Judaism: and he led the crowds in shouting, "Jesus, Jew, Muhammad, it's true; all sons of Abraham."


Anti-Christ


Bono has repeatedly worn upside down crosses in his concerts, which are satanic anti-christ emblems. He has displayed the inverted cross while singing the Beatles' song "Helter Skelter." He has worn it while singing the Rolling Stones' vile song "Sympathy for the Devil" (Joseph Schimmel,
The Submerging Church
, DVD, 2012).

Bono has aggressively promoted the movies of the occultist Kenneth Anger. When Bono was considering establishing ZooTV to rival MTV, he envisioned it "as a window for the world to see the films of Kenneth Anger" (Bill Flanagan,
U2: At the End of the World
, 1996, p. 477). Bono told
Details
magazine, "Part of America's dilemma is its TV because as a mirror it's a pretty distorted one. I mean, where can you see Kenneth Anger films in the United States?" ("Turning Money into Light,
Details
magazine, Feb. 1, 1994). Anger, a homosexual who has "Lucifer" tattooed into his chest, wrote the foreword to Anton LaVey's books
The Devil's Notebook
and
Satan Speaks
. Anger exalts the occultist and moral pervert Aleister Crowley in the movie
Lucifer Rising: Invokation of My Demon Brother
. He promotes Crowley's vision of a New Age world order called the age of Horus. Anger's movie
Invocation of My Demon Brother
starred LaVey and Mick Jagger and Keith Richards of the Rolling Stones. Anger joined Led Zeppelin guitarist Jimmy Page in trying to exorcise Crowley's former residence in Scotland of what they believed to be "a headless man's ghost."

No Christ-loving, Bible-believing man would promote the work of Kenneth Anger, and I'm sure he would agree with that statement.

Bono even transformed himself into the devil in the ZooTV tour during the early 1990s. The devil, which he called MacPhisto, was an aging rocker who had sold his soul for fame. That certainly sounds like Bono.

Other quotations demonstrate that U2's "spirituality" is not based on the Bible:


"Bono dislikes the label 'born-again Christian'--and he doesn't go to church either. [He says,] 'I'm a very, very bad advertisement for God...'" (
U2: The Rolling Stone Files
).

"A U2 concert aims to raise people's sense of their own worth. 'It's a celebration of me being me and you being you,' as Bono once put it. The music soars and swirls but never bludgeons. ... 'I want people to leave our concerts feeling positive, a bit more free,' says Bono" (Steve Turner,
Hungry for Heaven
, p. 28). A celebration of me is exactly what rock & roll is at its most fundamental level, and it is a fulfillment of 2 Timothy 3:2. "For men shall be lovers of their own selves..."

"I believe that it's a woman's right to choose [an abortion]. Absolutely" (Bono,
Mother Jones
magazine, May/June 1989).

Beware When the World Loves You


U2 is exalted as "the biggest band in the world," and they are praised by everyone from
Christianity Today
to
Rolling Stone
. The world loves U2, and that brings some Scriptures to mind.


"If ye were of the world, the world would love his own: but because ye are not of the world, but I have chosen you out of the world, therefore the world hateth you" (John 15:19).

"I have given them thy word; and the world hath hated them, because they are not of the world, even as I am not of the world" (John 17:14).

"They are of the world: therefore speak they of the world, and the world heareth them" (1 John 4:5).

"And we know that we are of God, and the whole world lieth in wickedness" (1 John 5:19).


The world loves U2 because U2 is of the world, and the world recognizes its own. The love that Bono sings about is the world's love. U2's philosophy is the world's philosophy. U2's lifestyle is the world's lifestyle.

Consider this line from the song "Vertigo" -- "A feeling is so much stronger than a thought."

Bono quoted this in an interview with the wicked
Rolling Stone
magazine, and it summarizes the rock & roll philosophy and its blind mysticism, which is to do what feels right regardless of what the Bible or some other authority says about it. The Bible says we are to live by God's Word, but rock & roll says, "Live by your feelings." The Bible says the heart is deceitful above all things and desperately wicked, but rock & roll says, "Just follow your heart." The Bible says we can only know God through the sound doctrine of His revelation in the Bible, through right thinking that comes by the right understanding of God's Word, but rock & roll says, "Feelings are more important than thoughts."

This is why the world loves U2, and this is why apostate Christianity loves U2.


copyright 2013, Way of Life Literature

- Receive these reports by email
- "About" David Cloud
- www.wayoflife.org

______________________


Sharing Policy: Much of our material is available for free, such as the hundreds of articles at the Way of Life web site. Other items we sell to help fund our expensive literature and foreign church planting ministries. Way of Life's content falls into two categories: sharable and non-sharable. Things that we encourage you to share include the audio sermons, O Timothy magazine, FBIS articles, and the free eVideos and free eBooks. You are welcome to make copies of these at your own expense and share them with friends and family, but they cannot be posted to web sites. You are also welcome to use excerpts from the articles in your writings, in sermons, in church bulletins, etc. All we ask is that you give proper credit. Things we do not want copied and distributed freely are items like the Fundamental Baptist Digital Library, print editions of our books, electronic editions of the books that we sell, the videos that we sell, etc. The items have taken years to produce at enormous expense in time and money, and we use the income from sales to help fund the ministry. We trust that your Christian honesty will preserve the integrity of this policy. "For the scripture saith, Thou shalt not muzzle the ox that treadeth out the corn. And, The labourer is worthy of his reward" (1 Timothy 5:18).
Goal:Distributed by Way of Life Literature Inc., the Fundamental Baptist Information Service is an e-mail posting for Bible-believing Christians. Established in 1974, Way of Life Literature is a fundamental Baptist preaching and publishing ministry based in Bethel Baptist Church, London, Ontario, of which Wilbert Unger is the founding Pastor. Brother Cloud lives in South Asia where he has been a church planting missionary since 1979. Our primary goal with the FBIS is to provide material to assist preachers in the edification and protection of the churches.

Offering: We take up a quarterly offering to fund this ministry, and those who use the materials are expected to participate (Galatians 6:6) if they can. We do not solicit funds from those who do not agree with our preaching and who are not helped by these publications. We seek offerings only from those who are helped. OFFERINGS can be mailed or made online with with Visa, Mastercard, Discover, or Paypal. For information see: www.wayoflife.org/about/makeanoffering.html.