Publisher of Bible Study Materials
Publisher of Bible Study Materials
The Beatles and Contemporary Christian Music
Enlarged February 4, 2020 (first published April 12, 2006)
David Cloud, Way of Life Literature, P.O. Box 610368, Port Huron, MI 48061
866-295-4143,
fbns@wayoflife.org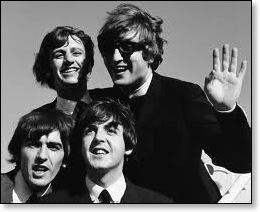 W
hen I was saved
by God's grace in 1973, I was saved out of a hippie-druggie background. Rock & roll was my lifestyle and Self was my god.


I was a teenager when the Beatles burst onto the American scene in 1964. When I came back to the States from Vietnam and was discharged from the Army, I was so full of the rock & roll philosophy that I determined that no one was ever again going to tell me what to do. I grew my hair long to let my "freak flag" fly; I used drugs and sold them for an "easy" income; I determined to ride a bicycle to South America but when I had ridden about 20 miles down the road I decided that I needed a better plan! I sold the bicycle and hitchhiked across America and back again, working all sorts of day jobs, such as washing syrup off of barges in New Orleans. I stayed at rescue missions and slept by the highways in a pop-up tent. I attended the Mardi Gras twice, joined a Hindu meditation society, played the slot machines in Las Vegas, and I went to jail.

All of that was "the bad old days," to say the least. I look back on my life before Christ as foolishness and waste and shame, and I thank the Lord that He gave me a new life.

He also gave me a new song. "And he hath put a new song in my mouth, even praise unto our God: many shall see it, and fear, and shall trust in the LORD" (Psalm 40:3).

A couple of months after I was saved the Lord began dealing with me about rock & roll. It was a real struggle, because I absolutely loved rock and had listened to it practically every waking moment for many years. I had begun to study the Bible zealously as soon as I was saved. Each day I would find a private place away from distraction and would read and meditate upon the Word of God. I had been deceived and in bondage to Satan for many years; and now that I had received the truth, I never wanted to be deceived again. I held on to Christ's promise in John 8:31-32. "Then said Jesus to those Jews which believed on him, If ye continue in my word, then are ye my disciples indeed; and ye shall know the truth, and the truth shall make you free." And in John 7:17: "If any man will do his will, he shall know of the doctrine, whether it be of God, or whether I speak of myself."

I wanted God to purify and use my life, and one of the first things He dealt with me about in a very specific way was my music. God's Word tells us that we cannot serve two masters. I cannot say I love the Lord if I love the things that the Lord hates. "Ye adulterers and adulteresses, know ye not that the friendship of the world is enmity with God? whosoever therefore will be a friend of the world is the enemy of God" (James 4:4). Those are strong words.

One day as I was driving in my car with the radio tuned to a rock station, as usual, I realized that I was pouring garbage into my mind as fast as I was pouring in the truth and that this was hindering my spiritual growth. "For the flesh lusteth against the Spirit, and the Spirit against the flesh: and these are contrary the one to the other: so that ye cannot do the things that ye would" (Gal. 5:17). I turned off the radio that day and rejoiced in what God had shown me, but I was often tempted to return to rock & roll because it is intoxicating.

The LSD guru Timothy Leary said, "I've been STONED ON THE MUSIC many times."

Steven Tyler of Aerosmith said, "[Rock music] is THE STRONGEST DRUG IN THE WORLD" (
Rock Beat
, Spring 1987, p. 23).

Jimi Hendrix said that through rock music, "YOU HYPNOTIZE PEOPLE to where they go right back to their natural state" (
Life
, Oct. 3, 1969, p. 74).

I have no doubt that God led me to give up rock & roll. I am as sure of that as of anything in my Christian life. And it is was not a decision based on blind mysticism. The Bible strictly forbids the believer to associate with the evil things of the world.

"Love not the world, neither the things that are in the world. If any man love the world, the love of the Father is not in him. For all that is in the world, THE LUST OF THE FLESH, AND THE LUST OF THE EYES, AND THE PRIDE OF LIFE, is not of the Father, but is of the world. And the world passeth away, and the lust thereof: but he that doeth the will of God abideth for ever." (1 John 2:15-17).

A more apt description of rock & roll could not be given that the one found in this passage: the lust of the flesh, the lust of the eyes, and the pride of life sums up rock & roll. We see, then, that it is impossible for one who loves the Father to love rock & roll. A choice must be made.

"And be not conformed to this world: but be ye transformed by the renewing of your mind, that ye may prove what is that good, and acceptable, and perfect, will of God" (Rom. 12:2).

The believer is forbidden to be conformed to this evil world. He must not allow himself to be fashioned by the world's ways and thinking and lusts. It is impossible to know the perfect will of God unless he unconforms his life to this world.

"For the grace of God that bringeth salvation hath appeared to all men, teaching us that, denying ungodliness and worldly lusts, we should live soberly, righteously, and godly, in this present world" (Titus 2:11-12).

We are saved by grace without works on the basis of Christ's blood, but we are saved
unto
good works, and the true grace of God teaches us to deny every worldly lust and to live godly and righteously in this present world. Thus, the true grace of God teaches the believer to separate from sensual, filthy, rebellious rock & roll, because it is not sober, righteous, or godly.

"Who gave himself for us, that he might redeem us from all iniquity, and purify unto himself a peculiar people, zealous of good works" (Tit. 2:14).

Christ did not die to save sinners
in
their sin; He died to save them
from
their sin. The believer is to separate himself from "all iniquity." That is requirement has far-reaching implications. Is there iniquity in rock & roll? Indeed, it is filled to overflowing with iniquity, with immodesty, fornication, preening pride, cursing, bitterness, anger, rebellion, false gods, you name it.

"And have no fellowship with the unfruitful works of darkness, but rather reprove them" (Eph. 5:11).

Are there any "unfruitful works of darkness" in rock & roll or rap or reggae or country-western and other forms of pop music today? Indeed, that is an apt description of the vast, vast majority of it. Thus, the believer is commanded to have NO fellowship with it, but rather to reprove it.

That is what I determined to do 38 years ago when the Lord opened my eyes to this matter, and my conviction about the moral danger of rock and pop and the necessity of separating from it has only grown stronger with the passing years.

Separation is not popular in Christianity today, but the truth has never been found among the majority in this sin-cursed world; and in light of Bible prophecy (e.g., 2 Tim. 3:1-5, 13; 4:3-4) we cannot expect it to be found among the majority of professing Christians in these last days.


CONTEMPORARY CHRISTIAN MUSICIANS AND THE BEATLES


One of the reasons why we are opposed to Contemporary Christian Music is its worldliness, its refusal to separate from the world. Contemporary Christian musicians make no attempt to hide the fact that they love secular rock & roll and they have no shame for doing so. When asked in interviews about their musical influences and their favorite music, invariably they list some raunchy secular rock musicians.

And one of the rock groups that CCM musicians love is the Beatles.

The Beatles' influence in creating the modern New Age pop culture is incalculable. Brian Epstein, the Beatles' homosexual manager, said in 1964, "The children of the 21st century will be listening to the Beatles," and he was right ("Beatles Business: Still Making Money 50 Years One," CNBC, Jan. 24, 2014). They have sold some 2.3 BILLION albums and records. In June 2012 they were had the number one hit on iTunes, nearly a half century after they first appeared on the
Ed Sullivan Show
on their rocket launch to super-stardom
.
The compilation album of their No. 1 hits released in 2000 was the top-selling album between 2000 and 2010. Beatles courses are taught at universities.

And the Beatles are loved and appreciated as much by the contemporary Christian music crowd as by the unbelieving world at large.

When MATT REDMAN, one the most influential names in the contemporary worship movement, was asked in 2011, "Who are your musical influences?" he replied: "All sorts. But all time favorite must be the Beatles. I love it now that my five kids even get into their music" (http://www.louderthanthemusic.com/document.php?id=2526). It is obvious that Redman is rearing his children on secular rock & roll so that they have a taste for the world even at very young ages.

In a May 1987 interview with
CCM Magazine
, LESLIE PHILLIPS said: "[In the 1987 album
The Turning
] I just sort of returned to what I loved originally. You know, returning to your roots and all that. The Beatles were the first rock group I remember hearing, and I dearly love them. They were spectacular, even in their mistakes. There was a spirit in that kind of music that we don't have today."

PHIL KEAGGY performs an unholy combination of secular rock and Christian rock/folk, and those who listen to his music are drawn toward worldly rock & roll. On his 1993
Crimson and Blue
album, for example, he pays "homage to the Beatles" with several of the songs. In a June 2008 interview Keaggy said that performing at the wedding of Linda McCartney's sister and jamming with Paul McCartney is one of his most cherished memories ("Reconnecting with Phil Keaggy," Crosswalk.com, June 25, 2008). Keaggy's 2011 CD "Live from Kegwood Studio" features "homage to George Harrison with a spot-on rendition of the Beatles' hit 'Here Comes the Sun.'"

CAEDMON'S CALL often performs Beatles music.

RANDY STONEHILL says that it was the Beatles who gave him the inspiration to play rock and roll: "Really it was after I saw the Beatles. I saw them on television when I was twelve and I knew that that was what I wanted to do" (Stonehill, cited by Devlin Donaldson, "Life Between the Glory and the Fame,"
CCM Magazine
, October 1981).

The GALACTIC COWBOYS lead singer says, "I'd have to say that The Beatles are still the biggest influence on us, all the way around--except for maybe the guitar tones. They were great songwriters and vocalists" (Ben Huggins, cited by Dan Macintosh,
HM
magazine, September-October 1998).

Some of DC TALK'S musical role models are the Beatles, David Bowie, and The Police, all of which are wicked secular rock groups (
Flint Michigan Journal
, March 15, 1996). dc Talk opened its "Jesus Freak" concerts with the Beatles' song "Help." During their 1999 "Supernatural Experience" tour, dc Talk performed "Hello Good-bye" by the Beatles (
CCM Magazine
, April 1999, p. 55).

JARS OF CLAY names Jimi Hendrix and the Beatles as their inspiration (Dann Denny, "Christian Rock,"
Sunday Herald Times
, Bloomington, Ind., Feb. 8, 1998). The lead guitarist for Jars of Clay is said to be a "Beatles fanatic" (
Christian News
, Dec. 8, 1997).

MAYFAIR LAUNDRY, a group which got its name from a scene in a Beatle's movie, cites influences from the Beatles to Red Hot Chilli Peppers (Heaven's Metal Magazine, May-June 1998).

JOHN MICHAEL TALBOT performed Beatles songs during concerts in the late 1990s.

The 1997 "Heart of David Conference on Worship & Warfare," sponsored by Rick Joyner's Morning Star ministries, concluded with the praise team singing the Beatles song "I Want to Hold Your Hand" as if God were singing it to believers. The worship leaders were Leonard Jones, Kevin Prosch, and Suzy Wills. Jones also leads "worship" crowds in a hard-rocking rendition of the Beatles' "Come Together" as if Jesus were singing it to His people.

THE ROCK 'N' ROLL WORSHIP CIRCUS' musical style is "reminiscent of rock's glory days" and "combines the best elements of classic seventies style power pop ala David Bowie, The Kinks and Cheap Trick, Pink Floyd, The Beatles and U2" (from their web site).

During the Feb. 18, 2002, premier show for MICHAEL W. SMITH'S
Come Together Tour
, THIRD DAY took the stage to the strains of the New Age Beatles song "Come Together" (press release, Nashville, April 24).

Derek Johnson of Jesus Culture says "the band that really influenced me at a young age would be The Beatles" ("Jesus Culture - Derek Johnson," LouderThanTheMusic.com, July 30, 2012).

In his musings on Contemporary Christian Music of October 2, 2002, RUSS BREIMEIER (co-director of ChristianityToday.com music channel)
exalts the Beatles. He describes his attendance at a Paul McCartney concert in the following terms: "Last week, I also fulfilled one of my lifelong dreams … and got to see Sir Paul McCartney in concert. What an incredible show! … It was simply awesome to hear 20,000+ people sing along to 'Let It Be,' surrounding a beautifully lit stage." There was not a word of warning about the wicked influence the Beatles have had upon society for the past 45 years or about their anti-christ blasphemies. Consider the words to this "simply awesome" song "Let It Be" -- "When I find myself in times of trouble/ Mother Mary comes to me/ Speaking words of wisdom, let it be./ And in my hour of darkness/ She is standing right in front of me/ Speaking words of wisdom, let it be. … Whisper words of wisdom, let it be." That's awesome, indeed; it's awesome apostasy!

One of the members of VOX79, the worship band at a conference at WILLOW CREEK COMMUNITY CHURCH, February 2007, was pictured wearing a Beatles t-shirt on the Willow Creek web site (http://www.willowcreek.com/events/student/schedule.asp).

A video that contains a graphical slide show from an Argentina missionary trip by SADDLEBACK CHURCH members features John Lennon's atheistic song "Imagine." The trip, made August 1-12, 2006, was part of Rick Warren's P.E.A.C.E. program, and the video was published on YouTube. The soundtrack uses several pieces of music, including John Lennon's original recording of
Imagine
. The lyrics say: "Imagine there's no heaven/ It's easy if you try/ No hell below us/ Above us only sky."

In an interview published on CMCentral.com September 27, 2007, the interviewer of John Ellis of TREE63 commented that their new album (
Sunday and Everyday
) has a psychedelic feel to it and some tracks are reminiscent of John Lennon. Ellis replied: "Did you say psychedelic? It's funny, I've been doing a lot of reading recently about the 40th anniversary of Monterrey, and the Summer of Love this year. So I've been reading a lot about
Sgt. Pepper
, the whole psychedelic culture of 40 years ago. My dad brought me up on the Beatles and by the time I was twelve I was a complete Beatle addict. I have a lot of deep roots in that culture, and most of the music I buy these days is 40 years old."

GRANGER COMMUNITY CHURCH in Granger, Indiana, featured Beatles Music as their 2007 Christmas theme. Pastor Tim Stevens said: "With Across the Universe currently in the theaters and the new Beatles-themed Cirque du Soleil show in Vegas called
Love
, the Beatles are as hot as ever. Using the music of the Beatles we will be telling the Christmas story all December. And we've been getting great feedback from music lovers of all generations" (http://www.leadingsmart.com/leadingsmart/2007/11/let-it-bechrist.html/). They advertised it as "Let it Be...Christmas -- A Story Told by Matthew, Mark, Luke, John, Paul, George and Ringo."

STANDARD PUBLISHING has a 2007 series of Bible studies entitled "Tuning into God" that are based on songs from the Beatles and other rock groups. The studies give the background to the raunchy old songs and even encourage the Bible class to play them. This is like digging in a garbage can to learn nutrition.

CCM bands traveling with the ROCK & WORSHIP ROADSHOW 2011 performed the Beatles song "Ob-La-Di, Ob-La-Da." The "artists" are MercyMe, Jars of Clay, Matt Maher, Thousand Foot Kruntch, The Afters & Lacrae. Their enthusiastic cover of the Beatles song appeared on the MercyMe Channel on YouTube.

When CCM singer JOSH WILSON got stuck at the Newark airport on January 2, 2013, and decided to entertain his fellow travelers, he didn't choose a hymn. Instead, he led in a rousing rendition of the Beatles' "Hey Jude" (www.youtube.com/watch?v=i_awnM6WnAo). Wilson is a touring partner with Steven Curtis Chapman.

MATT MAHER says, "Honestly, musically, growing up, I was huge a fan of the Beatles. A huge fan of Billy Joel, Tom Petty, Bruce Springsteen, Foo Fighters, Nirvana" ("Matt Maher: On Being Christian," interview with John van der Veen, Apr. 1, 2013, familychristian.com).

Community Christian Church of Naperville, Illinois, has put the Christmas story to Beatles music. The pageant is entitled "Let It Be Christmas: The Gospel according to Matthew, Mark, Luke, John, Paul, George and Ringo" ("Beatles Music, Christmas Story," Religion News Service, Dec. 18, 2019). It is advertised as a "magical mystery tour through the gospels to tell the greatest story of all time, with the greatest music of all time!" The nine shows at the multi-campus church played to sold out crowds. Beatles songs used in the performance include "All My Loving," "From Me to You," "We Can Work It Out," "Taxman," and "Love Me Do." The Trinity is blasphemously depicted as an Engineer, a Carpenter, and a Blackbird (the latter is the title of a Beatles' song). When Mary is informed that she will be the mother of Christ, she dances with the Blackbird.

The very popular contemporary worship hymn writers, Keith and Kristyn and GETTY, list the Beatles as a major musical influence, and I have never heard them warn God's people to stay away from the Beatles.


CONCLUSION


We believe it is absolutely unconscionable for Christian musicians to encourage an appetite for Beatles' music in young people. No rock group has had a more spiritually-destructive influence than the Beatles. They were certainly controlled by demons as they captured the affection of an entire generation with their "magical mystery" music and carried millions of young people along on their journey to free sex, unisex, eastern religion, atheism, drug abuse, and rebellion against established order.

In his 1965 book,
A Spaniard in the Works
, John Lennon called Jesus Christ many wicked things that we cannot repeat and he blasphemed the Father, Son, and Holy Spirit.

In the song "God" (1970), Lennon sang: "I don't believe in Bible. I don't believe in Jesus. I just believe in me, Yoko and me, that's reality."

Lennon's extremely popular song "IMAGINE" (1971) promotes atheism and a global New Age unity. The lyrics say: "Imagine there's no heaven … No hell below us, above us only sky … no religion too/ You may say I'm a dreamer, but I'm not the only one/ I hope some day you'll join us, and the world will live as one."

How many millions of people throughout the world have followed John Lennon in this delusive dream? Death will prove that this dream is actually the most horrible nightmare imaginable.

George Harrison was a Hindu to the day of his death and led many into this pagan darkness.

As of April 2009, the Beatles were still promoting Hinduism. The two surviving Beatles headlined a benefit concert to promote Transcendental Meditation (TM) among children. The concert benefited the David Lynch Foundation, which is dedicated "consciousness-based education and world peace." The objective is to raise funds to teach one million children to meditate. Joining Ringo Starr and Paul McCartney were Sheryl Crow, Donovan, Eddie Vedder of Pearl Jam, and others. Though some try to deny it, TM is a Hindu practice and is based on the concept that the universe is God and man can unite with God through mysticism. The TM practitioner uses a mantra to put himself into an altered state of consciousness. One page of the David Lynch Foundation's web site a little girl testifies, "It is quiet and comfortable and I feel connected to everything and everyone." The practice of TM was brought to America by the Hindu guru Maharishi Mahesh Yogi and popularized by the Beatles when they visited his lectures in Wales in 1967 and his ashram in India in 1968. George Harrison went on to join the Hare Krishnas and died in the Hindu faith. Maharishi developed TM from the Hindu Vedas. He called TM "a path to God" and "the spontaneous flow of knowledge."

The Beatles have done more to further the devil's program in these last days than any other music group. It is unconscionable for a Christian to pay homage to these people and to their demonically-inspired music, thereby encouraging Christian young people to think that rock & roll is innocent fun.

"Be sober, be vigilant; because your adversary the devil, as a roaring lion, walketh about, seeking whom he may devour" (1 Peter 5:8).

The Beatles continue to exercise a vast influence, and young people need to be warned to stay away from them and from the world of licentious rock and roll and pagan New Age philosophy that the Beatles promoted.

"And have no fellowship with the unfruitful works of darkness, but rather reprove
them"
(Ephesians 5:11).

"Be ye not unequally yoked together with unbelievers: for what fellowship hath righteousness with unrighteousness? and what communion hath light with darkness? And what concord hath Christ with Belial? or what part hath he that believeth with an infidel? And what agreement hath the temple of God with idols? for ye are the temple of the living God; as God hath said, I will dwell in them, and walk in them; and I will be their God, and they shall be my people. Wherefore come out from among them, and be ye separate, saith the Lord, and touch not the unclean thing; and I will receive you" (2 Cor. 6:14-17).

copyright 2013, Way of Life Literature

- Receive these reports by email
- "About" David Cloud
- www.wayoflife.org

______________________


Sharing Policy: Much of our material is available for free, such as the hundreds of articles at the Way of Life web site. Other items we sell to help fund our expensive literature and foreign church planting ministries. Way of Life's content falls into two categories: sharable and non-sharable. Things that we encourage you to share include the audio sermons, O Timothy magazine, FBIS articles, and the free eVideos and free eBooks. You are welcome to make copies of these at your own expense and share them with friends and family, but they cannot be posted to web sites. You are also welcome to use excerpts from the articles in your writings, in sermons, in church bulletins, etc. All we ask is that you give proper credit. Things we do not want copied and distributed freely are items like the Fundamental Baptist Digital Library, print editions of our books, electronic editions of the books that we sell, the videos that we sell, etc. The items have taken years to produce at enormous expense in time and money, and we use the income from sales to help fund the ministry. We trust that your Christian honesty will preserve the integrity of this policy. "For the scripture saith, Thou shalt not muzzle the ox that treadeth out the corn. And, The labourer is worthy of his reward" (1 Timothy 5:18).
Goal:Distributed by Way of Life Literature Inc., the Fundamental Baptist Information Service is an e-mail posting for Bible-believing Christians. Established in 1974, Way of Life Literature is a fundamental Baptist preaching and publishing ministry based in Bethel Baptist Church, London, Ontario, of which Wilbert Unger is the founding Pastor. Brother Cloud lives in South Asia where he has been a church planting missionary since 1979. Our primary goal with the FBIS is to provide material to assist preachers in the edification and protection of the churches.

Offering: We take up a quarterly offering to fund this ministry, and those who use the materials are expected to participate (Galatians 6:6) if they can. We do not solicit funds from those who do not agree with our preaching and who are not helped by these publications. We seek offerings only from those who are helped. OFFERINGS can be mailed or made online with with Visa, Mastercard, Discover, or Paypal. For information see: www.wayoflife.org/about/makeanoffering.html.