What's Wrong With Most Soul Winning Courses?
David Cloud, Way of Life Literature, P.O. Box 610368, Port Huron, MI 48061
866-295-4143,
fbns@wayoflife.org
SOWING AND REAPING: A COURSE IN EVANGELISM
. ISBN 978-1-58318-169-0. This course is unique in several ways.
It is unique in its approach
. While it is practical and down-to-earth, it does not present a formulaic approach to soul winning, recognizing that individuals have to be dealt with as individuals. The course does not include any sort of psychological manipulation techniques. It does not neglect repentance in soul winning, carefully explaining the biblical definition of repentance and the place of repentance in personal evangelism. It explains how to use the law of God to plow the soil of the human heart so that the gospel can find good ground.
The course is unique in its objective
. The objective of biblical soul winning is not to get people to "pray a sinner's prayer"; the objective is to see people soundly converted to Christ. This course trains the soul winner to pursue genuine conversions as opposed to mere "decisions."
The course is also unique in its breadth
. It covers a wide variety of situations, including how to deal with Hindus and with skeptics and how to use apologetics or evidences in evangelism. There is a memory course consisting of 111 select verses and links to a large number of resources that can be used in evangelism, many of them free. The course is suitable for teens and adults and for use in Sunday School, Youth Ministries, Preaching, and private study. OUTLINE: The Message of Evangelism, Repentance and Evangelism, God's Law and Evangelism, The Reason for Evangelism, The Authority for Evangelism, The Power for Evangelism, The Attitude in Evangelism, The Technique of Evangelism, Using Tracts in Evangelism, Dealing with Skeptics. 104 pages, 8x11, spiral bound. Available in print and eBook editions from www.wayoflife.org.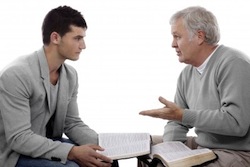 S
ince attending Bible School in the 1970s, I have gone through several evangelistic courses and found them to contain many helpful things. Yet something is wrong with the standard technique, because all too often they produce a host of empty professions, and hopefully we know that an empty profession of faith that doesn't change the life is
not
biblical salvation.


"Therefore if any man be in Christ, he is a new creature: old things are passed away; behold, all things are become new" (2 Corinthians 5:17).


"They profess that they know God; but in works they deny him, being abominable, and disobedient, and unto every good work reprobate" (Titus 1:16).

"He that saith, I know him, and keepeth not his commandments, is a liar, and the truth is not in him" (1 John 2:4).

I read about a pastor who reported 4,000 professions in five years of ministry, but the church only grew from 98 to 100.


I read about a first-year missionary who reported over 700 professions of faith -- and 25 baptisms.

One evangelist comments: "How could you even pen those words without asking yourself if there isn't something wrong with that picture? I seem to remember 3,000 saved at Pentecost, and 3,000 baptized! The most refreshing missionary that I have heard in a long time gave his update to our church recently. He has been in Poland for 14 years and to date knows of only five people who have been saved under his ministry. Just like at Pentecost, he only counts the ones who have been saved, baptized, and are in the church. Most of our 'one, two, three, pray after me' fellows would have dropped his support a long time ago! Myself, I would drop the guy with 738 saved and 25 baptized and shift the support to the fellow from Poland!"


- Receive these reports by email
- www.wayoflife.org

______________________


Sharing Policy: Much of our material is available for free, such as the hundreds of articles at the Way of Life web site. Other items we sell to help fund our expensive literature and foreign church planting ministries. Way of Life's content falls into two categories: sharable and non-sharable. Things that we encourage you to share include the audio sermons, O Timothy magazine, FBIS articles, and the free eVideos and free eBooks. You are welcome to make copies of these at your own expense and share them with friends and family. You may also post parts of reports and/or entire reports to websites, blogs, etc as long as you give proper credit (citation). A link to the original report is very much appreciated as the reports are frequently updated and/or expanded. Things we do not want copied and distributed are "Store" items like the Fundamental Baptist Digital Library, print editions of our books, electronic editions of the books that we sell, the videos that we sell, etc. The items have taken years to produce at enormous expense in time and money, and we use the income from sales to help fund the ministry. We trust that your Christian honesty will preserve the integrity of this policy. "For the scripture saith, Thou shalt not muzzle the ox that treadeth out the corn. And, The labourer is worthy of his reward" (1 Timothy 5:18). Questions? support@wayoflife.org
Goal:Distributed by Way of Life Literature Inc., the Fundamental Baptist Information Service is an e-mail posting for Bible-believing Christians. Established in 1974, Way of Life Literature is a fundamental Baptist preaching and publishing ministry based in Bethel Baptist Church, London, Ontario, of which Wilbert Unger is the founding Pastor. Brother Cloud lives in South Asia where he has been a church planting missionary since 1979. Our primary goal with the FBIS is to provide material to assist preachers in the edification and protection of the churches.

Offering: Offerings are welcome if you care to make one. If you have been helped and/or blessed by our material offerings can be mailed or made online with with Visa, Mastercard, Discover, or Paypal. For information see: www.wayoflife.org/about/makeanoffering.html.
Publisher of Bible Study Materials
Publisher of Bible Study Materials