David Cloud, Way of Life Literature, P.O. Box 610368, Port Huron, MI 48061
866-295-4143,
fbns@wayoflife.org
The following is excerpted from ROCK MUSIC VS. THE GOD OF THE BIBLE, which is currently out of print.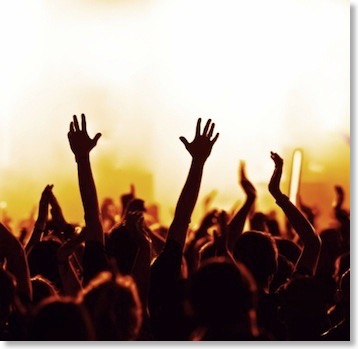 I
t is not surprising that rock & roll has been adapted for contemporary worship since it has the power that contemporary worshipers are looking for. It has the power to create strong emotional experiences, the power literally to take control of the individual and carry him into spiritual realms.


Rock & rollers have long described their music in glowing spiritual and religious terms, but the spiritual fervor described in the following quotes does not pertain to the Spirit of God; it pertains to the "god of this world" who masquerades as an angel of light.


"And no marvel; for Satan himself is transformed into an angel of light" (2 Cor. 11:14).


Rock & roll (which encompasses all forms of secular pop music that features a heavy back beat and other types of dance syncopation) is one of the chief gods and idols of the modern world. To think that God would be pleased with the Christianizing of rock & roll is to think that He would be pleased with the Christianizing of Hindu idols.

"Little children, keep yourselves from idols" (1 John 5:21).

Consider the following statements by rockers regarding the "spiritual" nature of their music:

Rock historian Michael Moynihan says: "In spiritual terms MUSIC IS A MAGICAL OPERATION, A VEHICLE FOR MAN TO COMMUNICATE WITH THE GODS. Depending on whom the celebrants invoke, this can mean soaring to heaven on the voices of angels or raising beasts from the pits of hell" (Lords of Chaos: The Bloody Rise of the Satanic Metal Underground, p. 1).

"Rock concerts are the churches of today. Music puts them on a spiritual plane. All music is God" (Craig Chaquico, Jefferson Airplane guitarist, Why Knock Rock?, p. 96).

"Rock music is more than music, IT'S LIKE CHURCH" (Jimi Hendrix, The Dick Cavett Show, July 21, 1969).

"We're making the music into ELECTRIC CHURCH MUSIC, A NEW KIND OF BIBLE you can carry in your hearts" (Jimi Hendrix, quoted in Crosstown Traffic by Charles Murray, p. 161).

"... THE MUSIC IS A SPIRITUAL THING of its own" (Jimi Hendrix, interview with Robin Richman "An Infinity of Jimis," Life magazine, Oct. 3, 1969).

"I used to go to Sunday School BUT THE ONLY THING I BELIEVE IN NOW IS MUSIC" (Jimi Hendrix, cited from Curtis Knight, Jimi).

Paul Stanley, guitarist for KISS, said he turns into "a holy roller preacher" during concerts. "I'm testifying and getting everybody riled up for the power of almighty rock 'n' roll" (Guitar Player, November 1974).

Bruce Springsteen used to open his concerts with these words: "WELCOME TO THE FIRST CHURCH OF THE ROCK, BROTHERS AND SISTERS" and has stated that he was dead until rock and roll changed his life. USA Today observed: "Displaying an awesome musical chemistry, Springsteen and his E Streeters at times turned the Meadowlands' Continental Airlines Arena [in East Rutherford, New Jersey] into a raucous revival tent, playing off themes of redemption, salvation and resurrection via rock 'n' roll throughout the nearly three-hour show. … Typical of the pacing was the roof-raising Light of Day, which saw the Rev. Springsteen roaringly promise his flock 'the power, the majesty and the ministry of rock 'n' roll…" (USA Today, July 19, 1999, p. 9D).

On the 25th anniversary of Elvis Presley's death Springsteen said: "ELVIS IS MY RELIGION. But for him, I'd be selling encyclopedias right now."

"For many participants, ELVIS WEEK HAS OBVIOUSLY BECOME A QUASI-RELIGIOUS OCCASION. The Meditation Garden is an American Lourdes, a place where miracles sometimes happen. Every year on August 15, the sick and the lame hobble up the hill, full of hope. As every one of the faithful well knows, on the first anniversary of Presley's death, a fan aimed his camera skyward and photographed a cumulus cloud forming a familiar profile, right down to the famous pompadour. Elvis is watching over them. Addressing co-religionists in a letter printed in an Elvis fan club publication, an enthusiast from Belgium put it this way: "Dear friends, our LOVE and RESPECT for Elvis are unlimited … Let's continue to work hard for him, because his LIGHT on our world today is the guarantee to give HOPE and PEACE for the next generations. … We believe in Elvis just like we believe in God … and I'm sure that we are on the right way" (James Miller, Flowers in the Dustbin, p. 345).

Robbie Kreiger, guitarist for the Doors, said the band members were "revivalists and WANTED OUR AUDIENCE TO UNDERGO A RELIGIOUS EXPERIENCE" (Break on Through: The Life and Death of Jim Morrison, p. 190).

Jim Morrison of the Doors said, "I FEEL SPIRITUAL UP THERE PERFORMING" (Newsweek, Nov. 6, 1967, p. 101). Even as late as the early 1990s, Morrison's gravesite was the third most popular visitor destination in Paris. In July 1991, on the 20th anniversary of Morrison's death, nearly 1,000 fans gathered outside the gates of the cemetery.

"As a self appointed messiah, I view music as far more than just entertainment" (John Denver, cited in The Rock Report, p. 10).

Remembering Bob Marley's rock concerts, Judy Mowatt, one of his backup singers said: "It was a crusade, it was a mission. We were like sentinels, like lights. ON TOUR THE SHOWS WERE LIKE CHURCH; Bob delivering the sermon. There were mixed emotions in the audience: you see people literally crying, people in a frenzy, on A SPIRITUAL HIGH ... These concerts were powerful and highly spiritual. There was a power that pulled you there. It was a clean feeling ... For months and maybe years it stays with you" (Sean Dolan, Bob Marley, p. 95).

Grateful Dead concerts have been described as "A PLACE TO WORSHIP. "The band was the high priest, the audience the congregation, the songs the liturgy, and the dancing the prayer" (Gary Greenberg, Not Fade Away: The Online World Remembers Jerry Garcia, p. 42). "The Grateful Dead embody not only the cultic potentials historically inherent in rock 'n' roll, but the entire submerged linkage between rock and religion. … the Dead's legendary live concerts bear uncanny resemblance to religious festivals…" (Stairway to Heaven, p. 196). In interviews with David Gans (Playing in the Band), Grateful Dead band members admitted that THEY LOOKED UPON THEIR MUSIC AS SOMETHING LIKE RELIGION. Lesh said, "WE USED TO SAY THAT EVERY PLACE WE PLAYED WAS CHURCH." Garcia added, "… on a certain level it's a religion to me, too."

Before he died, Muddy Waters admitted that the BLUES WAS HIS RELIGION (James Rooney, Bossmen: Bill Monroe and Muddy Waters, p. 137).

"I LOOK AT ROCK LIKE A RELIGION" (Blackie Lawless of W.A.S.P., Faces, Feb. 1985, p. 53).

A music reviewer described a Backstreet Boys concert as "worship" (Express Writer, August 16, 1998).

"Now Billy Squier is taking the gospel to America and Europe, PREACHING HIS OWN ROCK SERMONS in sold-out concerts" (Circus magazine, cited in The Rock Report, p. 10).

Judas Priest had an album called "Defenders of the Faith," and when asked about its meaning they replied, "We're defending the faith of heavy metal music" (The Rock Report, p. 10). They said: "Heavy metal isn't just music to us. It's a philosophy and a way of life" (Judas Priest, Hit Parader, July 1984).

In his song "You Can't Kill Rock & Roll," Ozzy Osbourne sang, "... ROCK 'N' ROLL IS MY RELIGION AND MY LAW/ Won't ever change."

Brian Jones of the Rolling Stones said, "MUSIC IS MY RELIGION" ( cited by Stanley Booth, Dance with the Devil, p. 109).

Michael Jackson said, "On many an occasion WHEN I AM DANCING, I HAVE FELT TOUCHED BY SOMETHING SACRED. In those moments, I felt my spirit soar, and become one with everything that exists" (cited by Steve Turner, Hungry for Heaven, p. 12).

George Harrison said: "Through the music you reach the spiritual. MUSIC IS VERY INVOLVED WITH THE SPIRITUAL, as we know from the Hare Krishna mantra" (cited by Turner, p. 71).

Brian Eno says that WHEN HE DISCOVERED ROCK AND ROLL, IT WAS "A SPIRITUAL EXPERIENCE" to him and IT OCCUPIED THE RELIGIOUS PART OF HIS LIFE (Turner, Hungry for Heaven, p. 150).

Dr. Paul King, medical director of the adolescent unit at Charter Lakeside Hospital in Memphis, Tennessee, was told by drug addicted teens that he had to understand their music if he wanted to understand their world. "He conducted a study of 470 adolescent patients and found that 60 percent of them designated heavy metal music as their musical choice. They said the music was a very important influence in their lives. In fact, IT WAS THEIR NEW RELIGION" (Terry Watkins, The Truth about Rock, p. 35).

Sting of the group Police said, "The pure essence of music is very spiritual" (Musician, Feb. 1987, p. 41). He says: "MY RELIGION WOULD BE MUSIC, AND I HAD JUST RECEIVED MY FIRST SACRAMENT [WHEN HE FIRST HEARD THE BEATLES AT AGE 11]" (USA Today, Jan. 27, 1984, p. 2D).

"Hip hop shows were LIKE CHURCH FOR ME WAY MORE THAN ACTUAL CHURCH WAS. A lot of lessons I learned were from my personal interpretations of the songs I would listen to. I felt like God was speaking to me through these people's thoughts and words" (Darlina, HipHop fan, commenting on "The Metaphysics of HipHop," Sept. 1, 2006, http://rapyoudohiphopyoulive.tribe.net/thread/88ad663f-b18d-46ea-aed2-c693f961b5f6).

"Dancing at raves may be construed as the method by which ravers worship the god of altered consciousness" (Russell Newcombe, The Guardian, Jul. 22, 1995).

"Andrew WK truly helped me let go. HIS SHOWS WERE LIKE CHURCH SERVICES, I felt rejuvinized, and for weeks following them I was happier and made people around me happier (which in turn made me feel even better)" (Andrew WK Paradigm Shift, http://www.dontstopthenoise.com/josh.html).

"Their [Far's] live shows were like church (without all that religion). They inspired a lot of kids my age" (http://www.amazon.com/Water-Solutions-Far/dp/customer-reviews/B0000062H7).

Rock My Religion is a black and white documentary by Dan Graham that describes the nature of rock & roll as religion to multitudes of people.

Many rock fans exhibit devotion that has a religious intensity. Consider the following testimony which speaks for many others that could be given: "I'm obsessed. I'd do anything for her. . . I LIVE FOR BRITNEY SPEARS, you don't understand. I live for Britney Spears. I live for her. . . Like my life wouldn't be complete without her" (unidentified fan interviewed on ET, July 10, 1999).

A fan of the Backstreet Boys said, "I love Nick! For Nick, I'll die. If God says, 'Die and let Nick live,' I'll do that" ("Boy Wonders," People Magazine, Sept. 14, 1998).

The memorial to John Lennon in Central Park, across the street from the Dakota building where he was murdered, has heavy religious overtones. A steady stream of fans place flowers and other offerings on the monument, which is inscribed with the title of his song "Imagine." The 20th anniversary of Lennon's death in December 8, 2000, was observed in many parts of the world in religious ways. Events included candlelight vigils, the lighting of large "peace flames," and the 24-hour playing of Beatle records by radio stations.

Sadly, it is not only the secular world that worships rock musicians. Popular evangelical speaker Josh McDowell made the following amazing statement:

"Thank God for Steve Camp. The body of Christ is enriched because we have his heart and his music. My oldest daughter thinks he hung the moon" (CCM magazine, August 1991, p. 15).

Someone might argue that McDowell was just talking off the cuff and didn't really mean that his daughter worshipped CCM musician Steve Camp, but it was Almighty God who hung the moon and it is foolish to apply such terminology or devotion to a mere man.


- Receive these reports by email
- www.wayoflife.org

______________________


Sharing Policy: Much of our material is available for free, such as the hundreds of articles at the Way of Life web site. Other items we sell to help fund our expensive literature and foreign church planting ministries. Way of Life's content falls into two categories: sharable and non-sharable. Things that we encourage you to share include the audio sermons, O Timothy magazine, FBIS articles, and the free eVideos and free eBooks. You are welcome to make copies of these at your own expense and share them with friends and family. You may also post parts of reports and/or entire reports to websites, blogs, etc as long as you give proper credit (citation). A link to the original report is very much appreciated as the reports are frequently updated and/or expanded. Things we do not want copied and distributed are "Store" items like the Fundamental Baptist Digital Library, print editions of our books, electronic editions of the books that we sell, the videos that we sell, etc. The items have taken years to produce at enormous expense in time and money, and we use the income from sales to help fund the ministry. We trust that your Christian honesty will preserve the integrity of this policy. "For the scripture saith, Thou shalt not muzzle the ox that treadeth out the corn. And, The labourer is worthy of his reward" (1 Timothy 5:18). Questions? support@wayoflife.org
Goal:Distributed by Way of Life Literature Inc., the Fundamental Baptist Information Service is an e-mail posting for Bible-believing Christians. Established in 1974, Way of Life Literature is a fundamental Baptist preaching and publishing ministry based in Bethel Baptist Church, London, Ontario, of which Wilbert Unger is the founding Pastor. Brother Cloud lives in South Asia where he has been a church planting missionary since 1979. Our primary goal with the FBIS is to provide material to assist preachers in the edification and protection of the churches.

Offering: Offerings are welcome if you care to make one. If you have been helped and/or blessed by our material offerings can be mailed or made online with with Visa, Mastercard, Discover, or Paypal. For information see: www.wayoflife.org/about/makeanoffering.html.
Publisher of Bible Study Materials
Publisher of Bible Study Materials