Publisher of Bible Study Materials
Publisher of Bible Study Materials
Robert Louis Stevenson's Apostasy
David Cloud, Way of Life Literature, P.O. Box 610368, Port Huron, MI 48061
866-295-4143,
fbns@wayoflife.org
Robert Louis Stevenson is one of Britain's most famous authors and "ranks among the 26th most translated authors in the world." He wrote
Treasure Island, A Child's Garden of Verses, Kidnapped,
and
The Strange Case of Dr. Jekyll and Mr. Hyde
.

The following is excerpted from Kevin Swanson,
Apostate: The Men Who Destroyed the Christian West
:

_____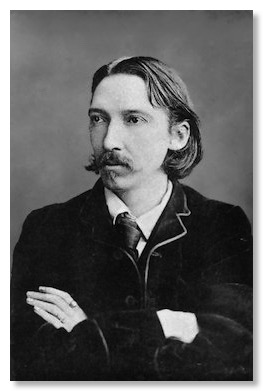 T
he influence of literary men like Robert Louis Stevenson, Mark Twain, H.G. Wells, George Bernard Shaw, Thomas Hardy, Ernest Hemingway, and others from this era was tremendous all of these men were atheists or Christian apostates of some stripe. ...


Raised in a faithful Christian home with the very best of Christian nurture, Robert Louis Stevenson rebelled against his parents soon after his entrance into Edinburgh University. He formed a club on campus which incorporated the rule: "Ignore everything that our parents taught us." (Iain Murray, The Undercover Revolution, p. 12)

When his father learned of his son's rebellious path, he lamented in a letter, "You have rendered my whole life a failure!"

In turn, Robert mocked his father's concern in a letter to a friend:

"It was really pathetic to hear my father praying pointedly for me today at family worship and to think the poor man's supplications were addressed to nothing better able to hear and answer than the chandelier." (Iain Murray)

The spirit of rebellion is palpable and acute in these words, heartbreaking to any parent who values commitment to family relationships and generational faith.

It is probable that Stevenson's broken relationship with his father had something to do with his falling away from the Christian faith. His father poured out his concerns to his son in another letter:

"A poor end for all my tenderness. . . I have made all my life to suit you. . . I have worked for you and gone out of my way for you. . . and the end of it is that I find you in opposition to the Lord Jesus Christ. . . I find everything gone. . . I would ten times sooner have seen you lying in your grave than that you should be shaking the faith of other young men." (Iain Murray).

Robert Louis Stevenson's story is important because it was a paradigmatic example of apostasy for hundreds of millions of young men and young women who came after him. This sort of radical rebellion is somewhat unique to the modern age. Before the humanist renaissance swept through Europe, the old Scottish Culdean church maintained strong generational continuity in the faith. According to ancient records, some of these Culdean churches were led by pastors from the same family line for twenty generations in a row(John Jamieson, An Historical Account of the Ancient Culdees of Iona, 1811, p. 32).

With the apostasy rate as high as 80- 90% today, continuity in the faith is a rare commodity. In Stevenson's day however, his family members would have been stunned by the news that he hated his father and his father's faith after so many generations of covenantal faithfulness. ...

Stevenson's adventure stories have enthralled millions of readers over the years. As with most of the "greats" of his era, he was careful to cloak his apostasy in his writings so as not to offend those who retained some respect for the Christian heritage.

This report on Robert Louis Stevenson is excerpted from Kevin Swanson, Apostate: The Men Who Destroyed the Christian West.



- Receive these reports by email
- www.wayoflife.org

______________________


Sharing Policy: Much of our material is available for free, such as the hundreds of articles at the Way of Life web site. Other items we sell to help fund our expensive literature and foreign church planting ministries. Way of Life's content falls into two categories: sharable and non-sharable. Things that we encourage you to share include the audio sermons, O Timothy magazine, FBIS articles, and the free eVideos and free eBooks. You are welcome to make copies of these at your own expense and share them with friends and family. You may also post parts of reports and/or entire reports to websites, blogs, etc as long as you give proper credit (citation). A link to the original report is very much appreciated as the reports are frequently updated and/or expanded. Things we do not want copied and distributed are "Store" items like the Fundamental Baptist Digital Library, print editions of our books, electronic editions of the books that we sell, the videos that we sell, etc. The items have taken years to produce at enormous expense in time and money, and we use the income from sales to help fund the ministry. We trust that your Christian honesty will preserve the integrity of this policy. "For the scripture saith, Thou shalt not muzzle the ox that treadeth out the corn. And, The labourer is worthy of his reward" (1 Timothy 5:18). Questions? support@wayoflife.org
Goal:Distributed by Way of Life Literature Inc., the Fundamental Baptist Information Service is an e-mail posting for Bible-believing Christians. Established in 1974, Way of Life Literature is a fundamental Baptist preaching and publishing ministry based in Bethel Baptist Church, London, Ontario, of which Wilbert Unger is the founding Pastor. Brother Cloud lives in South Asia where he has been a church planting missionary since 1979. Our primary goal with the FBIS is to provide material to assist preachers in the edification and protection of the churches.

Offering: Offerings are welcome if you care to make one. If you have been helped and/or blessed by our material offerings can be mailed or made online with with Visa, Mastercard, Discover, or Paypal. For information see: www.wayoflife.org/about/makeanoffering.html.