David Cloud, Way of Life Literature, P.O. Box 610368, Port Huron, MI 48061
866-295-4143,
fbns@wayoflife.org
The following is excerpted from
Woman and Her Service to God
, a training course available from Way of Life Literature.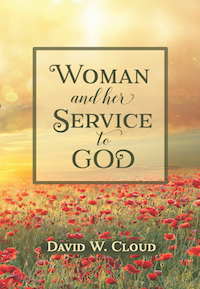 Luke 1:46-55

This is the hymn of a woman. It flows from a woman's heart. It is recorded in Scripture because it pleased God. Mary honored God, and God honored Mary.

This song is permeated with exaltation of God and humility of spirit.

The language is so exalted, so simple yet powerful, so instructive, so interesting, so perfectly fitted to its exalted subject.

It is obvious that Mary was full of God's Word, the Scriptures.

Again the saintly women of Israel were literate and educated in the Scriptures. This is in contrast to the women of most ancient pagan nations.

Mary's thinking was controlled by the Bible. She was renewed in her mind by the power of God's Word. She did not think like the world; God's thoughts were her thoughts.

Mary knew the Bible's teaching about God's character. She knew the Bible's teaching about God's covenants with Israel. She knew the Bible's teaching about the Messiah and how that He will bless those who fear Him and scatter the proud and rule forever.

Mary magnified the Lord (Lu. 1:46).

This is man's chief purpose. This is the most exalted and beautiful thing man and woman can do.

She magnified the Lord with her soul. Here, the term "soul" refers to the whole man. Sometimes "soul" refers to the part of man that is "soulish" or associated with his emotions and appetites, but sometimes, as here, it refers to the whole person. Compare Ge. 2:7; Le. 17:12. Mary is saying that she magnified the Lord with her whole heart, soul, and might (De. 6:5).


Mary called God her Saviour (Lu. 1:47).

She was a sinner saved by grace. The Roman Catholic dogma of "immaculate conception" is a gross heresy which is a direct assault on the uniqueness of Jesus Christ. Rome's Mary is the devil's Mary. Rome's Mary suffered with Christ, is co-redemptrex with Christ, is immaculate, is a Mediatrex. She is full of grace. She is the loving person who brings the sinner to the stern Christ. How blasphemous and foolish!

Mary knew God. He was her Saviour. She loved Him.


Mary expressed her humility (Lu. 1:48).

Humility is a wonderful thing. It brings salvation. It is the essence of repentance. When the sinner humbles himself before God's majesty and acknowledges his sin against God's holy law and submits to God's authority, that is biblical repentance, and repentance toward God and faith toward Jesus Christ is salvation (Acts 20:21). Humility also pleases God and gets His attention and blessing (Isa. 66:2). Humility allows the saint to dwell with God in His high and holy place (Isa. 57:15).


Mary knew that all generations would call her blessed (Lu. 1:48).

She knew the prophecies. She knew that she was involved in really big, eternal things. She knew that she had been chosen to be someone very special and that she would hold a unique position in human history forever.


Mary glorified God for His goodness to her (Lu. 1:48-49).

Mary was thankful. She did not take God's blessings for granted. She did not presume to enjoy God's blessings without praising Him for them.


Mary knew God's character.


It is obvious that Mary meditated on God and His glorious character. She was not a mere hearer of the Word. She didn't hear the words of Scriptures read in the synagogue each sabbath and then forget them. She was a young woman who meditated on God's Word, and we will see that this characterized her entire life.
She knew that God is mighty (Lu. 1:49).

She knew that God is holy (Lu. 1:49).

She knew that God is merciful (Lu. 1:50).

She knew that God is a God of judgment against sin (Lu. 1:51-52).

She knew that God loves to fill the hungry with good things (Lu. 1:53).

She knew that God is faithful to keep His promises (Lu. 1:54-55).

She knew that God speaks to man; He is a Person who reveals Himself (Lu. 1:55).


Mary knew that God is to be feared (Lu. 1:49).

God is to be loved, but first He is be feared, and the right love of God includes the fear of God. He is God, and He is still God to the believer, though the believer is in Christ, adopted, accepted in the beloved, a joint heir with Christ. "Wherefore we receiving a kingdom which cannot be moved, let us have grace, whereby we may serve God acceptably with reverence and godly fear" (Heb. 12:28).


Mary prophesied of the Messiah's coming kingdom (Lu. 1:51-55).

These things had not happened in Mary's day and they have not happened until today. This is not poetry or flowery language. These are real future events.

God will scatter the proud (Lu. 1:51). Mary is referring to the Day of the Lord, the day when God will be exalted and prideful, rebellious man abased. Pride was the original sin of the devil (1 Ti. 3:6; Isa. 14:13-14). It is the sin of all men who rebel against God and His laws. Pride is a characteristic of the fallen flesh (Mr. 7:21-22). The pride of life is a major trait of this fallen world system (1 Jo. 2:16). Pride will be a chief characteristic of the antichrist (Re. 13:5-6). And pride will characterize those nations that join the antichrist in his ventures against God. But God will judge man's pride in the day of the Lord. See Isa. 2:12; 13:10; Mal. 4:1.

God will put down the mighty from their seats and exalt them of low degree (Lu. 1:52). Hannah also prophesied of this (1 Sa. 2:4, 8). The wicked who hold power in this present world will be overthrown, and the humble saints in Christ will rule and reign with Him. Compare Job 34:24-28; Ps. 37:1-20; 107:40-41; 113:6-8; Da. 2:44-45; Eze. 17:24; Mt. 5:3-10; Re. 2:26-27; 3:21.

God will fill the hungry with good things (Lu. 1:53). Christ explained that this refers to the poor in spirit, to those who hunger and thirst after righteousness (Mt. 5:3, 6). It refers to the saved. They will be filled with "good things." Yea, every good thing and forever. They will be filled with joy unspeakable (sorrow and sadness having fled away) and praise. They will be filled with holy and lovely music. They will be filled with a bounty of every delightful thing in a world that is a new Eden, delicious food, gorgeous flowers, lovely trees, clean flowing rivers, the antics of harmless animals, the unspeakable glory of Christ's capital city. The prophets describe these "good things" in great detail. See the study on Christ's kingdom in
The Future According to the Bible
, available from Way of Life Literature.

God will send away the rich empty (Lu. 1:53). Those who are rich in the present world but do not honor and serve God's Christ will be empty then. They will have less than nothing in the lake of fire.

God will help Israel (Lu. 1:54-55). God will help Israel because of His covenants, which will be literally and completely fulfilled. God will help Israel by converting her and giving her spiritual life and a new heart to love Him supremely and forever (Jer. 31:31-34). He will help Israel by defeating all her enemies (Zec. 14:1-5). He will help Israel by exalting her as the chief nation of a global kingdom.


- Receive these reports by email
- www.wayoflife.org

______________________


Sharing Policy: Much of our material is available for free, such as the hundreds of articles at the Way of Life web site. Other items we sell to help fund our expensive literature and foreign church planting ministries. Way of Life's content falls into two categories: sharable and non-sharable. Things that we encourage you to share include the audio sermons, O Timothy magazine, FBIS articles, and the free eVideos and free eBooks. You are welcome to make copies of these at your own expense and share them with friends and family. You may also post parts of reports and/or entire reports to websites, blogs, etc as long as you give proper credit (citation). A link to the original report is very much appreciated as the reports are frequently updated and/or expanded. Things we do not want copied and distributed are "Store" items like the Fundamental Baptist Digital Library, print editions of our books, electronic editions of the books that we sell, the videos that we sell, etc. The items have taken years to produce at enormous expense in time and money, and we use the income from sales to help fund the ministry. We trust that your Christian honesty will preserve the integrity of this policy. "For the scripture saith, Thou shalt not muzzle the ox that treadeth out the corn. And, The labourer is worthy of his reward" (1 Timothy 5:18). Questions? support@wayoflife.org
Goal:Distributed by Way of Life Literature Inc., the Fundamental Baptist Information Service is an e-mail posting for Bible-believing Christians. Established in 1974, Way of Life Literature is a fundamental Baptist preaching and publishing ministry based in Bethel Baptist Church, London, Ontario, of which Wilbert Unger is the founding Pastor. Brother Cloud lives in South Asia where he has been a church planting missionary since 1979. Our primary goal with the FBIS is to provide material to assist preachers in the edification and protection of the churches.

Offering: Offerings are welcome if you care to make one. If you have been helped and/or blessed by our material offerings can be mailed or made online with with Visa, Mastercard, Discover, or Paypal. For information see: www.wayoflife.org/about/makeanoffering.html.
Publisher of Bible Study Materials
Publisher of Bible Study Materials