Keys to Fruitful Church Membership
Enlarged April 5, 2023
(first published September 1992)
David Cloud, Way of Life Literature, P.O. Box 610368, Port Huron, MI 48061
866-295-4143,
fbns@wayoflife.org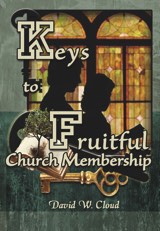 Y
ears ago
, I received a letter from a young couple who exhorted me as follows:


"Your book on separation is very good, but you may want to add a caveat that a person must have a better church to separate to before he separates from a church. We were shocked at the liberal doctrines held by the fundamental churches in our city."


Later they wrote to share more detail about the "liberal doctrines." Following are things that they mentioned:


"(1) Their former pastor did not teach that women should not work outside the home, and the wife of the associate pastor worked. (2) The church held parties or fellowships on Valentines Day, Halloween, and Christmas. (3) The pastor allowed a divorced person to work in the bus ministry. (4) The pastor failed to correct publicly certain erroneous statements which were given during testimony times and certain (supposed) erroneous statements which were made by visiting preachers. (5) The pastor failed to do anything about missionaries who joked and told stories in the pulpit. (6) Though the church took a stand for the KJV, this man did not think there was sufficient teaching on the subject of Bible versions. (7) The pastor "used humor to break the tension" in his preaching, whereas this one felt that sober- mindedness required that such levity in the pulpit cease. (8) The pastor seemed to prefer to let God change people about such things as appearance (long hair, ear rings on men, etc.) rather than approach them directly."


The couple eventually wrote and said they had "separated" from this fundamental Baptist church and from its pastor "because of his liberal teaching on remarriage, women working outside the home and his refusal to correct error."

It is natural that in any church we will find things with which we do not agree. To practice Bible separation based on the type of things discussed in this letter, is not proper or healthy. These are matters of preference, or, at best, very minor issues. Church members must learn to deal properly with such things or it will be impossible ever to be a happy, fruitful church member.

Another couple left a church because the pastor taught tithing and they don't believe in it.

Another couple left a good church because some of the women in the choir wore short heels. To them, this is immodest and unacceptable.

Those who leave churches over issues such as this will never be fruitful church members. Recently I heard from a couple who had been in 19 churches in 10 years.

While we are to separate from error, we are also exhorted to submit ourselves to pastoral authority and to exercise much patience and grace in the church. There are many things we can disagree with in a church while continuing to submit ourselves to God-ordained authority in a biblical manner. It's not always easy to discern what is very important and what is less important, but the Spirit of God will help us. He is the one who has instructed us to "obey them that have the rule over you" (Heb. 13:17) and "endeavoring to keep the unity of the Spirit in the bond of peace" (Eph. 4:3).

I know of some who have separated from practically all churches. Many times, these are good people who want to contend for the truth in an apostate hour. Many others, though, are contentious people who simply refuse to submit to God-ordained authority. I praise the Lord for anyone who has a zeal for the truth, but I also believe there are some important lessons in the Word of God that can help us deal with the complex matter of church membership.

The following thoughts can help us to have a more fruitful attitude toward the New Testament assembly in spite of the many problems and imperfections we find there.

These are lessons I have learned personally over the 50 years I became a church member since soon after my conversion at age 23 in the summer of 1973. These are lessons I have had to re-learn repeatedly, in fact, because the "old man" doesn't like to submit to authority and is naturally divisive. One of the works of the flesh is "variance" (Ga. 5:19). And I have learned these lessons better over the years.

Pastor Simeon Western gives the following important warning: "One danger I have observed growing up in a godly pastor's home and now having some years of pastoral experience is that families that are not under the authority, counsel and correction of a pastor can become isolationists in the sense that they develop an almost carnal perfectionism and end up separating from just about everyone who does not align with them on every little detail. This is especially true when they are out from underneath a local church umbrella for a long period of time. I can think of a family I know and love right now that is in that category. They have been so long out from the discipline of local church oversight, they are in danger of never joining a church again and have become a law unto themselves."

In the 2023 edition of
Keys to Fruitful Church Membership
we deal with the following lessons:



A Vibrant Relationship with Jesus Christ
The Importance of the Church
No Perfect Church
Keen Spiritual Discernment
Conviction vs. Preference
Avoiding Hypocrisy
Building the Church
Pastoral Authority
Grace
Looking at the Whole Picture
Persistence


Keys to Fruitful Church Membership
is available as a free eBook at -
https://www.wayoflife.org/books/


- Receive these reports by email
- www.wayoflife.org

______________________


Sharing Policy: Much of our material is available for free, such as the hundreds of articles at the Way of Life web site. Other items we sell to help fund our expensive literature and foreign church planting ministries. Way of Life's content falls into two categories: sharable and non-sharable. Things that we encourage you to share include the audio sermons, O Timothy magazine, FBIS articles, and the free eVideos and free eBooks. You are welcome to make copies of these at your own expense and share them with friends and family. You may also post parts of reports and/or entire reports to websites, blogs, etc as long as you give proper credit (citation). A link to the original report is very much appreciated as the reports are frequently updated and/or expanded. Things we do not want copied and distributed are "Store" items like the Fundamental Baptist Digital Library, print editions of our books, electronic editions of the books that we sell, the videos that we sell, etc. The items have taken years to produce at enormous expense in time and money, and we use the income from sales to help fund the ministry. We trust that your Christian honesty will preserve the integrity of this policy. "For the scripture saith, Thou shalt not muzzle the ox that treadeth out the corn. And, The labourer is worthy of his reward" (1 Timothy 5:18). Questions? support@wayoflife.org
Goal:Distributed by Way of Life Literature Inc., the Fundamental Baptist Information Service is an e-mail posting for Bible-believing Christians. Established in 1974, Way of Life Literature is a fundamental Baptist preaching and publishing ministry based in Bethel Baptist Church, London, Ontario, of which Wilbert Unger is the founding Pastor. Brother Cloud lives in South Asia where he has been a church planting missionary since 1979. Our primary goal with the FBIS is to provide material to assist preachers in the edification and protection of the churches.

Offering: Offerings are welcome if you care to make one. If you have been helped and/or blessed by our material offerings can be mailed or made online with with Visa, Mastercard, Discover, or Paypal. For information see: www.wayoflife.org/about/makeanoffering.html.
Publisher of Bible Study Materials
Publisher of Bible Study Materials