Harry Truman's Recognition of the State of Israel
July 2, 2019 (first published April 1, 2009)
David Cloud, Way of Life Literature, P.O. Box 610368, Port Huron, MI 48061
866-295-4143,
fbns@wayoflife.org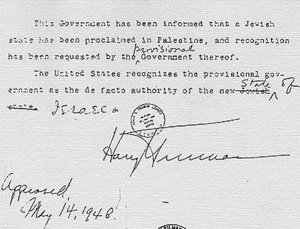 I
believe that one of the most important events in American history was Harry Truman's recognition of Israel on May 14, 1948.

America's friendship toward Israel has not been perfectly consistent by any means, but the fact remains that America has been Israel's greatest friend in modern history, and that is significant. God told Abraham, the father of the Jewish nation,

"And I will make of thee a great nation, and I will bless thee, and make thy name great; and thou shalt be a blessing: And I will bless them that bless thee, and curse him that curseth thee: and in thee shall all families of the earth be blessed" (Genesis 12:2-3).

On this authority there can be no doubt that one of the chief reasons for God's blessing on America has been her blessing of Israel.

Harry S. Truman (1884-1972) was vice president under Franklin D. Roosevelt and became president when died early in his fourth term in April 1945. Truman subsequently won the presidential election in 1948 and declined to run in 1952, so he was president for eight years.

Truman was a Baptist. He was a member of Benton Boulevard Baptist Church in Kansas City, Missouri (beginning 1903) and First Baptist Church of Grandview, Missouri (beginning 1916). He also attended First Baptist Church of Washington, D.C.

Truman's Baptist faith was on the Southern Baptist side, so it is not very surprising that he drank, cussed, gambled, married an Episcopalian, and was a Mason. He did have some strong moral fiber, though, especially compared to some recent presidents. He was honest. He was not a womanizer and he believed that every man should be a one-woman man. He was courageous in the face of tremendous opposition. He was a blunt, no-nonsense kind of guy who stood up for what he believed and took responsibility for his failures. He had a plaque on his desk that said "The Buck Stops Here." There are other presidents that could say more honestly that the buck stopped in their pockets or the buck stops anywhere but here!

Truman's presidency was during one of the most interesting times in American history. He was the president during the surrender of Germany and Japan. He witnessed the fall of the Iron Curtain over Eastern Europe and the Bamboo Curtain over China and other parts of Eastern Asia. He made the decision to drop the atomic bomb, to create the United Nations, to establish NATO, to pursue the Marshall Plan, to continue and expand Roosevelt's socialistic New Deal, to desegregate the U.S. military, to recognize the modern state of Israel, to carry out the Berlin Airlift, to fight North Korea, and to fire the brilliant, fiercely proud, hugely popular but insubordinate General Douglas MacArthur.


A HARD FOUGHT BATTLE


Truman's decision to recognize Israel was hard fought. He was strongly opposed by the U.S. State Department, which favored a United Nations trusteeship over Palestine. The State Department took a pragmatic view, seeing the need for the free flow of oil from Muslim nations in the face of the very real possibility of war with Russia. They did not want to offend the Muslims for the sake of a "few Jews."

Clark Clifford, who was special counsel to Truman, said: "Officials in the State Department had done everything in their power to prevent, thwart, or delay the President's Palestine policy in 1947 and 1948. Watching them find various ways to avoid carrying out White House instructions, I sometimes felt they preferred to follow the views of the British Foreign Office rather than those of their President" (Clark Clifford and Richard Holbrooke, "President Truman's Decision to Recognize Israel," Jerusalem Center for Public Affairs, May 1, 2008).

Truman was opposed by many powerful figures in government, including George Marshall, Secretary of State, who was called by the president "the greatest living American."

"Marshall's opposition was shared by almost every member of the brilliant and now-legendary group of men, later referred to as 'the Wise Men,' who were then in the process of creating a postwar foreign policy that would endure for more than forty years. The opposition included the respected Undersecretary of State, Robert Lovett; his predecessor, Dean Acheson; the number-three man in the State Department, Charles Bohlen; the brilliant chief of the Policy Planning Staff, George F. Kennan; the dynamic and driven Secretary of Defense, James V. Forrestal; and a man with whom I would disagree again twenty years later when we served together in the Cabinet, Dean Rusk, then the Director of the Office of United Nations Affairs" ("President Truman's Decision to Recognize Israel").

Marshall told the president bluntly, "If you (recognize the state of Israel) and if I were to vote in the election, I would vote against you" ("President Truman's Decision to Recognize Israel"). Clifford says this was the sharpest rebuke that the president ever received.

Marshall "saw America as gravely threatened by the Soviet Union, and as a soldier, he was acutely aware of the vital importance of Middle Eastern oil in the event of a war in Europe, which seemed more likely by the day" (David McCullough,
Truman
, p. 605).

Marshall did everything in his power to stop the president's recognition of Israel until the very last day, when he did finally surrender his support.

James Forrestal warned that recognition of Israel would be in vain because the Arabs would "push the Jews into the sea" (
Truman
, p. 602).

Truman withstood this pressure because of his biblical convictions. We don't know how much he read the Bible in his adult years, but it is said that he read it through three times before age fourteen.

Clark Clifford said that Truman "was a student and believer in the Bible since his youth" and that "from his reading of the Old Testament he felt the Jews derived a legitimate historical right to Palestine, and he sometimes cited such biblical lines as Deuteronomy 1:8: 'Behold, I have given up the land before you; go in and take possession of the land which the Lord hath sworn unto your fathers, to Abraham, to Isaac, and to Jacob'" ("President Truman's Decision to Recognize Israel").


THE RECOGNITION OF ISRAEL


The following is the fascinating account of the recognition of Israel in 1948:

"On Friday, May 14, the day the new Jewish state was to be declared at midnight in Jerusalem--6:00 P.M. Washington time--Clifford and Lovett met for lunch in the quiet of the F Street Club and worked out the wording of a statement to be released by the President. ...

"Clifford put through a hurried call to Elihu Epstein, an official at the Jewish Agency in Washington, to tell him that recognition would occur that day, and to get the necessary papers ready and over to the White House at once. ... Clifford called the State Department, then reported back to Epstein. When the papers finally arrived, the name of the new country had been left blank--to be filled in later--because it was still unknown.

"The new Jewish state--the first Jewish state in nearly two thousand years--was declared on schedule at midnight in Jerusalem, 6:00 P.M. in Washington. Eleven minutes later at the White House, Charlie Ross announced de facto recognition by the United States of Israel, as it was to be called. ...

"There was dancing in the streets in Brooklyn and the Bronx, a huge 'salute-to-Israel' rally at the Polo Grounds. In synagogues across the country thanksgiving services were held. At 2210 Massachusetts Avenue in Washington, headquarters of the Jewish Agency, a new flag was unfurled--pale blue and white, with a Star of David in the center. ...

"
Time
magazine said--there was immense approval in the country. ... As the popular radio commentator and world traveler Lowell Thomas said in his broadcast that evening, Americans in every part of the country would be turning to the Bible for some historical background for 'this day of history.' ...

"Truman felt great satisfaction in what he had been able to do for the Jewish people, and was deeply moved by their expressions of gratitude, then and for years to come. When the Chief Rabbi of Israel, Isaac Halevi Herzog, called at the White House, he told Truman, 'God put you in your mother's womb so you would be the instrument to bring the rebirth of Israel after two thousand years.' I thought he was overdoing things, remembered David Niles, 'but when I looked over at the President, tears were running down his cheeks'" (David McCullough, Truman, pp. 617-620).

In 1961, eleven years before Truman's death, he was met in New York by David Ben-Gurion, who had been the first Prime Minister of Israel. The following is Ben-Gurion's memory of the meeting:

"At our last meeting, after a very interesting talk, just before [the President] left me--it was in a New York hotel suite--I told him that as a foreigner I could not judge what would be his place in American history; but his helpfulness to us, his constant sympathy with our aims in Israel, his courageous decision to recognize our new state so quickly and his steadfast support since then had given him an immortal place in Jewish history. As I said that, tears suddenly sprang to his eyes. And his eyes were still wet when he bade me goodbye. I had rarely seen anyone so moved" ("President Truman's Decision to Recognize Israel").


THE UNITED NATIONS VS. ISRAEL


If Israel had been turned over to the United Nations, it would not have survived, humanly speaking. The United Nations is a New Age Tower of Babel. It is antichrist, and has long displayed a rabid anti-Semitism.

"As the Third World took a commanding majority in U.N. membership and thus the General Assembly (there were 127 members by the end of 1967), the organization lined up against the little land it had once created out of sympathy and justice. The American veto in the Security Council served as Israel's only shield at the U.N. The Six-Day War intensified the Israeli disdain for the United Nations. Israeli leaders had long ago decided that they could not trust the security of their country to the U.N." (Stanley Meisler,
United Nations
, p. 183).


In 1975, Idi Amin, president of Uganda, said in a speech before the U.N. General Assembly that "the United States of America has been colonized by the Zionists..." He called for "the expulsion of Israel from the United Nations and the extinction of Israel as a State" (Meisler, pp. 211, 212). Ambassadors applauded throughout the speech and gave the raving anti-Semite a standing ovation.

In November 1975, the U.N. General Assembly passed a resolution stating that "Zionism is racism." It passed by a vote of 72 to 35, with 32 abstentions. Daniel Monynihan, the U.S. ambassador to the United Nations, stood and delivered the following words of defiance:

"The United States rises to declare before the General Assembly of the United Nations, and before the world, that it does not acknowledge, it will not abide by, it will never acquiesce in this infamous act" (Meisler, p. 215).


The U.N. Secretary-General at the helm when this resolution was passed, Kurt Waldheim, was a former Nazi German officer who committed crimes against the Jews and was listed by the War Crimes Commission as a war criminal (though this did not become public until after his retirement).

Waldheim condemned Israel's dramatic rescue of Jewish hostages in Entebbe in 1976. He also was at the helm when the United Nations passed the "Zionism Is Racism" resolution.

COMMUNICATION BETWEEN J. FRANK NORRIS AND HARRY TRUMAN


The following communication occurred between the fundamental Baptist pastor J. Frank Norris and President Harry Truman in 1947 when Truman was deciding whether to recognize the modern state of Israel. Truman asked for Norris's opinion on the Israel situation.

NORRIS'S LETTER ON ISRAEL TO PRESIDENT TRUMAN

First Baptist Church
4th and Throckmorton Streets
Fort Worth, Texas

Oct. 2, 1947

Hon. Harry S. Truman President United States Washington, D. C.

Dear Mr. President:

Mr. Matthew J. Connelly wired me New York October 1st and suggested that I write you certain matters of my trip to Palestine.

First, I want to thank you for your very kind personal letter of August 5th, which was of invaluable assistance in all my travels.

I have given extensive study to the Jewish Palestinian question. The issue is whether we will take the authority of the Bible of our mothers or the Koran with the sword and flame.

In that whole controversy the big issue is who owns the land, who has the title to that land? If that question is settled there is no other question.

The Lord God Almighty in Genesis the 17th chapter, specifically states that the title to Palestine is given not to Ishmael, the ancestor of the Arabs, but to Isaac and his seed for ever.

"And God said, Sarah thy wife shall bear thee a son indeed; and thou shalt call his name Isaac: and I will establish my covenant with him for an everlasting covenant, and with his seed after him." (Gen. 17:19)

This covenant was confirmed to Isaac, Genesis 26:3:

"Sojourn in this land, and I will be with thee, and will bless thee; for unto thee, and unto thy seed, I will give all these countries, and I will perform the oath which I sware unto Abraham thy father;

This covenant was also confirmed to Jacob, Genesis 28:13:

"And, behold, the LORD stood above it, and said, I am the LORD God of Abraham thy father, and the God of Isaac: the land whereon thou liest, to thee will I give it, and to thy seed;

The covenant was likewise confirmed to Moses in Deuteronomy 30:3-5:

"That then the LORD thy God will turn thy captivity, and have compassion upon thee, and will return and gather thee from all the nations, whither the LORD thy God hath scattered thee. If any of thine be driven out unto the outmost parts of heaven, from thence will the LORD thy God gather thee, and from thence will he fetch thee: And the LORD thy God will bring thee into the land which thy fathers possessed, and thou shalt possess it; and he will do thee good, and multiply thee above thy fathers.

David specifically states the title to that land is to the Jews and the descendants of Jacob: Psalm 105:9-12:

"Which covenant he made with Abraham, and his oath unto Isaac; And confirmed the same unto Jacob for a law, and to Israel for an everlasting covenant: Saying, Unto thee will I give the land of Canaan, the lot of your inheritance: When they were but a few men in number; yea, very few, and strangers in it.

Thirteen hundred years ago the Arabs were usurpers, Mohammet with fire and sword, and they were robbers of property that belongs to the Jews.

A second and very important authority in addition to Scriptural authority, Great Britain was given a mandate over Palestine for the purpose of Jewish immigration into that land and for making it a national home.

This mandate was confirmed by the United States Government and by the 57 Nations of the League of Nations.

The tragedy and the cause of all the present trouble is that Neville Chamberlain, Prime Minister, put on a two-fold appeasement in 1939:

First, with Hitler, and that brought on World War II.

Second, with the Arabs, who were the allies of Hitler.

Chamberlain violated the international law giving that land as a national home for Jews in 1939, and said only 70,000 Jews would be permitted to go for the next five years, and after that none except by the consent of the Arabs. But the mandate made no such restrictions.

Therefore the present Jewish immigration into Palestine is not "illegal"; it's legal.

Based on the mandate given to Great Britain over Palestine, and confirmed by the United States Government and confirmed by the League of Nations, the Jews invested six hundred and fifty million dollars in Palestine, built cities, public works, and the curse of God Almighty is on every hand that violates this most solemn agreement­-the mandate three times over confirmed.

Now, Mr. President, it certainly is a matter that should cause us to stop and think that the Arab leaders from the Grand Mufti on down were allies of Hitler, and it ill becomes them to come now into court with their hands dripping with the blood of the Jews, six million of them murdered by Hitler.

I interviewed many Arab leaders, and without question I found that the whole crowd are for Stalin, just like they formerly were for Hitler.

While this country was fighting Hitler, thirty thousand young Jews from Palestine volunteered and went to the battle front and not a single Arab regiment.

If the Arabs and Jews in Palestine were left alone they would get along and settle their troubles.

Russia is doing everything at her command to foment the trouble.

The time has come, and long past, when the United States should keep its promise and take a firm stand for law and order in that land that has given the world its Bible and Saviour.

Yours very sincerely,
(Signed by J. Frank Norris)
JFN:r


REPLY FROM TRUMAN TO NORRIS

The White House Washington
October 7, 1947

Dear Dr. Norris:
I am most grateful for your thoughtful letter of October second. I deeply appreciate having the benefit of this expression of your views because I know that you have given long and extensive study to the Jewish Palestinian question.

Very sincerely yours,
(Signed by President Harry Truman)
Harry Truman President

For additional information see:
https://www.trumanlibrary.gov/education/presidential-inquiries/recognition-israel
/


- Receive these reports by email
- www.wayoflife.org

______________________


Sharing Policy: Much of our material is available for free, such as the hundreds of articles at the Way of Life web site. Other items we sell to help fund our expensive literature and foreign church planting ministries. Way of Life's content falls into two categories: sharable and non-sharable. Things that we encourage you to share include the audio sermons, O Timothy magazine, FBIS articles, and the free eVideos and free eBooks. You are welcome to make copies of these at your own expense and share them with friends and family. You may also post parts of reports and/or entire reports to websites, blogs, etc as long as you give proper credit (citation). A link to the original report is very much appreciated as the reports are frequently updated and/or expanded. Things we do not want copied and distributed are "Store" items like the Fundamental Baptist Digital Library, print editions of our books, electronic editions of the books that we sell, the videos that we sell, etc. The items have taken years to produce at enormous expense in time and money, and we use the income from sales to help fund the ministry. We trust that your Christian honesty will preserve the integrity of this policy. "For the scripture saith, Thou shalt not muzzle the ox that treadeth out the corn. And, The labourer is worthy of his reward" (1 Timothy 5:18). Questions? support@wayoflife.org
Goal:Distributed by Way of Life Literature Inc., the Fundamental Baptist Information Service is an e-mail posting for Bible-believing Christians. Established in 1974, Way of Life Literature is a fundamental Baptist preaching and publishing ministry based in Bethel Baptist Church, London, Ontario, of which Wilbert Unger is the founding Pastor. Brother Cloud lives in South Asia where he has been a church planting missionary since 1979. Our primary goal with the FBIS is to provide material to assist preachers in the edification and protection of the churches.

Offering: Offerings are welcome if you care to make one. If you have been helped and/or blessed by our material offerings can be mailed or made online with with Visa, Mastercard, Discover, or Paypal. For information see: www.wayoflife.org/about/makeanoffering.html.
Publisher of Bible Study Materials
Publisher of Bible Study Materials