Does 2 Chronicles 7:14 Apply to This Age?
David Cloud, Way of Life Literature, P.O. Box 610368, Port Huron, MI 48061
866-295-4143,
fbns@wayoflife.org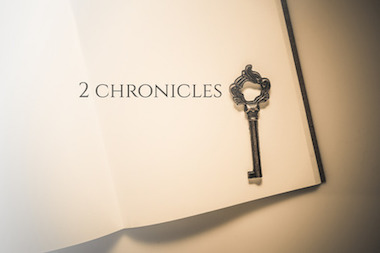 "I
f my people, which are called by my name
, shall humble themselves, and pray, and seek my face, and turn from their wicked ways; then will I hear from heaven, and will forgive their sin, and will heal their land" (2 Chronicles 7:14).


Some people have challenged my application of 2 Chronicles to the situation in America.

But 1 Corinthians 10 and Romans 15:4 instruct us that we can learn lessons from the Old Testament Scriptures for the Christian life and church age.

"For whatsoever things were written aforetime
were written for our learning
, that we through patience and comfort of the scriptures might have hope" (Romans 15:4).

"Moreover, brethren, I would not that ye should be ignorant, how that all our fathers were under the cloud, and all passed through the sea; And were all baptized unto Moses in the cloud and in the sea; And did all eat the same spiritual meat; And did all drink the same spiritual drink: for they drank of that spiritual Rock that followed them: and that Rock was Christ. But with many of them God was not well pleased: for they were overthrown in the wilderness.
Now these things were our examples
, to the intent we should not lust after evil things, as they also lusted. Neither be ye idolaters, as
were
some of them; as it is written, The people sat down to eat and drink, and rose up to play. Neither let us commit fornication, as some of them committed, and fell in one day three and twenty thousand. Neither let us tempt Christ, as some of them also tempted, and were destroyed of serpents. Neither murmur ye, as some of them also murmured, and were destroyed of the destroyer.
Now all these things happened unto them for ensamples: and they are written for our admonition, upon whom the ends of the world are come
" (1 Corinthians 10:1-11).

Though the law of Moses is not the believer's rule of life, it is an important source of instruction for the Christian life. We draw spiritual lessons from it. We learn from its examples.

(The fact that the believer is not under the law of Moses does not mean that he doesn't have a law. The believer has a new, higher law, which is
the law of Christ
. This means to be conformed to His image, Romans 8:29; 2 Cor. 3:17-18. The believer's new law is also called
the law of the Spirit
, Galatians 5:16-18. By walking in the Spirit, which means obeying the Spirit and yielding to Him and trusting Him, the believer does not fulfill the law of the flesh.)

The New Testament is filled with lessons from the law of Moses. In 1 Corinthians 10, Paul draws lessons from Israel's wilderness wanderings from Exodus and Numbers. We learn lessons about Christ (as the Rock and the living water), and we are warned not to commit idolatry and fornication or to murmur against God. In 1 Corinthians 5, Paul draws lessons from the passover. In Hebrews 3:7-13, the writer of Hebrews draws lessons from Israel's unbelief and hardness of heart in the wilderness.

We interpret lessons from the law of Moses and the Old Testament by comparing Scripture with Scripture to see if there are similar principles in the New Testament.

Consider Deuteronomy 22:5, "The woman shall not wear that which pertaineth unto a man, neither shall a man put on a woman's garment: for all that do so
are
abomination unto the LORD thy God" (Deut. 22:5). This contains a moral principle that there should be a distinction between the sexes even in how they dress. That this principle remains valid in the New Testament dispensation is clear by comparing Scripture with Scripture. The teaching of Deut. 22:5 is confirmed in Genesis, where we find that God made man male and female (Gen. 2:27). And it is confirmed in 1 Corinthians 11:3-15 where we find that the sexes are to be distinguished by their hair length.

Consider Leviticus 19:28, "Ye shall not make any cuttings in your flesh for the dead, nor print any marks upon you: I
am
the LORD" (Lev. 19:28). This moral lesson of avoiding pagan customs such as tattoos that are associated with idolatry and moral reprobation is confirmed in passages such as Jeremiah 10:2; 1 Corinthians 10:20-22; 2 Corinthians 6:16-18; and Ephesians 5:11.

Now concerning 2 Chronicles 7:14, while this verse can't be applied literally and fully to America (or England or Canada or other nations with a significant Christian heritage), it is certain that we can draw a fundamental lesson that is confirmed in the New Testament, which is as follows: In time of trouble God's people must get on "praying ground" (by humbling themselves and turning from their wicked ways) and they must pray and seek God's face. The key to healing is repentance, obedience, and earnest prayer.

In this present age, "God's people" refers to the church which is the house of God (1 Tim. 3:15).

2 Chronicles 7:14 teaches us that God's people are the key to real change, because they have access to the God who can do all things and who is ready and willing and able to answer their prayers.

The promise in 2 Chronicles 7:14 to "heal their land" refers, of course, to the land of Israel. We can't apply this literally in the church age, and I don't know to what extent God would heal America if Bible-believing churches got serious about prayer,
but I know He would do great things, because He has promised to do so
.

Any capable student who studies the Bible's extensive teaching on prayer (more than 500 references) knows that little prayer means little power and great prayer means great power, but what we have currently in the vast majority of churches, even the "good churches," is
little prayer
.

Consider some New Testament passages on prayer


James 4:7-10


"Submit yourselves therefore to God. Resist the devil, and he will flee from you. Draw nigh to God, and he will draw nigh to you. Cleanse
your
hands,
ye
sinners; and purify
your
hearts,
ye
double minded. Be afflicted, and mourn, and weep: let your laughter be turned to mourning, and
your
joy to heaviness. Humble yourselves in the sight of the Lord, and he shall lift you up."

James says that if God's people will humble themselves and draw nigh to God (which refers to the affection of the heart and the prayers of the lips) and cleanse their hands of sinful deeds and purify their hearts of evil thoughts and be afflicted and mourn for their backsliding, God will draw nigh to them and bless them and the devil will be defeated.


1 Timothy 2:1-4


"I exhort therefore, that, first of all, supplications, prayers, intercessions,
and
giving of thanks, be made for all men; For kings, and
for
all that are in authority; that we may lead a quiet and peaceable life in all godliness and honesty. For this
is
good and acceptable in the sight of God our Saviour; Who will have all men to be saved, and to come unto the knowledge of the truth."

Paul instructs the churches to pray for secular government leaders so that we might live a quiet and peaceable life in all godliness and honesty. This is not a suggestion; it is a solemn exhortation that every church should take seriously. Why would God exhort His people to pray for such a thing if He weren't ready to grant quietness and peace?


James 5:16


"Confess
your
faults one to another, and pray one for another, that ye may be healed. The effectual fervent prayer of a righteous man availeth much."

James says the
effectual fervent prayer
of a righteous man availeth much. That is a description of
serious
prayer. In my experience, having personally preached in hundreds of churches and hearing from people from hundreds of church each year, this type of prayer life is rare. The average church member knows little to nothing about such prayer. The typical prayer meeting is pathetic in its character (involving a few minutes of prayer tacked onto a regular service) and not well attended. Special prayer meetings are almost unheard of, and few would come if the pastor called for them. I think of a church that runs 600 but has only a few men attend its before-service prayer meetings. This is one of the best churches I know of, and at least it
has
before-service prayer meetings, but how amazingly pathetic is the response! This is where we are spiritually, and until we acknowledge how lukewarm we are and how far we have fallen, we will never see the power of God.


Conclusion


The old "cottage prayer meetings" that churches used to have to prepare themselves for Bible conferences and "revivals" are largely relics of the past.

To call for special prayer meetings and entire days of fasting and prayer before major elections and other important national events is unheard of today, but churches did this routinely in former times of American history.

Prayer with fasting is a foreign thing to most churches.

The result is little power in the homes and congregations and nations that are in moral free fall.

You can talk about
Fox News
and Rush Limbaugh and Breitbart and the
National Review
and the Tea Party and how Trump will be better than Hillary and all such things.

I talk about those things, too,
but I intend to talk about and focus
far
more
on the power of prayer
.

The Tea Party at its best can't change the moral and spiritual condition of the country, but prayer could.

The Tea Party has given us Donald Trump who "holds high the flag for gay equality" (
The Washington Times
, Nov. 2, 2016).

God knows all things and can do all things, but He has ordained that His people pray and seek His face while standing on "praying ground." God acts through effectual prayer.

Christ taught in Luke 18:6-9 that persistent prayer even has a role in prophetic events. In Revelation 8:3-5, we see that the prayers of the saints are active in the Tribulation. They are likened to incense that comes up before God and brings about the trumpet judgments. In Isaiah 62:6-7 we again see the connection between prayer and prophetic events. Here prayer is associated with the establishment of Christ's kingdom and the blessing of Jerusalem.

Prayer is so powerful that it is history changing.

Moses' effectual fervent prayer caused God not to destroy Israel (Ex. 32:9-14).

The prayers of Bible-believing churches can still change history, but not until they get on "praying ground" (James 4:8-10) and become really serious about intercession.


- Receive these reports by email
- www.wayoflife.org

______________________


Sharing Policy: Much of our material is available for free, such as the hundreds of articles at the Way of Life web site. Other items we sell to help fund our expensive literature and foreign church planting ministries. Way of Life's content falls into two categories: sharable and non-sharable. Things that we encourage you to share include the audio sermons, O Timothy magazine, FBIS articles, and the free eVideos and free eBooks. You are welcome to make copies of these at your own expense and share them with friends and family. You may also post parts of reports and/or entire reports to websites, blogs, etc as long as you give proper credit (citation). A link to the original report is very much appreciated as the reports are frequently updated and/or expanded. Things we do not want copied and distributed are "Store" items like the Fundamental Baptist Digital Library, print editions of our books, electronic editions of the books that we sell, the videos that we sell, etc. The items have taken years to produce at enormous expense in time and money, and we use the income from sales to help fund the ministry. We trust that your Christian honesty will preserve the integrity of this policy. "For the scripture saith, Thou shalt not muzzle the ox that treadeth out the corn. And, The labourer is worthy of his reward" (1 Timothy 5:18). Questions? support@wayoflife.org
Goal:Distributed by Way of Life Literature Inc., the Fundamental Baptist Information Service is an e-mail posting for Bible-believing Christians. Established in 1974, Way of Life Literature is a fundamental Baptist preaching and publishing ministry based in Bethel Baptist Church, London, Ontario, of which Wilbert Unger is the founding Pastor. Brother Cloud lives in South Asia where he has been a church planting missionary since 1979. Our primary goal with the FBIS is to provide material to assist preachers in the edification and protection of the churches.

Offering: Offerings are welcome if you care to make one. If you have been helped and/or blessed by our material offerings can be mailed or made online with with Visa, Mastercard, Discover, or Paypal. For information see: www.wayoflife.org/about/makeanoffering.html.
Publisher of Bible Study Materials
Publisher of Bible Study Materials