Bible Support for a Regenerate Church Membership
David Cloud, Way of Life Literature, P.O. Box 610368, Port Huron, MI 48061
866-295-4143,
fbns@wayoflife.org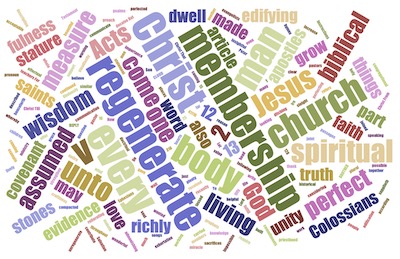 I
received
the following communication from a pastor recently:

I just wanted to write and thank you for your article on regenerate church membership. Your article was helpful and insightful. One question for you, as far as a church covenant, and we have one, other than historical evidence, do you have any Biblical evidence of this other than they made similar commitments to God and to each other in Acts 2? Obviously, for a doctrinal statement, they continued steadfastly in the apostles doctrine is clear in Acts 2. I am not considering ditching our covenant, but reiterating the value and importance of it [and] also looking to strengthen our Biblical reason for it. I believe there is plenty in Acts 2, but are there any other passages that communicate this same truth?"


REPLY FROM BROTHER CLOUD


As for biblical support for a regenerate church membership, it is assumed in many places, such as these -


Ephesians 4:11-16 "And he gave some, apostles; and some, prophets; and some, evangelists; and some, pastors and teachers;
For the perfecting of the saints, for the work of the ministry, for the edifying of the body of Christ: Till we all come in the unity of the faith, and of the knowledge of the Son of God, unto a perfect man, unto the measure of the stature of the fulness of Christ: That we
henceforth
be no more children, tossed to and fro, and carried about with every wind of doctrine, by the sleight of men,
and
cunning craftiness, whereby they lie in wait to deceive; But speaking the truth in love, may grow up into him in all things, which is the head,
even
Christ: From whom the whole body fitly joined together and compacted by that which every joint supplieth, according to the effectual working in the measure of every part, maketh increase of the body unto the edifying of itself in love."

A regenerate membership is assumed throughout. For example, it is assumed that the members of the body are "saints" (v. 12), that they can be perfected (v. 12), that they are in "the faith" and can come into the unity of it (v. 13), that they can come unto the measure of the stature of the fulness of Christ (v. 13), that they can grow up into Christ in all things (v. 15), and that they are part of a living body and can contribute to its edification (v. 16). This is a regenerate church membership.


Colossians 1:28 "Whom we preach, warning every man, and teaching every man in all wisdom; that we may present every man perfect in Christ Jesus."


How would it be possible to present "every man" perfect in Christ Jesus if every man is not in Christ Jesus? This is a regenerate church membership.


Colossians 3:16 "Let the word of Christ dwell in you richly in all wisdom; teaching and admonishing one another in psalms and hymns and spiritual songs, singing with grace in your hearts to the Lord."


The instructions on congregational singing require a regenerate membership. The pronoun "you" is plural so it refers to the entire body. It is impossible that unregenerate people could fulfill the exhortation for the word of Christ to dwell in them richly in all wisdom. What a wonderful New Testament church is described here!


1 Peter 2:5 "Ye also, as lively stones, are built up a spiritual house, an holy priesthood, to offer up spiritual sacrifices, acceptable to God by Jesus Christ."


A spiritual house made of living stones is a regenerate membership. A living stone is a beautiful description of a regenerate soul. Salvation is as much a miracle as a stone coming to life.


- Receive these reports by email
- www.wayoflife.org

______________________


Sharing Policy: Much of our material is available for free, such as the hundreds of articles at the Way of Life web site. Other items we sell to help fund our expensive literature and foreign church planting ministries. Way of Life's content falls into two categories: sharable and non-sharable. Things that we encourage you to share include the audio sermons, O Timothy magazine, FBIS articles, and the free eVideos and free eBooks. You are welcome to make copies of these at your own expense and share them with friends and family. You may also post parts of reports and/or entire reports to websites, blogs, etc as long as you give proper credit (citation). A link to the original report is very much appreciated as the reports are frequently updated and/or expanded. Things we do not want copied and distributed are "Store" items like the Fundamental Baptist Digital Library, print editions of our books, electronic editions of the books that we sell, the videos that we sell, etc. The items have taken years to produce at enormous expense in time and money, and we use the income from sales to help fund the ministry. We trust that your Christian honesty will preserve the integrity of this policy. "For the scripture saith, Thou shalt not muzzle the ox that treadeth out the corn. And, The labourer is worthy of his reward" (1 Timothy 5:18). Questions? support@wayoflife.org
Goal:Distributed by Way of Life Literature Inc., the Fundamental Baptist Information Service is an e-mail posting for Bible-believing Christians. Established in 1974, Way of Life Literature is a fundamental Baptist preaching and publishing ministry based in Bethel Baptist Church, London, Ontario, of which Wilbert Unger is the founding Pastor. Brother Cloud lives in South Asia where he has been a church planting missionary since 1979. Our primary goal with the FBIS is to provide material to assist preachers in the edification and protection of the churches.

Offering: Offerings are welcome if you care to make one. If you have been helped and/or blessed by our material offerings can be mailed or made online with with Visa, Mastercard, Discover, or Paypal. For information see: www.wayoflife.org/about/makeanoffering.html.
Publisher of Bible Study Materials
Publisher of Bible Study Materials