Beware of an Unwholesome Addiction to Sports
Enlarged October 6, 2020 (first published January 20, 2010)
David Cloud, Way of Life Literature, P.O. Box 610368, Port Huron, MI 48061
866-295-4143,
fbns@wayoflife.org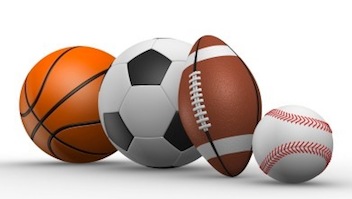 P
laying sports
is not wrong in itself, and there can be benefits, but there are also plenty of spiritual dangers.


Following are some suggestions in how to keep sports from becoming an idol in your family:


PARENTS MUST HAVE THE RIGHT GOAL FOR THEIR CHILDREN


The right goal is not that the children will be good citizens and proficient in some field of endeavor and learn how to have a good time in life and fit into the crowd. That is the goal that unsaved parents have for their children. The goal of believing parents should be that their children know and serve Jesus Christ in His perfect will for their individual lives.

Terry Coomer, pastor of Hope Baptist Church of Sherwood, Arkansas (tlcoomer@juno.com), was a professional baseball player, but as a young Christian he made the choice to quit his baseball career because it interfered with his obedience to Christ. Following is his testimony:


"In 1973, I was drafted out of high school, as the 78th player taken in the 1973 free agent draft by major league baseball. I was drafted as a pitcher by the San Francisco Giants. I was the first player drafted from Indiana. So, in 1973 I was the best high school baseball player in Indiana and one of the best in the country.

"We live in a sports crazed society! Many parents have the idea that their child is the next great sports star. The facts are that most children that play in youth sports today will never play professionally or even be close to it. Thousands of dollars are spent on travel, equipment, fees, and other things. In fact, many parents will spend money on these items and if necessary neglect paying their bills.

"After playing professional baseball, I managed a 14- and 15-year-old Babe Ruth All Star team. We traveled all over the Midwest and played every Wednesday, Saturday, and Sunday. We also practiced two evenings a week. The effort required for this task by the athlete, coach, and parent was complete dedication of time to the task at hand.

"The goal of every Christian parent in life should not be to rear a 'good kid' or have students who are excelling academically, are great athletes, and so forth. The goal is to equip our children, these young saints 'for the work of the ministry' (Ephesians 4:12; Mark 10:45). Our goal as Christian parents is to train them to stay on the road of usefulness to God. If, in the end, they are unusable to Christ, they are not handling life spiritually and wisely, both they and we have failed" (Terry Coomer, "What Should We Teach Our Children about Sports?").


If the parents have the goal of making their children disciples of Jesus and to equip them for His service in this spiritually needy world, they will jealously avoid being sidetracked by something like an addiction to sports. We deal with youth discipleship extensively in the
The Mobile Phone and the Christian Home and Church
, available from www.wayoflife.org.


PARENTS MUST HAVE THE RIGHT PRIORITY IN THE FAMILY


Never let sports get in the way of serving Christ. This means, for one thing, that you never miss church for any sporting activity.

There are multitudes of Christians that neglect the Lord's house for sports. At one of my Bible conferences, many of the young people and adults missed the evening services to attend a softball playoff. That is the same priority that unsaved people have! If that is not lukewarm Christianity, I don't know what is, and Christ said that He hates it (Revelation 3:15-16).

Consider the godly example of Eric Liddell, the son of Scottish missionaries to China. He was Scotland's fastest runner and in 1923 won the 100 yard race at the AAA Championship with 9.7 seconds, a record that stood for the next 35 years. A committed Christian, Liddell spoke at gospel meetings for the Glasgow Students Evangelical Union during his college years. He qualified for the British track and field team at the 1924 Olympics in Paris, but because the 100 meter race was held on Sunday he refused to participate, even though this was his best distance. It was said that "most athletes come to the games desiring to be great and do great, Eric Liddle came to the Paris Olympics desiring to be good, and to do good." In spite of personal pleas from the royal family and criticism in the British press for letting down his country, he stood by his decision and spent that Sunday preaching in an evangelical church in Paris. He entered the 400 meter race, and it is said that as he headed to the starting block, a man handed him a piece of paper with a quotation from 1 Samuel 2:30, "... them that honour me I will honour." He ran with that piece of paper in his hand and won, breaking the world record with a time of 47.6 seconds. In 1925, Liddell returned to China to preach the gospel. In 1943 he was incarcerated in a Japanese prison camp where he died two years later. Liddell said, "We are all missionaries. Wherever we go, we either bring people nearer to Christ, or we repel them from Christ."

More recently, Dan Walker, of British Broadcasting Corporation's
Football Focus
, has refused to work on Sunday, even though that is one of the most important days in modern professional sports. This has been his policy since he was a boy. He was first confronted with the issue at age 12 when he was asked to play for various teams because of his extraordinary height. He says, "The problem was all their games were on a Sunday. I had only recently become a Christian and this was the first time I was confronted with the issue of how I should be spending my Sundays" ("Christian BBC footie Host Who Refuses to Work on a Sunday,"
The Sun
, Aug. 11, 2009). He doesn't even watch football on Sunday, saying, "I spend Sunday at church and with my family." He has continued to be confronted with the issue and was told that he would never get anywhere in sports broadcasting. I don't know what kind of church Walker attends, but the man is to be commended for standing by his convictions in a day when professional football (either American or soccer) is one of this world's chief gods.

Under this point on keeping the right priority in the family, it is a good idea to follow this man's example and not to watch sports on Sunday. Modern society has turned Sunday into a day of idolatrous play, and God's people should resist this temptation. Sunday is "the Lord's day," and while that does not mean it has replaced the Sabbath and does not mean that we can make laws about what can and cannot be done on Sunday, it does mean that we should turn our attention to the things of God on that day, beginning with faithful church attendance, and guard ourselves from imitating the foolish ways of the world.

Pastor Ken Shaver, Greater Cumberland Baptist Church, Hopkinsville, Kentucky, writes,


"When our children were younger, we played a lot of outdoor games together. Touch football, kickball, hide and seek, etc. Robyn and the girls as well as the boys and I all played together. It wasn't intense, but we had a lot of fun. When our kids got older, the boys got involved in competitive sports (little league, school sports). It always required effort to make sure things stayed in perspective, and the Lord continued to be put in first place. We weren't always successful, but I was pleased overall.
We would have them lay off things for extended periods of time, like a month at a time, just so they could get in the habit of denying themselves and keep their priorities in order
. As they continued to get older, Robyn and I sat down with our children and challenged them to start establishing personal guidelines and principles based upon the Word of God. Entertainment, sports, modesty and music were some of the areas where we would have them work at using the Bible to establish principles."


While talking about keeping the right priorities, we should mention the wise use of time. The Bible emphasizes that life is short and Jesus could come anytime and the spiritual needs of this world are great. The Lord Jesus left us the example of using time wisely and staying on course, refusing to be sidetracked from God's perfect will. Life is too short and precious for the child of God to splurge it on vanity.


PARENTS MUST GUARD THE AFFECTIONS OF THEIR CHILDREN'S HEARTS


The heart is the center of the individual's life. It is mentioned 833 times in Scripture. The Bible warns, "Keep thy heart with all diligence; for out of it are the issues of life" (Proverbs 4:23).

When the parent sees a child's heart becoming captured by sports to such an extent that it is detracting from his or her spiritual life, he must take immediate and decisive steps to intervene and head off the oncoming disaster before it is too late. If that means cutting out sports altogether, then that is what should be done. Parents must seek wisdom from the Lord in such matters, and then follow His guidance without fear or compromise.

Many parents argue that if they stop their child from playing sports, the child will rebel and they will lose him, but the fact is that if you let your child's heart be stolen by something like sports you have lost him already.


As for guarding the heart, the parent must start by guarding his own. He must model wisdom before the children by not getting wrapped up in professional sports himself. A Christian father who wants his children to put Christ first, will be exceedingly careful about what he allows in his own life. The father who is immersed in professional sports and knows more about football or baseball statistics than the Bible is a poor example and should not be surprised if his children end up caring more for the world than for Christ.

Pastor Terry Coomer continues his testimony about the danger of sports as follows:


"After several years of counseling people concerning their spiritual needs I have found the great need is to deal with the idols of the heart. Every spiritual problem is a problem of the heart. The reason we have many issues in our lives is because our heart wanders. Every child in rebellion is because their heart wanders. So, will a child's heart wander who has dedicated his life to youth sports?
The sport can easily become an idol of the heart. There is no biblical change in the life of a Christian unless we get specific about idols of the heart.


"God has given us a tremendous mechanism. When we get saved, the Holy Spirit comes to indwell us. God engages us in the heart, inner man, or mind which are all synonymous in the Scripture. When the Holy Spirit convicts us of sin, it means God wants us to change that behavior. It is not enough just to confess the sin to God. I have to repent of the behavior and 'renew' or change my mind through God's Word. The proper goal of every Christian's life is to honor and glorify God, I Corinthians 6:19-20.

"The word 'lust' or 'lusts' in Scripture is an interesting word. In James 1:14, 'But every man is tempted, when he is drawn away of his own lust, and enticed.' It is the word for strong, overwhelming desire. In essence, it is what I call a demand lust, something that you have to have, something that controls and motivates behavior. In essence, it is an idol of the heart.

"Children are born with certain natural desires for food, drink, etc. They are not born with a desire for certain sports, music, designer clothes, etc. Those things come along with the environment in which they are raised. However, our children are born with a sin nature and a desire 'to go their own way' (Proverbs 14:12, 14, 16:25). One of the great failures of the modern Christian home is that we don't train our children spiritually to live for and serve the Savior and not to go 'their own way.' We do not train our children because we have failed to see the point of James 1:13-14. Obviously, we cannot train our children if we do not understand that we cannot live for our own lusts, go our own way. 'This I say then, Walk in the Spirit and ye shall not fulfill the LUSTS of the flesh' (Galatians 5:16).

"Unfortunately, this is where the problem lies for the contemporary Christian. We desire to live for the lusts of the flesh. Therefore, our children do as well. It is interesting to me that the Bible tells us that each of us has our own special lusts, actually designer lusts. In essence, these are things that I like and want. (Certainly sports are in this picture in a big way today.) Mine may be different from yours. Ephesians 2:3 calls these 'the desires of the flesh and of the mind.' You see, each person has his own 'desires of the flesh and mind.' In essence, designer lusts. We design our own lusts, the idols of the heart (Ezekiel 14:3-7). Folks, sports can be an idol of the heart and in most cases is.

"James 1:13, 'Let no man say when he is tempted, I am tempted of God for God cannot be tempted with evil, neither tempteth he any man.' Who is responsible here? We are. What is the end result of this? James 1:15, 'Then when lust hath conceived, it bringeth forth sin: and sin when it is finished, bringeth forth death.' Notice it says if you do not deal with it, it becomes a sin, and the end result is death. The word here for
death
means destroyed or destruction.

"Many of God's people are destroyed because they do not deal with the strong demand lusts or idols of the heart. In fact, by allowing sports or anything else to be more important than walking with God this will lead to destruction spiritually.

"The first thing I want to do in counseling with someone is to find out what the idols of the heart are. I generally find this out by asking them what makes them happy? If I ask the child in the Christian home what makes you happy and he says, 'Basketball,' then we know where the heart is. Any answer except glorifying the Lord in my life will lead me to understand what is controlling the life and what the spiritual issues are. Of course, the idols of the heart are selfishness in their purest form. I also ask them what do they want to accomplish in life. When they give an answer, I ask them what that means to them. We then can find the idols of the heart because they will tell me what they are. Almost all of it deals with living for themselves or going their own way. Every spiritual problem is a heart problem. Changing behavior from an idol of the heart to having a real spiritual relationship with God and having long term change in our life has to be done biblically.

"To biblically change this behavior we go to Ephesians 4:22-24 and show them they have put off the idol and then put on the new and change takes place by renewing the mind (changing their thinking about it to God's thinking about it). The only way to make long term biblical change in a person's life is to change their thinking to God's thinking. If we change their thinking to God's thinking, then we can change the behavior, but not until then.

"When a person tells me the idol of the heart, I then take them to the passages of Scripture that deal with it. I ask them to read it and tell me what it means to them. The answers are always very revealing. I am always amazed at the power of God's Word to change a person's life if it is shown directly to them and they are seeking to know God's truth from it. I have seen it work over and over. However, the person must be willing to change and apply what God's Word says for his life. God does not have the answer for them if they are not willing to apply His Word to their lives.

"Christian parent, Satan is sneaky, deceptive, and desires to destroy your child. He will use anything he can to get your child's heart to wander. Sports is certainly a big part of it. As one who counsels hundreds of people about this issue, I want you to understand that this is a spiritual battle. Make your life decisions based on what God's Word says. Be on guard, and remember the devil will use the lust of the flesh, the lust of the eyes, and the pride of life in your life and your children's lives.
It is a wise parent who will be on guard about their child's participation in sports or anything else that can steal the heart.
Many parents do not realize what stole their child's heart until it is too late"
(Terry Coomer, "What Should We Teach Our Children about Sports?").


The spiritual probing and counseling that Pastor Coomer describes is the type of counseling that the parent needs to exercise with his children. In this way, the parent can keep tabs on what is controlling his children's hearts and can exercise a godly influence and protect the child from the devil's traps.


STAY AWAY FROM PROFESSIONAL SPORTS


In the previous part of this report we have been talking about sports in general, but here we want to talk about professional sports.

This is one of the chief gods of this present world system. People go absolutely crazy about professional soccer, basketball, baseball, American football, Australian football, tennis, Tiddlywinks, you name it!

But the world of professional sports is laden down with wickedness.

Take the halftime show and commercials for America's great idol called the Superbowl. The 2013 halftime performance by Beyonce has been described as "pushing x-rated." The commercial voted a contender for "best" was a Mercedes advertisement that depicted a young man contemplating selling his soul to the devil for the pleasures he could expect from owning a sleek automobile. It was set to the Rolling Stone's wicked song "Sympathy for the Devil."

Any professing Christian who invites such spiritual garbage into his personal life or home needs his head examined.

Those who keep up with professional sports month in and month out become desensitized to the wickedness that is inherently associated with it.

For more on this, see the article "
A Warning about Professional Sports
" at www.wayoflife.org.


- Receive these reports by email
- www.wayoflife.org

______________________


Sharing Policy: Much of our material is available for free, such as the hundreds of articles at the Way of Life web site. Other items we sell to help fund our expensive literature and foreign church planting ministries. Way of Life's content falls into two categories: sharable and non-sharable. Things that we encourage you to share include the audio sermons, O Timothy magazine, FBIS articles, and the free eVideos and free eBooks. You are welcome to make copies of these at your own expense and share them with friends and family. You may also post parts of reports and/or entire reports to websites, blogs, etc as long as you give proper credit (citation). A link to the original report is very much appreciated as the reports are frequently updated and/or expanded. Things we do not want copied and distributed are "Store" items like the Fundamental Baptist Digital Library, print editions of our books, electronic editions of the books that we sell, the videos that we sell, etc. The items have taken years to produce at enormous expense in time and money, and we use the income from sales to help fund the ministry. We trust that your Christian honesty will preserve the integrity of this policy. "For the scripture saith, Thou shalt not muzzle the ox that treadeth out the corn. And, The labourer is worthy of his reward" (1 Timothy 5:18). Questions? support@wayoflife.org
Goal:Distributed by Way of Life Literature Inc., the Fundamental Baptist Information Service is an e-mail posting for Bible-believing Christians. Established in 1974, Way of Life Literature is a fundamental Baptist preaching and publishing ministry based in Bethel Baptist Church, London, Ontario, of which Wilbert Unger is the founding Pastor. Brother Cloud lives in South Asia where he has been a church planting missionary since 1979. Our primary goal with the FBIS is to provide material to assist preachers in the edification and protection of the churches.

Offering: Offerings are welcome if you care to make one. If you have been helped and/or blessed by our material offerings can be mailed or made online with with Visa, Mastercard, Discover, or Paypal. For information see: www.wayoflife.org/about/makeanoffering.html.
Publisher of Bible Study Materials
Publisher of Bible Study Materials