A House of God in the Heavens
David Cloud, Way of Life Literature, P.O. Box 610368, Port Huron, MI 48061
866-295-4143,
fbns@wayoflife.org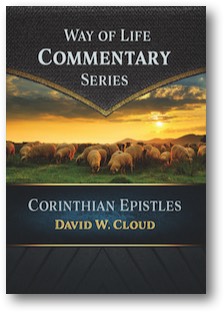 The following is excerpted from The Way of Life Commentary Series, The Corinthian Epistles, www.wayoflife.org -
__________
"For we know that if our earthly house of this tabernacle were dissolved, we have a building of God, an house not made with hands, eternal in the heavens.  For in this we groan, earnestly desiring to be clothed upon with our house which is from heaven: If so be that being clothed we shall not be found naked.For we that are in this tabernacle do groan, being burdened: not for that we would be unclothed, but clothed upon, that mortality might be swallowed up of life. Now he that hath wrought us for the selfsame thing is God, who also hath given unto us the earnest of the Spirit. Therefore we are always confident, knowing that, whilst we are at home in the body, we are absent from the Lord:  (For we walk by faith, not by sight:) We are confident, I say, and willing rather to be absent from the body, and to be present with the Lord" (2 Corinthians 5:1-8).
This is one of the most prominent revelations of the doctrine of the believer's death in Scripture. How invaluable is this light in a world of death!
Again we see that Paul taught extensively on prophecy. God wants His people to be well informed on future events, to meditate upon them, and to live their earthly lives in light of them.
"For we know ... we are confident" (2 Co. 5:1, 6). Paul had perfect understanding of death because he had revelation from God. The Bible believer is confident, not because of any superiority of his own, but because he stands on God's infallible Word. He looks on eternal things (2 Co. 4:18). He knows the past, understands the present, and sees the future. In contrast, every view on death apart from divine revelation is vain conjecture. The human mind cannot pierce the veil. The greatest philosopher gropes in darkness. Science can understand the process of dying, but it cannot understand the nature of death, the reason for death, and what lies beyond death. 
There is an earthly house. 
- This is the earthen vessel that Paul described in 2 Co. 4:7. It is the body made for life on this present earth and in this present age. God made man to live in a body. He has a spirit, but he is not a spirit being. 
- It is "perishing" (2 Co. 4:16). This is present indicative, indicating contemporaneous, continuous action. The mortal body begins the process of dying or aging at age 24 or earlier and every cell and organ is eventually affected (medlineplus.gov, 1800health.com). 
- It is a "tabernacle" (2 Co. 5:1). This is skénos, a tent, a temporary abode, equivalent to skene, which refers to the tabernacle of Moses (Ac. 7:44; Heb. 9:2-3). A tabernacle is for pilgrims and travelers. Paul described death as putting off his tabernacle (2 Pe. 1:14). The earthly human body is a temporary tabernacle for the soul or spirit -- "And Jesus cried with a loud voice, and gave up the ghost" (pneuma, spirit) (Mr. 15:37); "her spirit came again" (Lu. 8:55); "thy soul shall be required of thee" (Lu. 12:20); "his soul was not left in hell" (Ac. 2:31); "receive my spirit" (Ac. 7:59); "the spirit of man which is in him" (1 Co. 2:11); "the body without the spirit is dead" (Jas. 2:26). 
- It will be "dissolved" (2 Co. 5:1). This is katalúo, "from kata (an intensive) and luo (to loose), to dissolve, demolish, destroy." This is a perfect description of what happens at death. The living force is loosed from the body and it perishes. "Then shall the dust return to the earth as it was" (Ec. 12:7). 
- In it "we groan" and are "burdened" (2 Co. 5:2, 4). Because of sin and the curse upon the creation, life in this present body is full of trouble and pain and sorrow. Groan is repeated twice by way of emphasis. "And not only they, but ourselves also, which have the firstfruits of the Spirit, even we ourselves groan within ourselves, waiting for the adoption, to wit, the redemption of our body" (Ro. 8:23). Fallen man longs for and searches for the lost Edenic experience. It is called such things as shangri-lah, paradise, utopia, and the fountain of youth, but it can only be found through salvation in Jesus Christ. 
- In it we are "earnestly desiring to be clothed upon with our house which is from heaven" (2 Co. 5:2). We are not content in the earthly body, with its mortality, groaning, dying, limitations. "Earnestly desiring" is epipothéo, an intensive yearning, longing. It is translated "greatly I long after" (Php. 1:8). We have an intense desire for the resurrection body, for mortality to be swallowed up of life. God has put this in the hearts of the redeemed. "Now he that hath wrought us for the selfsame thing is God" (2 Co. 5:5). 
- It is "mortal" (2 Co. 5:4). "Mortality" is thnetós, "from thnesko, to die, subject to death." It is in contrast to a-thanasia, immortal (1 Co. 15:53, 54). 
- In it we have the "earnest of the Spirit" (2 Co. 5:5). The indwelling Spirit is God's promise of resurrection glory. "Earnest" is arrabón, earnest money, a pledge. "In whom also after that ye believed, ye were sealed with that holy Spirit of promise, Which is the earnest of our inheritance until the redemption of the purchased possession, unto the praise of his glory" (Eph. 1:13-14). 
- In it we are "absent from the Lord" (2 Co. 5:6). This refers to being absent from the physical presence of the Lord. It is the opposite of being  "present with the Lord" (2 Co. 5:8). We are not absent from the Lord in the sense of being apart from Him, for He lives in us. Paul had seen the resurrected Christ and visited heaven and been ministered to by angels, but he longed to be present with the Lord in a physical, permanent way. Paul describes the death of the believer as "to be absent from the body, and to be present with the Lord." Death is not "soul sleep"; it is a journey. 
- In it we "walk by faith, not by sight" (2 Co. 5:7). For the child of God, this present life is a life of faith, and faith is not sight. If something can be seen, it is not faith. That God has ordained that the redeemed live by faith in this present life is one reason why we are left in a weak, perishing "earthen vessel," why we are subject to suffering and lack, why we must be patient. "For we are saved by hope: but hope that is seen is not hope: for what a man seeth, why doth he yet hope for? But if we hope for that we see not, then do we with patience wait for it" (Ro. 8:24-25). 
There is a heavenly house. 
- This is the resurrection body. It is also described in 1 Corinthians 15:35-49. 
- It is "a building of God" (2 Co. 5:1). It is designed and created by God. The astonishingly complex human body alone is irrefutable evidence of a divine Creator, and the resurrection body will far exceed the natural body in reflecting the glory of God. 
- It is a "house not made with hands" (2 Co. 5:1). This means not of this present creation. It is explained in Heb. 9:11 in reference to the tabernacle in heaven. It is "not made with hands, that is to say, not of this building." Jesus described His resurrection body as "made without hands" (Mr. 14:58). The natural or mortal body is not made with man's hands directly, but it is made of man's activity. It is a product of natural processes, of procreation. The resurrection body is directly made by God. The resurrected do not marry and cannot reproduce themselves (Mt. 22:30). 
- It is "eternal" (2 Co. 5:1). It is immortal and not subject to death. It is designed for eternity in the new heaven and new earth. 
- It is "in the heavens" (2 Co. 5:1, 2). Our inheritance is reserved in heaven (1 Pe. 1:4). 
- It is to be "clothed upon" (2 Co. 5:2). The body is clothing for the spirit. The resurrection body will be most glorious clothing.
- It is to "be swallowed up of life" (2 Co. 5:4). It is to be translated from mortal to immortal. It is to be transferred to the sphere of eternal life. It is a body that is designed for life more abundantly (Joh. 10:10) and pleasures for evermore (Ps. 16:11).
There is an intermediate condition (2 Co. 5:3-4).
- It is only hinted at here and elsewhere, but there is some sort of bodily condition between death and resurrection. "Paul is saying that his earnest desire is not for death, and for the disembodied state that goes with it, but rather for the coming of the Lord Jesus Christ when all those who have died will receive their glorified bodies" (William MacDonald). 
- John saw the souls of the dead who are killed by the Antichrist stand before the altar in heaven and white robes being given unto them (Re. 6:9-11). 
- Paul said that at the Rapture "them also which sleep in Jesus will God bring with him" (1 Th. 4:14). 
- John visited heaven in the spirit but was able to hold a book and eat it and other activities that require a body (Re. 10:8-10). 
- Paul visited heaven and was not able to say whether he was in the body or out of the body ("whether in the body, or out of the body, I cannot tell: God knoweth," 2 Co. 12:2-4).


- Receive these reports by email
- www.wayoflife.org

______________________


Sharing Policy: Much of our material is available for free, such as the hundreds of articles at the Way of Life web site. Other items we sell to help fund our expensive literature and foreign church planting ministries. Way of Life's content falls into two categories: sharable and non-sharable. Things that we encourage you to share include the audio sermons, O Timothy magazine, FBIS articles, and the free eVideos and free eBooks. You are welcome to make copies of these at your own expense and share them with friends and family. You may also post parts of reports and/or entire reports to websites, blogs, etc as long as you give proper credit (citation). A link to the original report is very much appreciated as the reports are frequently updated and/or expanded. Things we do not want copied and distributed are "Store" items like the Fundamental Baptist Digital Library, print editions of our books, electronic editions of the books that we sell, the videos that we sell, etc. The items have taken years to produce at enormous expense in time and money, and we use the income from sales to help fund the ministry. We trust that your Christian honesty will preserve the integrity of this policy. "For the scripture saith, Thou shalt not muzzle the ox that treadeth out the corn. And, The labourer is worthy of his reward" (1 Timothy 5:18). Questions? support@wayoflife.org
Goal:Distributed by Way of Life Literature Inc., the Fundamental Baptist Information Service is an e-mail posting for Bible-believing Christians. Established in 1974, Way of Life Literature is a fundamental Baptist preaching and publishing ministry based in Bethel Baptist Church, London, Ontario, of which Wilbert Unger is the founding Pastor. Brother Cloud lives in South Asia where he has been a church planting missionary since 1979. Our primary goal with the FBIS is to provide material to assist preachers in the edification and protection of the churches.

Offering: Offerings are welcome if you care to make one. If you have been helped and/or blessed by our material offerings can be mailed or made online with with Visa, Mastercard, Discover, or Paypal. For information see: www.wayoflife.org/about/makeanoffering.html.
Publisher of Bible Study Materials
Publisher of Bible Study Materials