David Cloud, Way of Life Literature, P.O. Box 610368, Port Huron, MI 48061
866-295-4143,
fbns@wayoflife.org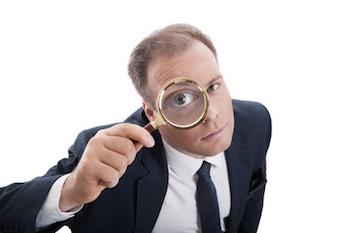 R
ecently a graduate of a fundamental Baptist Bible college told me that he had learned at school not to have a "critical eye." He learned that he shouldn't be critical of the music that was played, because the important thing is to "have a heart for God" and to be "edified" even if the music is questionable.


I believe this gets at the heart of the philosophy that is taught in many Independent Baptist churches and schools that is breaking down the walls of spiritual discernment and opening people to wrong influences.

A critical eye can be good or bad, depending on how it is defined.

A critical eye is wrong if it is a product of a carnal attitude and an ungodly spirit. It is wrong if it is a judgment according to personal opinion rather than the clear teaching of God's Word. To judge things in the churches by one's opinion and tradition and background and to set up one's own conscience as a law for others is the sin that is condemned in Romans 14. Paul said, "Who art thou that judgest another man's servant? to his own master he standeth or falleth. Yea, he shall be holden up: for God is able to make him stand" (Rom. 14:4). He was talking about judging others in matters in which the Bible is silent. This is clear from the context, which is diet and holy days (Rom. 14:1-6). The New Testament establishes no laws about diet and holy days, so it is wrong to judge others in such matters. There is personal liberty. To set up my conscience as a law for others, when I do not have clear Scripture to back me up, is legalism.

In those two ways, it is wrong to have a "critical eye" (judging with a wrong attitude and judging from my own opinions).
But to judge godly judgment is not wrong. In fact, we are commanded to "judge righteous judgment" (John 7:24). We are to "prove all things" (1 Th. 5:21). We are to imitate the Bereans who tested everything by Scripture (Acts 17:11). We are to esteem God's Word to be right in every point and to hate every false way (Psalm 119:128). The Scripture is given for reproof, correction, and instruction in righteousness (2 Tim. 3:16-17).

Paul had a "critical eye" toward false teachers and worldlings like Demas.

I remember when I went to Bible School at Tennessee Temple in the mid-1970s. I was only one year old in the Lord, but I had experienced a powerful dose of salvation, and I had devoured the Bible during that year and I knew that God wanted me to test everything by it.

The following Scriptures were as precious and real to me then as today.


"Therefore I esteem all
thy
precepts
concerning
all
things to be
right;
and
I hate every false way" (Psa. 119:128).

"These were more noble than those in Thessalonica, in that they received the word with all readiness of mind, and searched the scriptures daily, whether those things were so" (Acts 17:11).


"Prove all things; hold fast that which is good" (1 Th. 5:21).


I saw some things that I believed to be wrong, particularly the shallow, unscriptural soul winning technique (which I have since labeled Quick Prayerism), the man-centeredness, the carnal over-exaltation of man, the big numbersism, and the refusal on the part of the leaders and visiting speakers to speak out plainly on many important issues.

I had a "critical eye" toward these things, and insofar as I might have had a wrong attitude and lack of mercy and "balance," I was wrong, but insofar as I was identifying things that were unscriptural and wrong, I was right.

By God's grace, I believe and hope that I am wiser and more gracious than I was when I was a new Christian, but I also thank the Lord that I have not given up my "critical eye" in a biblical discernment sense. I still reject the things I rejected 40 years ago, because they are still unscriptural.

If ever there were a time to have a critical eye in a right sense it is today. It will keep you protected spiritually.

It is the devil who wants everyone to give up criticism. If we buy into that, we have no shield of protection.

I am concerned that many Independent Baptist churches and schools are putting humanistic eye wash in the biblical critical eye.

At the same time, I have often emphasized the importance of not having a carnal critical spirit, of always giving church leaders the benefit of the doubt, etc. Consider, for example, the sermons "Keys to Fruitful Church Membership" and "I Am Not Your Pastor," which can be found via the search engine at the Way of Life web site.

When I was a young preacher, missionary Mel Rutter, vice president of Maranatha Baptist Mission, exhorted me, "Be as firm as a rock in your position and as sweet as the honey from the rock in your disposition."


- Receive these reports by email
- www.wayoflife.org

______________________


Sharing Policy: Much of our material is available for free, such as the hundreds of articles at the Way of Life web site. Other items we sell to help fund our expensive literature and foreign church planting ministries. Way of Life's content falls into two categories: sharable and non-sharable. Things that we encourage you to share include the audio sermons, O Timothy magazine, FBIS articles, and the free eVideos and free eBooks. You are welcome to make copies of these at your own expense and share them with friends and family. You may also post parts of reports and/or entire reports to websites, blogs, etc as long as you give proper credit (citation). A link to the original report is very much appreciated as the reports are frequently updated and/or expanded. Things we do not want copied and distributed are "Store" items like the Fundamental Baptist Digital Library, print editions of our books, electronic editions of the books that we sell, the videos that we sell, etc. The items have taken years to produce at enormous expense in time and money, and we use the income from sales to help fund the ministry. We trust that your Christian honesty will preserve the integrity of this policy. "For the scripture saith, Thou shalt not muzzle the ox that treadeth out the corn. And, The labourer is worthy of his reward" (1 Timothy 5:18). Questions? support@wayoflife.org
Goal:Distributed by Way of Life Literature Inc., the Fundamental Baptist Information Service is an e-mail posting for Bible-believing Christians. Established in 1974, Way of Life Literature is a fundamental Baptist preaching and publishing ministry based in Bethel Baptist Church, London, Ontario, of which Wilbert Unger is the founding Pastor. Brother Cloud lives in South Asia where he has been a church planting missionary since 1979. Our primary goal with the FBIS is to provide material to assist preachers in the edification and protection of the churches.

Offering: Offerings are welcome if you care to make one. If you have been helped and/or blessed by our material offerings can be mailed or made online with with Visa, Mastercard, Discover, or Paypal. For information see: www.wayoflife.org/about/makeanoffering.html.
Publisher of Bible Study Materials
Publisher of Bible Study Materials