David Cloud, Way of Life Literature, P.O. Box 610368, Port Huron, MI 48061
866-295-4143,
fbns@wayoflife.org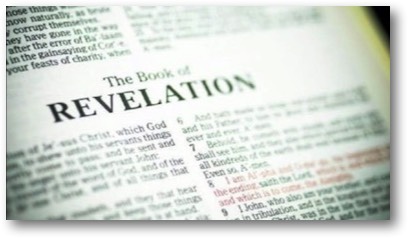 W
e read
in Revelation Chapter One:


I was in the Spirit on the Lord's day, and heard behind me a great voice, as of a trumpet,

Saying, I am Alpha and Omega, the first and the last: and, What thou seest, write in a book, and send it unto the seven churches which are in Asia; unto Ephesus, and unto Smyrna, and unto Pergamos, and unto Thyatira, and unto Sardis, and unto Philadelphia, and unto Laodicea.

And I turned to see the voice that spake with me. And being turned, I saw seven golden candlesticks;

And in the midst of the seven candlesticks one like unto the Son of man, clothed with a garment down to the foot, and girt about the paps with a golden girdle.

-- His head and his hairs were white like wool, as white as snow; and his eyes were as a flame of fire;

And his feet like unto fine brass, as if they burned in a furnace; and his voice as the sound of many waters.

And he had in his right hand seven stars: and out of his mouth went a sharp two-edged sword and his countenance was as the sun shineth in his strength.

And when I saw him, I fell at his feet as dead. And he laid his right hand upon me, saying unto me, Fear not; I am the first and the last:

-- I am he that liveth, and was dead; and, behold, I am alive forevermore, Amen; and have the keys of hell and of death.

Write the things which thou hast seen, and the things which are, and the things which shall be hereafter;

The mystery of the seven stars which thou sawest in my right hand, and the seven golden candlesticks. The seven stars are the angels of the seven churches: and the seven candlesticks which thou sawest are the seven churches (Revelation 1:10-20).


This is the only place in the New Testament where we see Christ speaking directly to the churches. In other places, He is speaking through apostles and prophets. And in other places, He speaks to churches in general. In Revelation 1-3 He speaks to churches individually and particularly. We see that this is Christ's way. This is how He deals with every church that He owns: personally and individually.

If a church is truly a New Testament church, it will be under the ministry of Christ in exactly the fashion we see here. If a church can become worldly and lukewarm and not characterized by first love for Christ as the status quo, how can it be called a New Testament church?


He is the risen, ascended, glorified Head of the new creation
. He was dead, but is alive forevermore (Re. 1:18). He is described in His glory (Re. 1:13-16). He is the beginning, the firstborn from the dead; in all things He has the preeminence; He has a name above all names. He has been exalted far above all principality, and power, and might, and dominion, and every name that is named. All things are under His feet.


He owns the churches and values them
. They are described as golden candlesticks (Re. 1:12). He shed His blood for them.


He stands in the midst of the churches
(Re. 1:13). He is not far off. He is no distance away at all. He is right in the midst of the churches. He is right there in the midst of the people and their daily lives and the church functions.


He sees the churches individually and deals with them individually
. There are seven churches of Asia, not the "church of Asia." There is a "general assembly and church of the firstborn, which are written in heaven" (Heb. 12:23), but the New Testament epistles deal with individuals churches. The church that is the house of God, the pillar and ground of the truth, is the church that has pastors and deacons (1 Ti. 3). There is no practicality to "the church of Asia" or the "church of Manitoba."


He holds the pastors
. The "stars" are the churches' messengers (Re. 1:20). Pastors don't own churches. They are stewards for the chief Shepherd and they will give account for everything they do and teach (1 Pe. 5:1-4).


He has an earthly purpose for the churches
. They are described as candlesticks (Re. 1:13), which refers to the Great Commission of preaching the gospel and standing for the truth in a dark world. This is a big, full-time work, which entails preaching the gospel to every person in every nation ("every creature," Mr. 16:15; "all nations" Lu. 24:47) and discipling believers so that are taught to "observe all things whatsoever I have commanded you" (Mt. 28:20). The church as candlestick refers to the church as the pillar and ground of the truth (1 Ti. 3:15).


He sees the churches and knows them
. His eyes are "as a flame of fire" (Re. 1:14). This signifies Christ's omniscience. It signifies "his piercing, penetrating, perfect knowledge, a thorough insight into all persons and all things" (Matthew Henry). Nothing can be hidden from Him. He knows every secret thought and motive. "Neither is there any creature that is not manifest in his sight: but all things are naked and opened unto the eyes of him with whom we have to do" (Heb. 4:13). David said, "O Lord, thou hast searched me, and known me. Thou knowest my downsitting and mine uprising, thou understandest my thought afar off. Thou compassest my path and my lying down, and art acquainted with all my ways. For there is not a word in my tongue, but, lo, O LORD, thou knowest it altogether" (Ps. 139:1-4). To each church Christ says, "I know thy works" (Rev. 1:1, 9, 13, 19; 3:1, 8, 15).


He speaks to the churches
. With "a great voice, as of a trumpet" (Re. 1:10). "His voice as the sound of many waters" (Re. 1:15). "Out of his mouth went a sharp two-edged sword" (Re. 1:16). The word of Christ is likened to a trumpet, a great waterfall, and a sword. It is awakening, powerful, overwhelming, enlightening, convicting. The Scripture is the Word of Christ, and it is by the Scripture that Christ speaks to His churches. The church is under the authority of God's Word and must pay
serious
attention to it. The Bible is indeed the church's sole authority for faith and practice. It is the very voice of Christ. The church must receive the Bible as the infallible Word of God, believe every word of it, read it, study it, rightly divide it, memorize it, meditate upon it day and night, honor it, delight in it more than honey, love it more than silver and gold. The people must pay heed to the Bible as a trumpet blast, focusing full attention on it, not allowing themselves to be distracted from it. They must allow it to keep them awake from the sleep of backsliding. As they read it and study it and hear it preached and taught, they must let the Bible do its searching work as the quick and powerful two-edged sword, piercing even the dividing asunder of the soul and spirit (Heb. 4:12). They must let it discern their thoughts and intents of the heart to bring conviction, confession, and obedience.


He judges the churches
. "And his feet like unto fine brass, as if they burned in a furnace" (Re. 1:15). "That is, his feet were so bright that they seemed to be like a beautiful metal glowing intensely in the midst of a furnace" (Barnes). The brass burning in a furnace signifies God's judgment on sin. "The day is coming when He shall put His feet on everything contrary to truth and righteousness. Everything unholy will be stamped out in divine judgment" (Ironside). Christ judges sin in the churches as we see in Revelation 2-3; He does not overlook sin. The feet like unto fine brass as if they burned in a furnace also points ahead to the judgment seat of Christ, when "every man's work shall be made manifest: for the day shall declare it, because it shall be revealed by fire; and the fire shall try every man's work of what sort it is" (1 Co. 3:13).


He praises the churches
. Ephesus - "but this thou hast, that thou hatest the deeds of the Nicolaitanes, which I also hate" (2:6). Pergamos - "I know thy works, and where thou dwellest, even where Satan's seat is: and thou holdest fast my name, and hast not denied my faith, even in those days wherein Antipas was my faithful martyr, who was slain among you, where Satan dwelleth" (Re. 2:13). Philadelphia - "I know thy works: behold, I have set before thee an open door, and no man can shut it: for thou hast a little strength, and hast kept my word, and hast not denied my name" (Re. 3:8).


He encourages the churches
. Smyrna - "Fear none of those things which thou shalt suffer: behold, the devil shall cast some of you into prison, that ye may be tried; and ye shall have tribulation ten days; be thou faithful unto death, and I will give thee a crown of life" (Re. 2:10).


He exhorts the churches
. "He that hath an ear, let him hear what the Spirit saith unto the churches." "Behold, I come quickly: hold that fast which thou hast, that no man take thy crown" (Re. 3:11).


He promises rewards to the churches
. "But that which ye have already hold fast till I come. And he that overcometh, and keepeth my works unto the end, to him will I give power over the nations: And he shall rule them with a rod of iron; as the vessels of a potter shall they be broken to shivers: even as I received of my Father. And I will give him the morning star" (Re. 2:25-28). "He that overcometh, the same shall be clothed in white raiment; and I will not blot out his name out of the book of life, but I will confess his name before my Father, and before his angels" (Re. 3:5). "To him that overcometh will I grant to sit with me in my throne, even as I also overcame, and am set down with my Father in his throne" (Re. 3:21). Philadelphia - "I know thy works: behold, I have set before thee an open door, and no man can shut it: for thou hast a little strength, and hast kept my word, and hast not denied my name. Behold, I will make them of the synagogue of Satan, which say they are Jews, and are not, but do lie; behold, I will make them to come and worship before thy feet, and to know that I have loved thee. Because thou hast kept the word of my patience, I also will keep thee from the hour of temptation, which shall come upon all the world, to try them that dwell upon the earth" (Re. 3:8-10).


He purifies the churches
. He warns and reproves and rebukes. "As many as I love, I rebuke and chasten: be zealous therefore, and repent" (Re. 3:19). Sin and error come into churches, but Christ doesn't accept sin and error as the status quo and neither should pastors. We see that Christ speaks plainly; He doesn't beat around the bush; He doesn't pull the punches. His rebuke is sharp if necessary. Ephesus - "Remember therefore from whence thou art fallen, and repent, and do the first works; or else I will come unto thee quickly, and will remove thy candlestick out of his place, except thou repent" (Re. 2:5). Pergamos - "But I have a few things against thee, because thou hast there them that hold the doctrine of Balaam, who taught Balac to cast a stumblingblock before the children of Israel, to eat things sacrificed unto idols, and to commit fornication. So hast thou also them that hold the doctrine of the Nicolaitanes, which thing I hate. Repent; or else I will come unto thee quickly, and will fight against them with the sword of my mouth" (Re. 2:14-16). Thyatira - "Notwithstanding I have a few things against thee, because thou sufferest that woman Jezebel, which calleth herself a prophetess, to teach and to seduce my servants to commit fornication, and to eat things sacrificed unto idols. And I gave her space to repent of her fornication; and she repented not. Behold, I will cast her into a bed, and them that commit adultery with her into great tribulation, except they repent of their deeds. And I will kill her children with death; and all the churches shall know that I am he which searcheth the reins and hearts: and I will give unto every one of you according to your works" (Re. 2 :20-23). Sardis - "Be watchful, and strengthen the things which remain that are ready to die: for I have not found thy works perfect before God. Remember therefore how thou hast received and heard, and hold fast, and repent. If therefore thou shalt not watch, I will come on thee as a thief, and thou shalt not know what hour I will come upon thee" (Re. 3:2-3).


He rejects apostate churches
.
First, there is the danger of being rejected as a candlestick
. Ephesus - "Nevertheless I have somewhat against thee, because thou hast left thy first love. Remember therefore from whence thou art fallen, and repent, and do the first works; or else I will come unto thee quickly, and will remove thy candlestick out of his place, except thou repent" (Re. 2:4-5). Note that first love is identified with first works. Love for Christ is
evidenced by
obedience, service, purity, holiness, surrender, dying to self, rue discipleship. Jesus said, "He that hath my commandments, and keepeth them, he it is that loveth me: and he that loveth me shall be loved of my Father, and I will love him, and will manifest myself to him" (Joh. 14:21), and John said, "For this is the love of God, that we keep his commandments: and his commandments are not grievous" (1 Jo. 5:3). Since the candlestick is the church's testimony, Christ was warning Ephesus that if it did not rekindle its first love, it would no longer function as a church of Jesus Christ before Him. This does not mean that the church would cease to exist physically. Multitudes of churches exist in this world that are not true candlesticks before the Lord. They go through the motions of church life, but Christ has departed. Any church that does not have first love, first works passion for Christ has either been removed as a candlestick or is in imminent danger of it, even if it is doctrinally sound like the church of Ephesus.
Second, there is the danger of being spewed out
. Laodicea - "I know thy works, that thou art neither cold nor hot: I would thou wert cold or hot. So then because thou art lukewarm, and neither cold nor hot, I will spew thee out of my mouth" (Re. 3:15-16). Christ's warning to spew them out of His mouth is a warning to the church. A church is in Christ's mouth in the sense that it is His mouthpiece. The church is to be the oracles of God in preaching the truth (1 Pe. 4:11). Christ was going to reject this church. It would no longer be His mouthpiece, His ambassador, His light. It would continue to go through the motions of being a church, but Christ would not own it. Since this is how Christ views the lukewarmness, this is how God's people must view it.
We must not accept the lukewarm as church members
. If a person professes faith in Christ but does not exhibit a fervent spiritual testimony and lifestyle (not cold or lukewarm, but hot), he is not church member material. And if a church member backslides and becomes lukewarm, we must not accept it. We must deal with it, and we must continue to deal with it until the matter is solved. The spirit of lukewarmness is contagious and it will pull the spiritual temperature of the entire church down if not dealt with. Pastors must not be content with carnality, lukewarmness, unfaithfulness, unrepentant sin. They must ever strive for a pure body. They must remove the leaven (1 Co. 5:6-7). Carnality, backsliding, unfaithfulness, sin, and error must be dealt with in whatever ways are necessary, and these things must never be allowed to become the status quo.
And we must not perceive lukewarm churches as acceptable churches
. The only ministry a preacher should have to a lukewarm church is the ministry of rebuking it and calling it to repentance, as Christ did to the church at Laodicea. There are multitudes of churches that are known as "Bible believing," "conservative," "King James," Baptist, etc., but are lukewarm. This is true, in fact, for the vast majority of Southern Baptist and Independent Baptist churches. The membership is composed of a mixed multitude of saved and unsaved, with a predominant representation of lukewarm people. Christ does not accept such churches, and neither should we.

(Christ's dealing with the churches in this passage teaches parents how to deal with children and pastors how to deal with congregations.)

In light of Revelation 1-3, consider the average church today, even the average "fundamentalist," "Bible-believing," "conservative," "Independent," "King James," "Baptist" church. It is lukewarm at best. There are few members that know anything at all about a first love passion for Jesus Christ. The daily lives of individuals and homes are filled with worldliness. (Look at the spiritual condition of the homes; look at the social media; look at the video games; look at what the young people do in their free time; look at the young people's goals and aspirations.) It is not uncommon, even, that the churches are infiltrated with heresies of various sorts. There are plenty of Nicolaitans and Jezebels. And this condition is accepted as the status quo. These are held up as the better, the more conservative churches. They aren't "liberal." They aren't "denominational." The pastor might bemoan some things, but he doesn't do anything effectual about changing the overall character of the church. He accepts lukewarm, worldly members as the status quo. He doesn't want to rock the boat much. He is terribly afraid of people leaving and not giving.

A church in which sin and error have become the status quo is not a New Testament church. Where is Christ's ministry to such a church after the fashion that we see in Revelation 1-3? Where is the trumpet rebuke? Where is the sharp warning against losing the first love? Where is the fierce warning against lukewarmness?

In truth, the churches we have described, which are typical "Bible-believing churches" today, have already been rejected as candlesticks and spewed from Christ's mouth. They aren't New Testament churches.


- Receive these reports by email
- www.wayoflife.org

______________________


Sharing Policy: Much of our material is available for free, such as the hundreds of articles at the Way of Life web site. Other items we sell to help fund our expensive literature and foreign church planting ministries. Way of Life's content falls into two categories: sharable and non-sharable. Things that we encourage you to share include the audio sermons, O Timothy magazine, FBIS articles, and the free eVideos and free eBooks. You are welcome to make copies of these at your own expense and share them with friends and family. You may also post parts of reports and/or entire reports to websites, blogs, etc as long as you give proper credit (citation). A link to the original report is very much appreciated as the reports are frequently updated and/or expanded. Things we do not want copied and distributed are "Store" items like the Fundamental Baptist Digital Library, print editions of our books, electronic editions of the books that we sell, the videos that we sell, etc. The items have taken years to produce at enormous expense in time and money, and we use the income from sales to help fund the ministry. We trust that your Christian honesty will preserve the integrity of this policy. "For the scripture saith, Thou shalt not muzzle the ox that treadeth out the corn. And, The labourer is worthy of his reward" (1 Timothy 5:18). Questions? support@wayoflife.org
Goal:Distributed by Way of Life Literature Inc., the Fundamental Baptist Information Service is an e-mail posting for Bible-believing Christians. Established in 1974, Way of Life Literature is a fundamental Baptist preaching and publishing ministry based in Bethel Baptist Church, London, Ontario, of which Wilbert Unger is the founding Pastor. Brother Cloud lives in South Asia where he has been a church planting missionary since 1979. Our primary goal with the FBIS is to provide material to assist preachers in the edification and protection of the churches.

Offering: Offerings are welcome if you care to make one. If you have been helped and/or blessed by our material offerings can be mailed or made online with with Visa, Mastercard, Discover, or Paypal. For information see: www.wayoflife.org/about/makeanoffering.html.
Publisher of Bible Study Materials
Publisher of Bible Study Materials