Fundamental Baptist Digital Library
ver. 2016
___________

Over 4,27o books and articles!
Read details below and consider the vast amount of material on this disk!
Many books on Baptist History, KJV Defense, and Bible Commentary!

Complete Books by Burgon, Larkin, Scroggie, Sir Robert Anderson, Foxe, Armitage, Backus, Miller, Ironside, Waite, Cloud, Moorman, Hills, and many more.

Contains Global Search tool for searching entire contents of 84, 612 pdf pages plus search tools for each section (Books, Articles, O Timothy, etc.)
Search Tool screen shot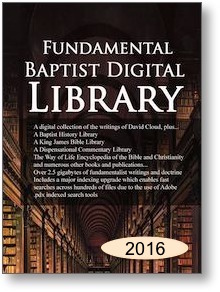 Over 4,270 select books and articles, this roughly 3.5 gigabyte library is the largest fundamentalist research database available. It is a contemporary church issues research library, a preacher's information database, a Baptist history library, a Bible Version library, a library of dispensational Bible commentaries, and much more.

This is not merely a batch of material thrown on a disk. Everything in this electronic library is carefully selected to be of benefit to a Bible-believer in his Christian life and ministry.
The vast majority of this information is unique to the
Fundamental Baptist Digital Library
and cannot be obtained from any other source.


If the library contained only the books - the cost would be less than 65 cents per book!
But there is so much more!


FBDL Disk
$49.95



(Lower price available if you own version 7.0 or 2014.
To upgrade please call 1-866-295-4143)


What's in the Jan-2016 Edition of the Fundamental Baptist Digital Library?

• Unbelievable set of books dealing with KJV defense, church history, and more (See below.)
• Topical Library of 318 hand-selected reports sorted by category.
• Library of over 2,620 FBIS (Fundamental Baptist Information Service) articles that have been published over the years.
• The entire 76 volume Free eBook series in pdf, mobi, and ePub formats.
• 507 issues of Friday Church News Notes (pdf graphical version)
• Foreign Spirit of Contemporary Worship Music video (mp4)
• Transformational Power of Contemporary Praise Music video (mp4)
• 337 issues of O Timothy magazine.
• 247 issues of The Calvary Contender

Features:
• Simple and easy to use (regular pdf files and search indexes on disk)
• Fast section and global search using Adobe Indexed Catalog (pdx) files.
• Most of the material in this database is in standard PDF format. The Way of Life Free eBook series contains each book in pdf, mobi (Kindle), and ePub formats. There are two videos that are in mp4 format.

The Library is divided into seven major sections:
• Books - (155 total books - see below)
• FBIS Articles and Database - (over 2620 articles/reports)
• Way of Life Free eBook Series - (over 70 books in 3 formats)
• Friday Church News Notes - (over 500 graphical FCNN's)
• O Timothy (over 337 issues)
• The Calvary Contender (247 issues)
• Videos

Each major section is searchable using the included Adobe index search tool (.pdx file) See example here. for example. Additionally, a global search index is included so that the entire library may be searched. There is so much information in this library the user should learn how to use advanced searches in order to obtain targeted search results.

"I have had the CD since the fall of 2000 and find it to be my most valuable fundamental resource. I use it in the preparation of sermons and for general information on most every subject concerning the days in which we live." --Jerry Asberry, Pastor, Faith Missionary Baptist Church, Paducah, Kentucky

_____


The Following are Some of the Features of the Fundamental Baptist Digital Library:



•
THE WAY OF LIFE ENCYCLOPEDIA OF THE BIBLE & CHRISTIANITY
. Twenty-five years of research has gone into this one-of-a-kind reference tool. It is the only Bible dictionary/encyclopedia that is written by a Fundamental Baptist and based strictly upon the King James Bible. It is a complete dictionary of biblical terminology and also features many other areas of research not often covered in Bible reference volumes. It is extremely practical and useful for the ministry. Subjects include Bible Texts and Versions, Denominations, Cults, Christian Movements, Typology, the Church, Social Issues and Practical Christian Living, Bible Prophecy, and Old English Terminology. This work does not correct the Authorized Version of the Bible, nor does it undermine the fundamental Baptist's doctrines and practices as many study tools do. The encyclopedia contains over 5,500 entries and 6,000 cross references.


• Every issue of the monthly
O Timothy Magazine
from 1984 to Jan 2015.

• Over 2900 articles published by the
Fundamental Baptist Information Service
from 1995 to Dec. 2015, many of them sorted into the FBIS Articles Library (hand picked by Bro. Cloud)

• Every issue of the
FRIDAY CHURCH NEWS NOTES
up to Dec. 2015 (graphical editions)

• The complete (as of Dec. 2015)
Way of Life free eBook Series
(70+ books) in pdf, mobi (Kindle), and ePub formats.

• Videos:
Transformation Power of CCM
, and
The Foreign Spirit of Contemporary Worship Music
.

• Issues of The
Calvary Contender
, 1984 to 2005.

_____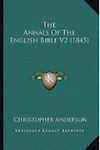 WAY OF LIFE'S ELECTRONIC BAPTIST/WALDENSIAN HISTORY LIBRARY which includes the equivalent of 16,000 printed pages of material including:
- Annals of the English Bible by Anderson (1845)
- Baptist History - Cramp
- Concise Baptist History by Orchard (1855)
- History of the Baptists by Armitage (1890)
- History of the English Baptists by Ivimey (1811)
- History of the English General Baptists - Taylor (1818) Sample
- Bye-Paths of Baptist History by Goadby (1871)
- A History of the Baptists by Christian (1922)
- General History of the Baptists in America by Benedict (1813)
- A History of the Christian Church - Waldenses and Albigenses by Jones (1812)
- History of the German Baptist Brethren by Brumbaugh (1899)
- History of the Donatists by Benedict (1875)
- Bogomils of Bulgaria and Bosnia by Brockett (1879)
- Early English Baptists by Evans (1862)
- Evils of Infant Baptism by Howell (1852)
- Divine Right of Infant Baptism Examined by John Gill
- Baptists Not Protestants by Carroll
- Did They Dip: An Examination of the Practice of Baptism by English and American Baptists Before 1641 by Christian (1896)
- History of the Ancient Churches of Piedmont by Allix (1690)
- Miller's Church History (1881)
- History of the Papacy (1888) and A History of the Waldenses (1860) by Wylie
- A History of Protestantism (1899) by Wylie
- History of the Inquisition in Spain by McCrie (1879)
- Protestant Persecution of Baptists in America by Joseph Banvard
- Popery Drunk with the Blood of the Saints by Dowling
- History of the Ancient Christians in the Piedmont Valleys of the Alps (1618)
- History of Pentecostalism by Cloud

_____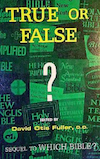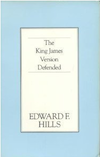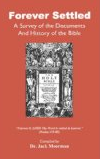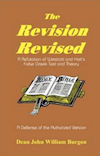 WAY OF LIFE'S ELECTRONIC KJV DEFENSE LIBRARY, which includes
- The Bible Version Question-Answer Database by Cloud
- Dynamic Equivalency: Death Knell of Pure Scripture by Cloud
- Examining James White's "The Truth about the King James Only Controversy" by Cloud
- Faith vs. the Modern Bible Versions by Cloud
- Forever Settled by Jack Moorman
- In the Footsteps of Bible Translators
- For Love of the Bible by Cloud
- The King James Bible Defended by D.A. Waite
- The King James Version Defended by Edward F. Hills
- The Modern Bible Version Hall of Shame by Cloud
- Modern Versions the Dark Secret by Jack Moorman
- Revision Revised by John Burgon
- True or False by D.O. Fuller, Unholy Hands on God's Holy Book
- Which Version: Authorized or Revised by Philip Mauro
- plus dozens of other important articles on this topic.

_____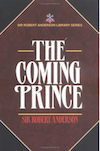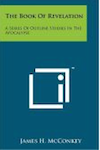 THE TREASURY OF RARE DISPENSATIONAL COMMENTARIES
, a collection of 100 rare old commentaries that are written from a Dispensational and Premillennial position. The majority of commentaries that are readily available today are Reformed and Amillennial. They interpret prophecy by the false allegorical methodology and erroneously view the Church as Israel. Many of the best Dispensational and Premillennial commentaries are out of print. I decided to create this collection when I realized that very few Premillennial commentaries are available in electronic edition for the computer. As a missionary who lives overseas and travels extensively, almost all of the commentaries I regularly use are on my computer. The Treasury of Rare Dispensational Commentaries features the following:
•
THE IRONSIDE COLLECTION
(21 volumes)
•
THE NUMERICAL BIBLE
(6 volumes covering Genesis to Revelation written by Frederick William (1834-1902) and first published in 1932)
•
THE ANNOTATED BIBLE - GAEBELEIN COLLECTION
(works by Arno C. Gaebelein (1880-1950), including the 9-volume
Annotated Bible
, plus the following single volumes:
As It Was--So Shall It Be, Conflict of the Ages, Daniel, Ezekiel, Gabriel and Michael the Archangel, Harmony of the Prophetic Word, Our Age and Its End, World Prospects
)
•
THE JOHN DARBY COLLECTION
(Darby's 5-volume
Synopsis of the Bible
with index, plus
Lectures on the Addresses of the Seven Churches
)
•
THE WILLIAM KELLY COLLECTION
(Chronicles, Judges, Job, Isaiah, Jeremiah, Ezekiel, Daniel, Matthew, John, Acts, Romans, 1-2 Corinthians, Galatians, Philippians and Colossians, 1-2 Thessalonians, 1-2 Timothy, Titus and Philemon, Hebrews, James, Epistles of John, Revelation,
Light for the Pilgrim Pathway
)
•
THE W. GRAHAM SCROGGIE COLLECTION
(
Commentary on Revelation
,
The Lord's Return
, and
Prophecy and History
)
•
THE MISCELLANEOUS DISPENSATIONAL COMMENTARY COLLECTION

-
Revelation
by Clarence Larkin
-
Revelation
by James McConkey
- The Coming Prince by Robert Anderson
-
The Coming War and the Rise of Russia
by Harry Rimmer
-
Daniel and the Latter Day
by Robert Culver
-
Daniel the Prophet
by Edward Dennett
-
The
Dawn of the Scarlet Age
by Edgar Ainslie
-
Earth's Earliest Ages
by G.H. Pember
-
The Future of Europe and Russia's Destiny
by Alfred Burton
-
His Own Received Him Not
by Donald Barnhouse
-
Jesus Is Coming
by W.E.B.,
The Jew and Palestine in Prophecy
by M.R. DeHaan
-
Light on the Last Days
by Charles Blanchard
-
Prophecy's Last Word
by Fred Tatford
-
Prophetic Questions Answered
by Keith Brooks,
Revelation: The Crown Jewel of Prophecy
2 volumes by William Stevens
-
Russian Events in the Light of Bible Prophecy
by Louis Bauman,
Sermons on the Second Coming
by I.M. Haldeman
-
A Textbook on Prophecy
by James Gray
-
The Unfolding of the Ages
by Ford Cottman
-
The Unveiling of Jesus, Studies in Revelation
by William Pettingill
-
The Visions of John the Divine
by William Hoste
-
Voices from Babylon
by Joseph Seiss
-
What Men Must Believe
by David Cooper
-
When Gog's Armies Meet the Almighty in the Land of Israel
by David Cooper
-
Will The Church Pass Through the Tribulation
by Henry Thiessen).


(Upgrade price available if you own version 7.0 or 2014.
To upgrade please call 1-866-295-4143)
Publisher of Bible Study Materials