Publisher of Bible Study Materials
Publisher of Bible Study Materials
The Directory of Contemporary Worship Musicians
by David W. Cloud

This directory contains information on influential contemporary worship musicians who are creating the music that is being used ever more frequently by fundamentalist and very conservative evangelical churches. All of them are radically ecumenical and the vast majority are charismatic in theology.

To our knowledge, not one of them takes a clear stand against end-time apostasy. All are enemies of a separatist Biblicist stance. Contemporary worship music is a dangerous bridge both to the world and to the "broader church" with all of its ancient and end-time heresies, and the Directory of Contemporary Worship Musicians contains more documentation of this than has ever before been gathered into one volume, to our knowledge.

The Directory documents the history of contemporary praise music from its inception in the Jesus People movement and its intimate association with the charismatic movement in general as well as with its most radical aspect, the "latter rain apostolic miracle revival." (See, for example, the following reports in the Directory: "Calvary Chapel," "Lindell Cooley," "Tim Hughes," "Integrity Music," "Kevin Prosch," "David Ruis," "Michael W. Smith," "John Talbot," and "John Wimber.")

The documentation contained in the Directory proves that Contemporary Christian Music is a jungle of end-time apostasy and that it is controlled by "another spirit" (2 Cor. 11:4). The music itself feeds the charismatic-ecumenical mystical experience. The sensual pulsing, skipping, tripping, body-jerking syncopated dance rhythms, the electronic modulation, the reverb and echo and feedback, the unresolving chord sequences, the pounding drums, the sensual vocal styles, the dramatic rise and fall of the sound level, and the repetition create an atmosphere in which charismatic seekers experience an emotional high, are hypnotized to receive an unscriptural message, and are prepared for "signs and wonders" phenomena.

Whatever is operating in the charismatic-ecumenical movement, it is definitely "another spirit" (2 Corinthians 11:4) when tested Scripturally, and contemporary praise music is that spirit's vehicle

Read the PDF Book in your browser.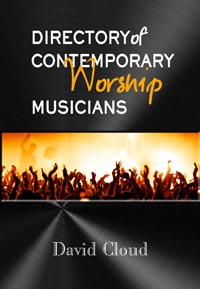 Book: Softcover, 542 pages, 5.5x8.5 in.
eBook: Free, PDF, mobi (Kindle), and ePub formats.

or call... 1-866-295-4143 (toll free: USA & Canada) all other Int'l calls: 1-519-652-2619
If you live in Canada -
For your order to be charged in Canadian funds and to ship within Canada, please place your order by phone. Call toll free 1-866-295-4143.
Note that all cart orders process in US dollars and ship from the USA.

_________

CART TERMS
(if you use the cart)
- Prices shown are US Funds
- Items ship from Port Huron, MI. USA.
- Cart accepts Visa, Master Card, Discover, AmEx, PayPal.
- Shipping is real time USPS lookup base on weight.
- International customers: Call or use cart.
- No refunds. Defective material will be replaced.


SHIPPING

- Orders typically ship in 3-4 days.
- Your order will typically arrive in 2-3 weeks.


DOWNLOADS
- Customer is responsible for backups.
- We cannot guarantee file replacement.