Publisher of Bible Study Materials
Publisher of Bible Study Materials
Darjeeling Disaster
by Ida Lee

A challenging missionary story which took place at the turn of the 20th century. A missionary family in India lost six of their seven children in a landslide. The book is written by the godly mother, who recounts the event and its effect on their lives.

They continued serving the Lord on the mission field and established an orphanage as a memorial to their deceased offspring. The children were serious about their walk with the Lord, and the quotations from their diaries are very stirring.

This unique book is particularly challenging in the following areas: (1) The godly, Christ-centered family life; (2) the zeal of the children to follow God's will; (3) the family's careful separation from the world; (4) their sacrificial Christian service and perseverance in the work of Christ in the face of extreme trials; (5) their compassion for the lost.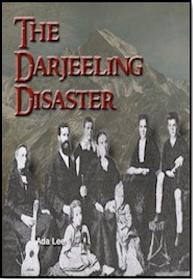 Book: Softcover, 108 pages, 5.5 x 8.5 in.
eBook: Not available.
or call... 1-866-295-4143 (toll free: USA & Canada) all other Int'l calls: 1-519-652-2619
If you live in Canada -
For your order to be charged in Canadian funds and to ship within Canada, please place your order by phone. Call toll free 1-866-295-4143.
Note that all cart orders process in US dollars and ship from the USA.

_________

CART TERMS
(if you use the cart)
- Prices shown are US Funds
- Items ship from Port Huron, MI. USA.
- Cart accepts Visa, Master Card, Discover, AmEx, PayPal.
- Shipping is real time USPS lookup base on weight.
- International customers: Call or use cart.
- No refunds. Defective material will be replaced.


SHIPPING

- Orders typically ship in 3-4 days.
- Your order will typically arrive in 2-3 weeks.


DOWNLOADS
- Customer is responsible for backups.
- We cannot guarantee file replacement.