Publisher of Bible Study Materials
Publisher of Bible Study Materials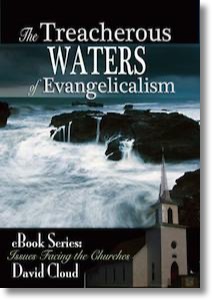 The Treacherous Waters of Evangelicalism
An extensively-documented examination warning about the ancient and end-time heresies that have permeated the Southern Baptist Convention. These include modern textual criticism and the modern Bible versions, process salvation, ecumenism and affiliation withe Rome, Masonic paganism, cultural liberalism, rock & roll, salvation apart from faith in Christ, "Christian" homosexuality, the downgrade of Bible inspiration, the downgrade of hell, theistic evolution, contemplative mysticism, charismaticism, positive thinking and self-esteemism, denial of the substitutionary atonement, even New Age philosophy and false gods and goddesses. The book concludes with two frightful examples of Southern Baptists who have spiritually shipwrecked in the treacherous waters.
Softcover Edition available:
$7.49 Softcover Book, 108 pgs
---

Download Help Kindle Help eBook Info/Help

Please Read: After downloading you must add the mobi or epub file to the
library of your eReader (device) or reading app (tablet). Mobi files do not automatically
install onto the Kindle or Kindle app. You must "install it." See the Kindle help file above.
Because there are so many different devices and apps available for ebooks
it is up to you to know how use these files for your particular situation.