Publisher of Bible Study Materials
Publisher of Bible Study Materials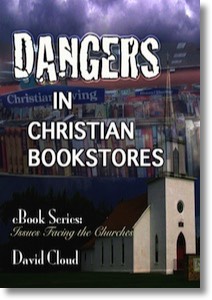 Dangers in Christian Bookstores
A Christian bookstore in this day of end-time apostasy can be a very dangerous place! We warn of the following dangers, among others: modern Bible versions, New Evangelical positivism, ecumenicalism, anti-fundamentalism, the charismatic movement, contemporary church growth philosophies, Christian psychology, contemplative prayer, inclusivism, the emerging church, process salvation, the pro-homosexual movement, rejecting the imminent Rapture.
Softcover Edition available:
$4.99 Softcover Book, 52 pgs
---

Download Help Kindle Help eBook Info/Help

Please Read: After downloading you must add the mobi or epub file to the
library of your eReader (device) or reading app (tablet). Mobi files do not automatically
install onto the Kindle or Kindle app. You must "install it." See the Kindle help file above.
Because there are so many different devices and apps available for ebooks
it is up to you to know how use these files for your particular situation.