Publisher of Bible Study Materials
Publisher of Bible Study Materials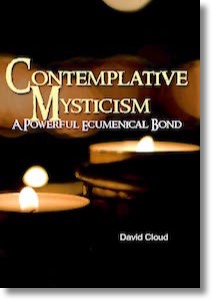 Contemplative Mysticism: A Powerful Ecumenical Bond
Contemplative mysticism, which originated with Roman Catholic and Greek Orthodox monasticism, is permeating every branch of Christianity today, including the Southern Baptist Convention.

We document the fact that Catholic mysticism leads inevitably to a broadminded ecumenical philosophy and to the adoption of heresies. For many, this path has led to interfaith dialogue, universalism, pantheism, panentheism, even goddess theology.

The following are covered in the book: I. What is Mysticism? II. Richard Foster: Evangelicalism's Mystical Sparkplug III. The Widespread Influence of Contemplative Mysticism IV. A Description of the Contemplative Practices V. A Description of Roman Catholic Monasticism VI. The Error of Catholic Monasticism VII. The Error of Contemplative Mysticism VIII. A Biographical Catalog of Contemplative Mystics.