Publisher of Bible Study Materials
Publisher of Bible Study Materials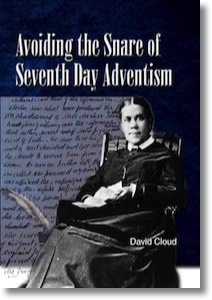 Avoiding the Snare of Seventh Day Adventism
C
alled the best on the subject by the editor of The Baptist Challenge, this book is diligently researched from official publications of the Seventh-day Adventist organization. The author proves conclusively that the Seventh-day Adventist gospel is false. The two major divisions of the book are: "Adventist History Proves It is Heretical" and "Adventist Doctrine Proves It Is Heretical."

The book analyzes Adventist doctrines such as Sabbath-keeping, Soul-sleep, Annihilation of the wicked, Ellen White as a Prophetess, Investigative Judgment, and Misuse of the Mosaic Law. Another chapter is titled "Why Some Have Considered Seventh-day Adventism Evangelical." This analyzes Walter Martin's (author of Kingdom of the Cults) faulty view of Adventism. The 2nd edition (1999) includes selections from D.M. Canright's 1898 book Seventh-day Adventism Renounced. Canright was an early leader in Adventism who left and became a Baptist pastor.

The 2nd edition also includes a chapter entitled "Adventists Wanted Me to Revise This Book," describing the attempt by the Seventh-day Adventist denomination to have me change the book.
Softcover Edition available:
$10.99 Softcover Book, 223 pgs
---

Download Help Kindle Help eBook Info/Help

Please Read: After downloading you must add the mobi or epub file to the
library of your eReader (device) or reading app (tablet). Mobi files do not automatically
install onto the Kindle or Kindle app. You must "install it." See the Kindle help file above.
Because there are so many different devices and apps available for ebooks
it is up to you to know how use these files for your particular situation.
Publisher of Bible Study Materials
Publisher of Bible Study Materials