Publisher of Bible Study Materials
Publisher of Bible Study Materials
Ronnie Floyd, the SBC, and Contemporary Wolves
David Cloud, Way of Life Literature, P.O. Box 610368, Port Huron, MI 48061
866-295-4143,
fbns@wayoflife.org
The following is by Hughie Seaborn, Cairns, Australia, rseaborn@ozemail.com.au:


I
n yesterday's article
("Pope Francis Joins Lecrae, Hillsong at Historic 1 Million-Strong 'Together 2016' DC Event," The Christian Post, June 7, 2016), I read something that sufficiently explains (for me anyway) why Ronnie Floyd [pictured] and the Southern Baptist Convention have got problems ("Floyd: A few thoughts about Southern Baptist statistics," Baptist Press News, June 8, 2016).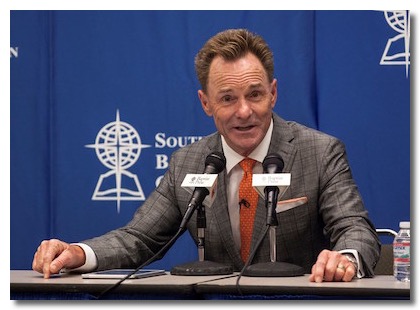 He claims that the decline has to do with eight or nine thousand SBC church pastors disobeying protocols and not filling out their Annual Church Profile Reports, but that's not the problem. It's got everything to do with fifty or so thousand SBC churches being given over to apostasy, by God Himself, because of their willful compromise and disobedience to His Word.


I read in the article yesterday that "Together 2016 will be held on July 16 at the National Mall in Washington, D.C.," and that "confirmed guest speakers and artists include: Hillsong United, Kari Jobe, Francis Chan, Lecrae, Nick Hall, Passion, Crowder, Kirk Franklin, Ravi Zacharias, Jeremy Camp, Andy Mineo, Michael W. Smith, Lauren Daigle, Christine Caine, Mark Batterson, Matthew West, Jo Saxton, Mike Kelsey, Casting Crowns, John K. Jenkins Sr., Josh McDowell, Laurel Bunker, Luis Palau, Tedashii, Tasha Cobbs, Lacey Sturm, York Moore, Trip Lee, Samuel Rodriguez, RONNIE FLOYD, Reid Saunders, Bob Lenz, Jose Zayas, Jennie Allen, Nabeel Qureshi, Ann Voskamp, KB, Christine D'Clario, Matt Maher, Sammy Wanyonyi, Lindsey Nobles, Amena Brown, and Josh Brewer."

I also read in that article that, "Adding his name to the lineup of prominent guest speakers and musicians is POPE FRANCIS, who will deliver a video message addressing the crowd."

Does Ronnie Floyd ever read a Bible? Even a modern, corrupt translation will tell you that you can't make yourself an enemy of God and expect everything to go well.

By the way, I wonder who is going to be game enough to be the Pope's delivery boy this time? I'd be a bit cautious about being involved in that little antic. Remember Tony Palmer who delivered the Pope's iPhone video message to the Kenneth Copeland conference? Didn't go too well, did it? [He was killed in a motorcycle crash.] But they're going to have another go anyway.

I don't want to puff myself up like I'm the Bible Answer Man, but I reckon I do have a bit of the answer to the puzzle that Ronnie Floyd can't work out. All those people he's going to be playing footsie with at "Together 2016" have all got a couple of things in common. Firstly, they all love the Pope! Secondly, they've all got far more exciting things going on in their so-called churches than the SBC churches have.

Some SBC churches are coming up to speed; but, generally, young people are not interested in dry old dusty, culturally irrelevant, 2000-year-old letters anymore, and unless Ronnie can convince his young people of the truth of Scripture, and convinced them to be watchful, sober and alert, and to understand what profit there is in serving the living God, then his Pope-loving "friends" are going to steal most of his SBC brand of "christians" and convert them into their own Pentecostal/Charismatic brand of "christians." That's where most of his diminishing congregations have migrated to. If you let ravenous wolves into the sheep's pen, then it only stands to reason that there's going to be a decrease in the number of sheep in the flock.

I don't know much about wolves over there in America, but I do know a lot about dingoes over here in Australia. They don't necessarily kill just because they're hungry, but because they love killing little lambs--especially in the darkness of the night, when the shepherd is sound asleep in his bed. Killing lambs is great fun to dingoes. I imagine wolves would be the same. They kill little lambs for fun and not always because they're hungry.

Ronnie Floyd is inviting his shepherds, and their flocks of lambs to get together with the wolves, and then he wonders when he gets up in the morning where all the lambs have gone. Like I said, it's not that hard to work out.

It's got absolutely nothing to do with some of his shepherds not counting the lambs, and then not reporting in their Annual Church Profile Reports how many lambs they haven't got. Those eight or so thousand non-reporting shepherds are probably not game to tell him--ashamed to tell him, actually. I should imagine they would want to tell (boast to) their leading shepherd if they had experienced an increase in the flock numbers? What would you reckon?

I'm glad I'm in a church where the shepherd warns the lambs about all those people who Ronnie Floyd associates with and about the terrible consequences that will surely take place if they don't heed the warning. Our pastor actually reads those parts of the Bible to them. He tells them from the Bible what's going to happen to the Pope's flock. Ronnie Floyd and his shepherds wouldn't tell their lambs that Revelation 17-18 refers to the Pope's flock and all who would join with it.


- Receive these reports by email
- www.wayoflife.org

______________________


Sharing Policy: Much of our material is available for free, such as the hundreds of articles at the Way of Life web site. Other items we sell to help fund our expensive literature and foreign church planting ministries. Way of Life's content falls into two categories: sharable and non-sharable. Things that we encourage you to share include the audio sermons, O Timothy magazine, FBIS articles, and the free eVideos and free eBooks. You are welcome to make copies of these at your own expense and share them with friends and family. You may also post parts of reports and/or entire reports to websites, blogs, etc as long as you give proper credit (citation). A link to the original report is very much appreciated as the reports are frequently updated and/or expanded. Things we do not want copied and distributed are "Store" items like the Fundamental Baptist Digital Library, print editions of our books, electronic editions of the books that we sell, the videos that we sell, etc. The items have taken years to produce at enormous expense in time and money, and we use the income from sales to help fund the ministry. We trust that your Christian honesty will preserve the integrity of this policy. "For the scripture saith, Thou shalt not muzzle the ox that treadeth out the corn. And, The labourer is worthy of his reward" (1 Timothy 5:18). Questions? support@wayoflife.org
Goal:Distributed by Way of Life Literature Inc., the Fundamental Baptist Information Service is an e-mail posting for Bible-believing Christians. Established in 1974, Way of Life Literature is a fundamental Baptist preaching and publishing ministry based in Bethel Baptist Church, London, Ontario, of which Wilbert Unger is the founding Pastor. Brother Cloud lives in South Asia where he has been a church planting missionary since 1979. Our primary goal with the FBIS is to provide material to assist preachers in the edification and protection of the churches.

Offering: Offerings are welcome if you care to make one. If you have been helped and/or blessed by our material offerings can be mailed or made online with with Visa, Mastercard, Discover, or Paypal. For information see: www.wayoflife.org/about/makeanoffering.html.