Questions for Antifa/Black Lives Matter
David Cloud, Way of Life Literature, P.O. Box 610368, Port Huron, MI 48061
866-295-4143,
fbns@wayoflife.org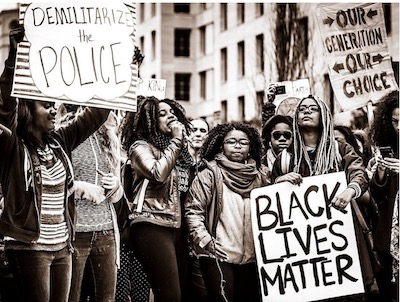 T
he demonstrations
and rioting following the death of George Floyd at the hands of a Minnesota policeman represent a diverse group of people, but Antifa and Black Lives Matter are front and center.

Black Lives Matter (BLM), a social media creation by three women in 2013, has grown into "an international human rights movement that campaigns against violence and systemic racism towards black people." Observe that they are
against
, but not
for
. Black Lives Matter claims that "virulent anti-Black racism permeates our society," that America "continues to thrive on the brutal exploitation of people of color," that "structural oppression prevents so many from realizing their dreams." They claim that blacks are routinely "de-humanized" and rendered "powerless at the hands of the state" and targeted for "extrajudicial killings ... by police and vigilantes." They claim that America is a "white supremacist system." Black Lives Matter is closely aligned with Marxist-Leninist and anti-Israel, pro-Palestinian organizations.

Antifa stands for "anti-fascist," but it acts like textbook fascism. Merriam-Webster defines fascism as "a political philosophy, movement, or regime that EXALTS NATION AND OFTEN RACE above the individual and that stands for a centralized autocratic government headed by a dictatorial leader, severe economic and social regimentation, and FORCIBLE SUPPRESSION OF OPPOSITION." That does not describe America, but it describes Antifa and Black Lives Matter. Just try to oppose them in any way and see what happens. Originating in Germany, Antifa's red and black flag represents anarchism and communism. Anarchy is "the absence of government, a state of lawlessness," "political disorder and confusion," "chaos," "a group of people that totally rejects a set hierarchy," "ruthless self-help," "war as normal," "a situation in which there is no organization and no control." Antifa's web site vaguely speaks of "organizing against racial and economic injustice." Again, they are
against
but not
for
, tearing down but not building up. Antifa's supporters "subscribe to a range of left-wing ideologies such as anarchism, communism, Marxism, social democracy and socialism" ("Antifa,"
Wikipedia
).

These ill-defined organizations are getting support from high-placed politicians, international corporations, even Christian leaders. Former President Barack Obama has spoken in favor of Black Lives Matter. Michigan Gov. Gretchen Whitmer marched with Black Lives Matter in Detroit. Canada Prime Minister Justin Trudeau took a knee at a Black Lives Matter rally in Ottawa. Washington D.C. Mayor Muriel Bowser had Black Lives Matter painted onto a street near the White House. Apple replaced its home page with a black screen and a link to a message by CEO Tim Cook, insinuating that America is a racist nation and blaming the problems of the black communities on systemic racism. Joel Osteen, pastor (so-called) of America's largest church (so-called), marched with Black Lives Matter in Houston. Southern Baptist convention president J.D. Greear marched in an Antifa/Black Lives Matter demonstration in Raleigh, North Carolina. Southern Baptist leader Ed Stetzer, Director of the Billy Graham Center at Wheaton College, marched with Black Lives Matter in Chicago. Hillsong pastor Carl Lentz proudly posted a video of his daughter screaming rage at police at a Black Lives Matter demonstration in New York City.

Do Cook and Trudeau and Whitmer and Osteen and Greear and Stetzer and Lentz,
et al
, know what these people want? Property valued at many millions of dollars has been destroyed, a large part of it black-owned in black neighborhoods. People have been beaten, murdered. Police have been assassinated. They have been forced to stand by while mayhem is committed on communities. Their hands have been tied from effective policing. Violence in black communities has increased.


WHAT HAVE YOU DONE TO HELP BLACK PEOPLE IN A POSITIVE WAY?


Antifa and Black Lives Matter, what exactly have you done to build up the black communities? What have you done to stop black people from murdering black people at an unprecedented rate? What have you done to stop Planned Parenthood from murdering 91,000 black babies every year? What have you done to eliminate the drug culture that is
devouring
black lives like an insatiable monster? What have you done to help single black mothers raise their children? What have you done to build up black families so they don't continue to produce generation after generation of delinquents? What have you done to stop hate and to help people love one another? What have you done to stop the victimization mentality that has enslaved generations? What have you done to help create order and peace? What have you done to communicate with the police to create better understanding and a better environment for
everyone
? What have you done to stop violent gangs that prey upon black people? What have you done to lift up the economic prosperity of black communities? How many jobs have you created?

Other than criticize and spew out cursing and bitterness and create mayhem and cause division, what have you done to contribute to man's plight? You have proven that you can tear down, but what have you built? America's founding fathers did the hard work of nation building. What nations have you built? What just cities and communities have you built? Where is the showcase community that Antifa and Black Lives Matter have built?


WHY DON'T YOU GIVE AMERICA CREDIT?


Why are you lying about America? Why do you charge America with a systemic racism that clearly doesn't exist? From its inception, a large percentage of Americans were opposed to slavery. Eventually, America fought a terrible civil war to grant the black man his freedom, and he was granted freedom. England and America were at the forefront of destroying the slave trade and liberating black slaves in an era when it was almost universally accepted. America has passed unprecedented Civil Rights legislation. America has black governors and black congressmen and black judges and black supreme court justices and black mayors and black sheriffs and black police captains and black police by the thousands. America has had a black president who won two terms. American blacks have more than $1 trillion in buying power (blackenterprise.com). America is
not
the white supremacist nation that you claim. It is a myth. It is a lie. To make such a claim is ridiculous on its very face. There is irrefutable evidence that the vast, vast majority of America's police forces and courts are
not
populated by racists who hate black people and are daily itching to oppress them. Why are you lying? Why are slandering America? What is your real agenda?


WHY DO YOU REFUSE TO ACKNOWLEDGE THE BLACK COMMUNITY'S OWN RESPONSIBILITY?


Who is to blame for the single mom, absentee father culture, the wife abuse culture, the drug culture, the out-of-wedlock pregnancy culture, the school drop out culture, the gang culture, the rape culture, the murder culture, the abortion culture? Black Lives Matter calls for more government spending. Since Lyndon Johnson announced his socialistic "war on poverty" in 1964, America has spent about $45 trillion on welfare, and the largest part of that has gone into black communities. In 2020 alone more than $8 trillion will be spent on welfare (www.usgovernmentspending.com). It is never enough. The problems have increased with the spending. Even when the majority of a city or community government is black, the buck never stops there.


WHY DO YOU HATE BLACK PEOPLE WHO DON'T SUPPORT YOUR AGENDA?


A great many blacks don't support your agenda, but they are viciously slandered by you. You try to censor and shout down their voices. If Black Lives Matter, why don't black voices matter? Why are you against freedom of belief and freedom of speech for black people? Why do you support the ridiculous principle that if you don't vote Democrat you aren't really black? Why does everyone have to march to your tune?

Chicago Pastor Corey Brooks says the recent violence has set his black community back decades. "We worked tirelessly to turn around the city's most violent neighborhood, only to see it burned and looted. All of the CVS and Walgreens buildings were looted. The result is that we no longer have a pharmacy in our neighborhood. The grocery stores were also looted, leaving us without options to purchase local food. The question lingers on many of our minds: Will these stores and pharmacies—so essential for daily living here—ever come back? ... Liberal politicians in Illinois and across the country have fanned the flames of anger over the past several years. Their policies and worldview emphasize government as the solution to all problems, except, paradoxically, when we need police. Our mayor, Lori Lightfoot, has been unable or unwilling to put a stop to the violence in the streets of our home city, in part because she has been unable to offer a strong defense for good law enforcement agents doing the necessary work of making our neighborhoods livable. Lost in the liberal messaging is the reality that the foundation of our society is the rule of law. The tragic killing of George Floyd reminds us that we need better training and screening for police officers. But the vast majority of the law enforcement agents in our nation advance racial equality, and help black Americans participate in the American dream. ... Violence is rampant in Chicago, and it has nothing to do with isolated incidents of police brutality. Over Memorial Day weekend, ten African-Americans were shot and killed in drive-by shootings. ... We need justice in the George Floyd case, and we need assurances that these hateful acts will not take place again. At the same time, we need partnerships with the police so they will help us re-establish law and order in our neighborhoods. Democrats, however, cling to wrongheaded rhetoric that does nothing to stop the destruction of our homes. It is no coincidence that the most violent looting and destruction took place this past week in cities heavily controlled by Democrats" ("Chicago Pastor,"
The American Conservative
, June 4, 2020).


WHAT EXACTLY DO YOU WANT FROM AMERICA?


Antifa and Black Lives Matter, what do you want? Do you want no police forces? Black Lives Matters' web site calls for defunding the police. What exactly does this mean? How do you propose to make people safe in their personal lives, their homes, their businesses? Will Black Lives Matter and Antifa protect them? Will social workers and welfare administrators protect them? Do you want no laws, no courts? Do you want the liberty to commit mayhem without consequence? If you want laws, exactly what laws? Do you believe in the U.S. Constitution? The Bill of Rights? If not, with what would you replace them?


WHAT COUNTRY IS BETTER THAN AMERICA?


You demand a perfectly just nation from people who are inherently selfish and morally corrupt. The Bible is right when it says, "There is none righteous, no, not one," and, "For all have sinned, and come short of the glory of God" (Romans 3:10, 23). That is the man of color and the man of no color. "The heart is deceitful above all things, and desperately wicked: who can know it?" (Jeremiah 17:9). That's every man's heart.


What nation in ancient history was better than America?
The Egyptians? the Babylonians? the Hittites? the Phoenicians, the ancient Chinese? the Greeks? the Assyrians? the Olmecs? the Mayas? the Aztecs? Vedic India? the Bantus or Noks or Yorubas? the Mongols? the Delhi Sultanate? the Mughals? the Druids? the Goths? the Saxons or Picts or Angles or Jutes? the Persians? the Romans? the Sasanians? the Vikings? the Byzantines? the Berbers? the Umayyad Caliphate? Al-Andalus? the Franks? the Vikings? the Ottomans? Tutor England? the French? the Spanish? Imperial Germany? the Russian Empire? Where in history is that wonderful nation that you are demanding where everyone is treated with perfect justice and equality and the government provides everything for everyone? In most of the ancient nations we have listed, half and more of the inhabitants were pure slaves with zero rights. Their masters could treat them however they pleased, even unto death.


What nation of more recent history is greater than America?
If America is so terrible, why have millions upon millions of people flocked there from the far-flung regions of the earth? Why haven't they flocked to Zimbabwe? Sudan? the Barbary Coast? Ethiopia? Nicaragua? Brazil? Mexico? Denmark? Japan? Egypt? India? the Soviet Union?

How about China? That is a pure socialist nation. It should be an Antifa/BLM hog's heaven. What about social justice in China? Internet access and social media are strictly censored. Christians and Muslims are oppressed. There is no freedom of speech, freedom of religion, freedom of press. Legal rights are non-existent in practice. How does China treat its minorities? Their abuse of the Uighurs is so wretched that it has been labeled genocide. How does China treat the opposition? Do they have plenty of rights? Are they coddled? No, they can be tortured and summarily "disappeared." Chinese people have only one right, and that is the right to do whatever the government says and to believe whatever the government demands. Do the Chinese police and military treat demonstrators with kid gloves? No, they run over them with tanks and machine gun them. Estimates of the death toll of the Tiananmen Square Massacre run from several hundred to several thousand, with thousands more wounded and imprisoned. Is there economic equality in China? No, it is a land of the grossest inequality. "China has 2.3 million millionaires, but 600 million Chinese live on $35 a week" ("China's Premier Acknowledges Serious Economic Crisis,"
The Epoch Times
, May 30, 2020). Why doesn't Antifa/BLM have offices in China?

America is deeply imperfect, but what nation is greater in liberty, opportunity, economic prosperity, and justice? I've lived half of my 70 years overseas, traveled to 40 nations, and I haven't found a better one than America. They all have deep problems, because the inhabitants are all sinners like the Bible says.

Millions upon millions of Americans, including millions of blacks, are working hard to make America better. They aren't crying victimization. They aren't killing policemen and laughing about it. They aren't tearing down, they are building up. They are building businesses, manufacturing things, transporting, farming, creating jobs, parenting, grand-parenting, operating America's great health care system, saving unborn babies, feeding the hungry, working to liberate those in bondage to drugs and alcohol, doing the work of science and invention, working with troubled youth, aiding troubled marriages, helping single moms, adopting orphans, active in politics, educating, governing, manning the courts, policing, protecting the people from thieves, charlatans, rapists, arsonists, and murderers, maintaining safety on the highways, preaching the gospel of Jesus Christ, teaching God's Word.

Why are people marching with Antifa and Black Lives Matter and "taking a knee" with them without clear answers to such questions?


- Receive these reports by email
- www.wayoflife.org

______________________


Sharing Policy: Much of our material is available for free, such as the hundreds of articles at the Way of Life web site. Other items we sell to help fund our expensive literature and foreign church planting ministries. Way of Life's content falls into two categories: sharable and non-sharable. Things that we encourage you to share include the audio sermons, O Timothy magazine, FBIS articles, and the free eVideos and free eBooks. You are welcome to make copies of these at your own expense and share them with friends and family. You may also post parts of reports and/or entire reports to websites, blogs, etc as long as you give proper credit (citation). A link to the original report is very much appreciated as the reports are frequently updated and/or expanded. Things we do not want copied and distributed are "Store" items like the Fundamental Baptist Digital Library, print editions of our books, electronic editions of the books that we sell, the videos that we sell, etc. The items have taken years to produce at enormous expense in time and money, and we use the income from sales to help fund the ministry. We trust that your Christian honesty will preserve the integrity of this policy. "For the scripture saith, Thou shalt not muzzle the ox that treadeth out the corn. And, The labourer is worthy of his reward" (1 Timothy 5:18). Questions? support@wayoflife.org
Goal:Distributed by Way of Life Literature Inc., the Fundamental Baptist Information Service is an e-mail posting for Bible-believing Christians. Established in 1974, Way of Life Literature is a fundamental Baptist preaching and publishing ministry based in Bethel Baptist Church, London, Ontario, of which Wilbert Unger is the founding Pastor. Brother Cloud lives in South Asia where he has been a church planting missionary since 1979. Our primary goal with the FBIS is to provide material to assist preachers in the edification and protection of the churches.

Offering: Offerings are welcome if you care to make one. If you have been helped and/or blessed by our material offerings can be mailed or made online with with Visa, Mastercard, Discover, or Paypal. For information see: www.wayoflife.org/about/makeanoffering.html.
Publisher of Bible Study Materials
Publisher of Bible Study Materials