Christian Parents are Losing Their Children
David Cloud, Way of Life Literature, P.O. Box 610368, Port Huron, MI 48061
866-295-4143,
fbns@wayoflife.org
The following article by Evangelist Paul Freeman was first published by us in
O Timothy
magazine Vol. 7, Issue 7, 1990. It was first preached more than 30 years ago, but it is still relevant today. See the book
Keeping the Kids
from Way of Life Literature for more on this subject.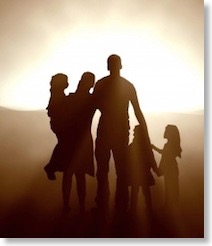 I
t is quite obvious today that many Christians are losing their children. There is nothing in their lives to give rise to the hope that they are bound for Heaven. In the light of Prov. 22:6, it appears that they are not being raised in the way they "should go," or they would not depart from the Lord. I would like to look at some of the reasons why Christians are losing their children.

THEY WILL NOT MAKE THEM ATTEND ALL THE SERVICES

As long as they live in your home and receive all the benefits of that home, they must be made to be in all the church meetings. You are not to stick around and lament their lack of spirituality; church attendance is required whether they are loving it or not.


THEY WILL NOT THROW OUT THE TELEVISION SET

The "sin box" is the greatest detriment to your child's salvation that you can have in your house. The Lord's name is taken in vain, and you sit there and do nothing. Fornication comes into your living room, and your children are feeding on it until they become inflamed and strike out after the world.


THEY WILL NOT KEEP THEM FROM DATING THE LOST

We are commanded to keep our children from marrying the lost (2 Cor. 6:14; Deut. 7:3,4). Since dating always precedes marriage we must not allow them to date the unsaved while they are under our roof.


THEY WILL NOT HAVE MEANINGFUL FAMILY DEVOTIONS

Most Christians have no family devotions at all. When they do become convicted about this neglect, they often have family devotions just so they can say they did it. The father should see that a meaningful time of Bible reading and prayer is conducted with questions and answers for all to profit.


THEY WILL NOT SPANK THEIR CHILDREN

A father who does not spank his children does not love them (Prov. 13:24).
A failure to discipline will lead to a surly manner and lack of respect.
Overlooking disobedience will lead to open defiance in the teen years. It is great wisdom on the part of a parent to spank the child (Prov. 19:18; 23:13,14).


THEY WILL NOT ENROLL THEM IN A CHRISTIAN SCHOOL

Fathers who keep their children in public school for sports are very foolish. There is nothing spiritual about sports in a pagan schoolhouse. Enter them in a Christian school and don't ask them whether they want to go--just do it. Cancel your IRA, trade down the car, sell the house, do what you have to do, but don't let the heathen have them to educate (Jer. 10:2). [Note from Brother Cloud: In our experience, a good home schooling education is often superior educationally and spiritually than one from a Christian school.]


THEY SET SUCH A POOR EXAMPLE BEFORE THEM

Space will not permit the listing of things we do that keep our children from coming to the Lord Jesus. We sin, and we do not care, and our children are watching. Our failure in church attendance shows them how serious we are about "serving the Lord." We do not want them to be "so wicked," but we do not want them to be "so spiritual" either.


THEY HAVE TAUGHT THEM TO LOVE THE WORLD AND ITS THINGS

We talk about Heaven, but our real love is for the world and all of its things (1 John 2:15-17--Have you ever memorized this passage?) The Lord Jesus came to extricate us from this world (Gal. 1:4), but we are spiritual adulterers who dive back into it (James 4:4). Our children need to see us turn a deaf ear to the world as it calls to us.


THEY WILL NOT KEEP MOM IN THE HOME

A mother who is uncorrupted by the world can keep the home a spiritual retreat (Titus 2:3-5).


THEY STAY IN A COMPROMISING CHURCH

Parents who stay in the wrong church are courting disaster with their children. The greatest need in their lives is for a good fundamentalist, Bible-preaching church. You are compromising to stay in a church which doesn't obey the Word of God, and when your children grow up, they will leave church altogether.


THEY WILL NOT BAN TRASHY MUSIC IN THE HOME

Many a Christian home contains the Devil's music. The ungodly rock and country stars are the children's heroes. Mom and Dad do not have enough courage to throw it all out. Many children are on the broad road to Hell and no one objects.


THE PARENTAL ROLES ARE REVERSED

In too many cases, the man is in subjection to his wife, and she is the head of the house. It is contrary to God's plan, and the children know it. As a result, they have no respect for Dad, and they despise Mom.


THEY ABANDON THEIR CHILDREN TO "SERVE THE LORD"

Many parents have been told that they should be out every evening serving the Lord, and God will take care of their children. There is no Bible reason to believe that leaving the home every night for Deacon's Meeting, Visitation, Bus meetings, Planning meetings, Missionary Society meetings, etc., will help your children come to the Lord. A child "left to himself" will still bring "his mother to shame" (Prov. 29:15).

We are losing our children. When are we going to make up our minds to do something about it?


- Receive these reports by email
- www.wayoflife.org

______________________


Sharing Policy: Much of our material is available for free, such as the hundreds of articles at the Way of Life web site. Other items we sell to help fund our expensive literature and foreign church planting ministries. Way of Life's content falls into two categories: sharable and non-sharable. Things that we encourage you to share include the audio sermons, O Timothy magazine, FBIS articles, and the free eVideos and free eBooks. You are welcome to make copies of these at your own expense and share them with friends and family. You may also post parts of reports and/or entire reports to websites, blogs, etc as long as you give proper credit (citation). A link to the original report is very much appreciated as the reports are frequently updated and/or expanded. Things we do not want copied and distributed are "Store" items like the Fundamental Baptist Digital Library, print editions of our books, electronic editions of the books that we sell, the videos that we sell, etc. The items have taken years to produce at enormous expense in time and money, and we use the income from sales to help fund the ministry. We trust that your Christian honesty will preserve the integrity of this policy. "For the scripture saith, Thou shalt not muzzle the ox that treadeth out the corn. And, The labourer is worthy of his reward" (1 Timothy 5:18). Questions? support@wayoflife.org
Goal:Distributed by Way of Life Literature Inc., the Fundamental Baptist Information Service is an e-mail posting for Bible-believing Christians. Established in 1974, Way of Life Literature is a fundamental Baptist preaching and publishing ministry based in Bethel Baptist Church, London, Ontario, of which Wilbert Unger is the founding Pastor. Brother Cloud lives in South Asia where he has been a church planting missionary since 1979. Our primary goal with the FBIS is to provide material to assist preachers in the edification and protection of the churches.

Offering: Offerings are welcome if you care to make one. If you have been helped and/or blessed by our material offerings can be mailed or made online with with Visa, Mastercard, Discover, or Paypal. For information see: www.wayoflife.org/about/makeanoffering.html.
Publisher of Bible Study Materials
Publisher of Bible Study Materials