A U.S. Supreme Court Justice Who Believed the Bible
T
he following by Don Jasmin is from
The Fundamentalist Digest,
May 2015 (P.O. Box 489, West Branch, MI 48661) --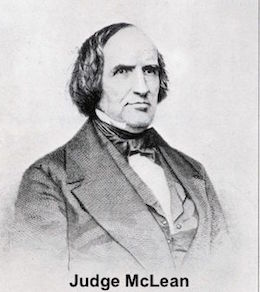 A U. S. SUPREME COURT JUSTICE WHO BELIEVED THE BIBLE AND WHO SPOKE PUBLICLY ABOUT ITS POWERFUL IMPACT UPON AMERICAN SOCIETY

Such a claim as cited above might seem like a fictional fantasy to Americans in the 21st century, but there was a day in American society when America's highest legal figure exercised a powerful moral and spiritual influence upon the nation's culture.

This man was Judge M'lean, a justice of the U. S. Supreme Court during the 1850's era, an age when the Bible was honored and revered in our country's judicial system. Justice M'Lean was not only a genuine American statesman, he was s firm unapologetic advocate of the Sacred Scriptures. In a letter dated, Nov. 4, 1852, M'Lean penned the following comments about the Bible.

A SUPREME COURT JUSTICE CONCERNED ABOUT THE SPREAD OF INFIDELITY AND UNBELIEF IN THE SCRIPTURES

"I am requested to say something as to the wholesome influence of the Bible on our social and civil life. I agree with the sentiment expressed that a 'widespread, open infidelity, if uncorrected, must ere long put in peril all our free institutions.'

No one can estimate or describe the salutary influence of the Bible. What would the world be without it? Compare the dark places of the earth, where the light of the Gospel has not penetrated with those where it has been proclaimed and embraced in all its purity."

A SUPREME COURT JUSTICE WHO BELIEVED IN A LITERAL HEAVEN AND A LITERAL HELL

"Life and immortality are brought to light by the Scriptures. Aside from revelation, darkness rests upon this world, and upon the future. There is no ray of light to shine upon our path way; there is no star of hope. We begin our speculations as to our destiny in conjecture and they end in uncertainty. We know not that there is a God, a heaven or a hell or any day of general account when the wicked and the righteous shall be judged." [Ed: A Supreme Court Justice who believed in a literal hell? YES!]

A SUPREME COURT JUSTICE WHO BELIEVED IN REDEMPTION BY THE BLOOD

"The Bible has shed a glorious light upon our world. It shows us that in a coming day, we must answer for the deeds done in the body. It has opened up to us a new and living way, so plainly marked that no one can mistake it. The price paid for our redemption [the blood of Christ!] shows the value of our immortal souls."

THE SCRIPTURE ALONE PRESENTS PURE MORALS AND CORRECT DOMESTIC SOCIAL RELATIONSHIPS

"The Bible has given us a sublime and pure morality to which the world was a stranger. Before this, there was no fixed standard of morals. Certain rules were observed among some nations which, to some extent, restrained the selfishness of human nature, but they rested upon imaginary foundations, and they tolerated acts inconsistent with a pure morality.

Self destruction was not only an admitted principle in that code, but it received public condemnation. And there were other acts allowed which, if not equally false and destructive were repugnant to the advancement of the social condition.

The laws which belong to the social relation are found in the Bible. The duties of husband and wife, parent and child, and all other civilization, are prescribed in the Scriptures. We are commanded to love our neighbor, and in all thines 'to do unto others as we would do unto us.' If these roles were faithfully observed by individuals and communities, the highest degree of earthly happiness would be attained."

THE SCRIPTURE IS THE FOUNDATION STONE OF FREEDOM AND LIBERTY

"For our unparalleled advance in civilization and physical prosperity, our country is mainly indebted to the Bible. Our free institutions are the fruits of religious persecution. With the Bible in their hearts, the Pilgrims sought a resting-place in this continent. And in the process of time, under the same principles, and motives, they resolved to be free and independent. Having that wisdom which comes of experience, they formed a government to secure and to perpetuate the great principle of civil and religious freedom."

THE NECESSITY OF RETAINING THE SCRIPTURE AS THE MORAL UNDERPINNING OF OUR NATION'S GOVERNMENT

"How is this government to be transmitted in the purity and vigor to those who shall come after us? This can only be done by those who shall come after us? This can only be done by use of the same means through which it was established. We must not be forgetful of the God of our fathers. We must respect and obey His laws.
The morality of the Bible must continue to be the basis of our government
. There is
no
other foundation for free institutions. I say this emphatically, and from the deepest conviction of the truth.

This morality is an element of which the free governments of the old world had no knowledge.
It [the Holy Scripture] is the ground and the only ground on which my hope of this government rests
. And I tremble when I see a departure from this highway of liberty. Recently, as our government has been established, there are already departures from this vital principle."

Excerpt of letter by John M'Lean, Justice of the U. S. Supreme Court, letter, Nov. 4, 1852; published in
The National Magazine
, Mar. 1854, p. 280. Note: Subheadings were added by the F.D. editor for easier reading comprehension.


- Receive these reports by email
- www.wayoflife.org

______________________


Sharing Policy: Much of our material is available for free, such as the hundreds of articles at the Way of Life web site. Other items we sell to help fund our expensive literature and foreign church planting ministries. Way of Life's content falls into two categories: sharable and non-sharable. Things that we encourage you to share include the audio sermons, O Timothy magazine, FBIS articles, and the free eVideos and free eBooks. You are welcome to make copies of these at your own expense and share them with friends and family. You may also post parts of reports and/or entire reports to websites, blogs, etc as long as you give proper credit (citation). A link to the original report is very much appreciated as the reports are frequently updated and/or expanded. Things we do not want copied and distributed are "Store" items like the Fundamental Baptist Digital Library, print editions of our books, electronic editions of the books that we sell, the videos that we sell, etc. The items have taken years to produce at enormous expense in time and money, and we use the income from sales to help fund the ministry. We trust that your Christian honesty will preserve the integrity of this policy. "For the scripture saith, Thou shalt not muzzle the ox that treadeth out the corn. And, The labourer is worthy of his reward" (1 Timothy 5:18). Questions? support@wayoflife.org
Goal:Distributed by Way of Life Literature Inc., the Fundamental Baptist Information Service is an e-mail posting for Bible-believing Christians. Established in 1974, Way of Life Literature is a fundamental Baptist preaching and publishing ministry based in Bethel Baptist Church, London, Ontario, of which Wilbert Unger is the founding Pastor. Brother Cloud lives in South Asia where he has been a church planting missionary since 1979. Our primary goal with the FBIS is to provide material to assist preachers in the edification and protection of the churches.

Offering: Offerings are welcome if you care to make one. If you have been helped and/or blessed by our material offerings can be mailed or made online with with Visa, Mastercard, Discover, or Paypal. For information see: www.wayoflife.org/about/makeanoffering.html.
Publisher of Bible Study Materials
Publisher of Bible Study Materials