For this I Thank Him
by David W. Cloud

Full of faith and courage, young, beautiful Natasha was active in the underground church in Romania, where it was illegal to openly serve the Lord. When the Lord sent a godly young man into her life, her joy knew no bounds as they planned their future together. However, through the cruel KGB police, all came to a sudden halt. Now she faced only loneliness, beatings, and lost love. But in and through all this she found victory through God's all-sufficient grace. By God's blessing, a wonderful surprise awaited her soon after release from the cruel clutches of the KGB.

Based on a true story, this film will encourage and strengthen the faith of those whose lives are dedicated to serving the Savior.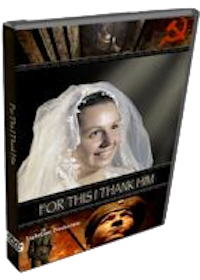 This LightCast Productions video is now available through Way of Life Literature.

DVD: Play in your DVD player or on computer with DVD player app.

Download: MP4 format. Large 1920*1080 format. 2.7 mb file size.

Publisher of Bible Study Materials
Publisher of Bible Study Materials