Dressing for the Lord
by David W. Cloud

This video series teaches the doctrine of biblical separation. What is separation? Is separatism worth fighting over? Are there "essentials" and "non-essentials." Is teaching on Separation a major part of the Word of God?

These lessons, presented by David Cloud at a Bible Conference in Manitoba Canada, provide a firm scriptural foundation on the doctrine of separation. Every Christian should know the Biblical principles presented in this series.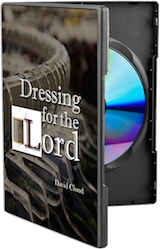 Description/Purchase

View Video Preview
Tab 1


Some of the topics covered in this video:

The Importance of Reproof

The Origin of Clothing

Clothing Is a Language

A Survey of Christian Men on the Subject of Women's Dress

A Bible Study on Modesty

We also deal with common questions such as the following:

Isn't this just a problem for the men?

Since God looks on the heart, why be so concerned about appearance?

Men are going to sin anyway, so what is the big deal?

As an older woman I don't think the modesty issue is very significant for me

God is the business of changing hearts, which is more important than dress

Should women only wear drab sack dresses?

Wearing dresses is old-fashioned and we should not be weird

Those who preach on dress are legalistic

Scripture passages covered include: - 1 Timothy 2:9,10; 1 Peter 3:3,4; Titus 2:3-5; Isaiah 3:16-24; Proverbs 22:6

This is a two part video presentation with added images and graphics. It consists of 36 minute and 30 minute segments.

Also see related
BOOK
Tab 2
Publisher of Bible Study Materials