Roman Catholic Church Puts Mary on the Cross
David Cloud, Way of Life Literature, P.O. Box 610368, Port Huron, MI 48061
866-295-4143,
fbns@wayoflife.org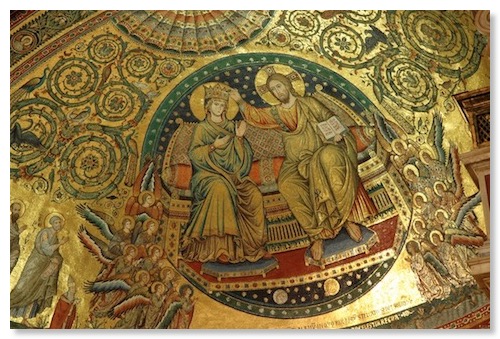 [pictured is Mary crowned Queen of Heaven, Santa Maria Maggiore, Rome]

I
n spite of claims
of contemporary Catholic propagandists, the Roman Catholic Church worships Mary.

She has been exalted as the sinless Mother of God who was bodily assumed into Heaven and crowned Queen of the Universe by Jesus Christ. According to Roman Catholic doctrine, Mary sits on Jesus' throne and acts as His co-mediatrix.

In the Church of the Mother of God of Polish Martyrs in Warsaw, Poland, Mary is depicted hanging on the cross holding the child Jesus.

Outside of the main Mary basilica in Rome (Santa Maria Maggiore) there is a large crucifix with Jesus hanging on one side and a crowned Mary hanging on the other.

This statue depicts Rome's dogma that Mary is the co-redemptress with Christ and that she intercedes for men from heaven and aids in their salvation.

Note the following quotations from the Vatican II Council of the 1960s:

"As St. Irenaeus says, she being obedient, became the cause of salvation for herself and for the whole human race. Hence not a few of the early Fathers gladly assert with him in their preaching ... 'death through Eve, LIFE THROUGH MARY.' This UNION OF THE MOTHER WITH THE SON IN THE WORK OF SALVATION is made manifest from the time of Christ's virginal conception up to his death" (Dogmatic Constitution on the Church, chap. 8, II, 56, pp. 380-381).

"Taken up to heaven she did not lay aside this saving office but BY HER MANIFOLD INTERCESSION CONTINUES TO BRING US THE GIFTS OF ETERNAL SALVATION. By her maternal charity, she cares for the brethren of her Son, who still journey on earth surrounded by dangers and difficulties, until they are led into their blessed home. Therefore the Blessed Virgin is invoked in the Church under the titles of ADVOCATE, HELPER, BENEFACTRESS, and MEDIATRIX" (Dogmatic Constitution on the Church, chap. 8, II, 62, pp. 382-383).

A plaque in the Chapel of the Virgin of the Grace at Saints Vincent and Anastasius Church in Rome says, "Cardinal Benedetto Odescalchi, who became the pope with the name of Innocent XI, initiated THE WORSHIP OF THE IMAGE, placed on the altar in 1677, and wanted his heart to be buried here, not in the main chapel."

This is only one example of many that could be given of the term "worship" used in regard to Mary in Rome's churches.


MARY ON THE ARK OF THE COVENANT


A monstrance created for the St. Stanislaus Kostka Church in Chicago depicts Mary on top of the Ark of the Covenant. Her hands are outstretched and two angels are kneeling before her. The monstrance, called "Our Lady of the Shrine, Ark of Mercy," was dedicated on May 31, 2008 (Catholic News Service, June 10, 2008). This is pure blasphemy. The Ark of the Covenant was located in the Holy of Holies in the Old Testament tabernacle and was the place where God's presence dwelt (Exodus 25:22). Angels do not worship creatures (Acts 14:11-15; Rev. 19:10).

See related photographs here:
Examples of Maryolatry


- Receive these reports by email
- "About" David Cloud
- www.wayoflife.org

______________________


Sharing Policy: Much of our material is available for free, such as the hundreds of articles at the Way of Life web site. Other items we sell to help fund our expensive literature and foreign church planting ministries. Way of Life's content falls into two categories: sharable and non-sharable. Things that we encourage you to share include the audio sermons, O Timothy magazine, FBIS articles, and the free eVideos and free eBooks. You are welcome to make copies of these at your own expense and share them with friends and family, but they cannot be posted to web sites. You are also welcome to use excerpts from the articles in your writings, in sermons, in church bulletins, etc. All we ask is that you give proper credit. Things we do not want copied and distributed freely are items like the Fundamental Baptist Digital Library, print editions of our books, electronic editions of the books that we sell, the videos that we sell, etc. The items have taken years to produce at enormous expense in time and money, and we use the income from sales to help fund the ministry. We trust that your Christian honesty will preserve the integrity of this policy. "For the scripture saith, Thou shalt not muzzle the ox that treadeth out the corn. And, The labourer is worthy of his reward" (1 Timothy 5:18).
Goal:Distributed by Way of Life Literature Inc., the Fundamental Baptist Information Service is an e-mail posting for Bible-believing Christians. Established in 1974, Way of Life Literature is a fundamental Baptist preaching and publishing ministry based in Bethel Baptist Church, London, Ontario, of which Wilbert Unger is the founding Pastor. Brother Cloud lives in South Asia where he has been a church planting missionary since 1979. Our primary goal with the FBIS is to provide material to assist preachers in the edification and protection of the churches.

Offering: We take up a quarterly offering to fund this ministry, and those who use the materials are expected to participate (Galatians 6:6) if they can. We do not solicit funds from those who do not agree with our preaching and who are not helped by these publications. We seek offerings only from those who are helped. OFFERINGS can be mailed or made online with with Visa, Mastercard, Discover, or Paypal. For information see: www.wayoflife.org/about/makeanoffering.html.
Publisher of Bible Study Materials