Publisher of Bible Study Materials
Publisher of Bible Study Materials
Lancaster's Role in the Downgrade
November 1, 2022 (first published May 8, 2020)
David Cloud, Way of Life Literature, P.O. Box 610368, Port Huron, MI 48061
866-295-4143,
fbns@wayoflife.org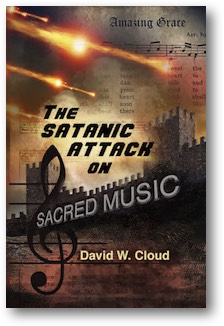 I
n 2001, Dr. Frank Garlock
issued a clear warning: "If a church starts using CCM it will eventually lose all other standards. You need to draw a line concerning your music" (BJU Chapel, Mar. 12, 2001).

Note that Dr. Garlock said that if a church STARTS using CCM--if it starts messing around with CCM, starts using it some--it will eventually lose all other standards. It will eventually depart from its founding biblical principles.

Throughout the world, there are churches that are laboratories to demonstrate the truth of that warning. It cannot be refuted.

One of those laboratories is Lancaster Baptist Church, Lancaster, California, home of West Coast Baptist College.
"Lancaster's Role in the Downgrade" documents the changes that have been produced at Lancaster through the adaptation of contemporary worship music. The church STARTED messing around with CCM openly in about 2010, if not earlier. Lancaster Baptist Church itself has not yet lost all other standards, but many of its graduates and former staff members are far down the road toward that objective. They are establishing out-and-out contemporary, Christian rock churches in California and beyond. In "Lancaster's Role" we examine Coastline Baptist Church, Oceanside, California; Rock Hill Church, Fontana, California (founded by Paul Chappell's son); Grace Gathering, Santa Barbara, California; Ambassador Baptist Church, Fresno, California; and Citypoint Baptist Church, Tempe, Arizona. We document their philosophy, their music, their dress, their preaching.

Some men who have viewed this presentation told us that they didn't believe that this was really happening at Lancaster until they saw the fruit with their own eyes in this video.


The Satanic Attack on Sacred Music
consists of about 17 hours of teaching. It is packed with photos, graphics, audio and video clips. The video series and the book (242 pages) are available for FREE VIEWING AND DOWNLOADING at

https://www.wayoflife.org/satanic-attack/

One previewer commented, "The series is broad and deep with serious factual analysis according to properly interpreted Scripture."

The presentations are as follows:

Emotions and the Music Issue

The Spiritual Environment of the Music Issue: The Church and the Home

Bible Principles of Music (scheduled for later in 2020)

Music's Role in the Great Changes among Fundamental Baptists

Contemporary Music as a Bridge to Dangerous Waters

Bob Jones, Majesty Music, New Reformed Calvinism, and the Gettys

The Language of Music Styles

Lancaster's Role in the Downgrade of Fundamental Baptist Churches

Congregational Singing and the CCM Issue

A Plea to Southern Gospel Music Fans (scheduled for later in 2020)

The Music Issue in a Nutshell
In
The Satanic Attack on Sacred Music
, we study the Bible's most important teachings on the issue of music. We look at the amazing changes that are happening among fundamental Baptists and the role of contemporary music in these changes. We learn about the dangers represented by Contemporary Christian Music: the Pentecostal/charismatic movement, the ecumenical movement, theological liberalism, New Evangelicalism, the Emerging Church, modern Bible versions, contemplative prayer, cultural liberalism, the encyclopedic view of the Bible, the New Reformed Calvinism, the Jesus People movement, theistic evolution, homosexual Christianity, the downgrade in hell, secular rock, Getty-Townend Music, Matt Maher the Roman Catholic apostle of unity, Hillsong, Rick Warren, Robert Webber, William Young and the Shack, C.S. Lewis, Chuck Swindoll's heretical doctrine of grace. We show why that knowing about these movements and people is very important to your life, home, and church.

We show that these things are not "out there" somewhere; they are a very near danger. We document the change in music standard at Bob Jones University and Majesty Music.

We consider the soft style of Christian music vs. the more militant style. We learn how to discern the elements of the world sound of contemporary music. We learn how to discern soft rock. We learn how that chords are used in contemporary music to create an unresolving sound and "feel."

We examine why contemporary music always transforms churches. We consider why using CCM is different than using traditional Protestant hymns.

We show that conservative evangelicals are not safe partners.

We show that the Southern Baptist Convention is more corrupt than ever.

We examine the great changes in Southern Gospel today.

We consider why we should be concerned about "little" changes in music.

We show that trying to deal with the music issue alone won't work well; it won't save the church from apostasy. Unless we have spiritual churches and spiritual homes, the battle is already lost.

And we look at the role of good congregational singing in protecting a church from CCM.

The course also includes a PDF book that contains the entire text. This is a major new book on the issue of contemporary Christian music.


The Satanic Attack on Sacred Music
: the video series and the book (242 pages) are available for FREE VIEWING and downloading at https://www.wayoflife.org/satanic-attack/


- Receive these reports by email
- www.wayoflife.org

______________________


Sharing Policy: Much of our material is available for free, such as the hundreds of articles at the Way of Life web site. Other items we sell to help fund our expensive literature and foreign church planting ministries. Way of Life's content falls into two categories: sharable and non-sharable. Things that we encourage you to share include the audio sermons, O Timothy magazine, FBIS articles, and the free eVideos and free eBooks. You are welcome to make copies of these at your own expense and share them with friends and family. You may also post parts of reports and/or entire reports to websites, blogs, etc as long as you give proper credit (citation). A link to the original report is very much appreciated as the reports are frequently updated and/or expanded. Things we do not want copied and distributed are "Store" items like the Fundamental Baptist Digital Library, print editions of our books, electronic editions of the books that we sell, the videos that we sell, etc. The items have taken years to produce at enormous expense in time and money, and we use the income from sales to help fund the ministry. We trust that your Christian honesty will preserve the integrity of this policy. "For the scripture saith, Thou shalt not muzzle the ox that treadeth out the corn. And, The labourer is worthy of his reward" (1 Timothy 5:18). Questions? support@wayoflife.org
Goal:Distributed by Way of Life Literature Inc., the Fundamental Baptist Information Service is an e-mail posting for Bible-believing Christians. Established in 1974, Way of Life Literature is a fundamental Baptist preaching and publishing ministry based in Bethel Baptist Church, London, Ontario, of which Wilbert Unger is the founding Pastor. Brother Cloud lives in South Asia where he has been a church planting missionary since 1979. Our primary goal with the FBIS is to provide material to assist preachers in the edification and protection of the churches.

Offering: Offerings are welcome if you care to make one. If you have been helped and/or blessed by our material offerings can be mailed or made online with with Visa, Mastercard, Discover, or Paypal. For information see: www.wayoflife.org/about/makeanoffering.html.