Publisher of Bible Study Materials
Important Notice

We are now taking orders again.

Delivery times will be slower than normal.

It may take three to four weeks for you to receive your order.

Questions? support@wayoflife.org



What Every Christian Should Know About Rock Music
by David W. Cloud

Forty years ago, we published Mom and Dad Sleep While the Children Rock in Satan's Cradle to exhort parents and pastors to educate and protect their young people from the great spiritual enemy of rock & roll. Since then, churches have grown strangely quiet about this danger. It must be the "frog in the pot" phenomenon.

Rock permeates society, and we have grown accustomed to it, even though the music and the culture it has helped create have grown ever more wicked. Today our warning about rock is just as fervent as it was 40 years ago, though the content is updated for a new generation.

The power of rock to produce rebels and to build the one-world church has not lessened. Homes and churches that don't give clear and persistent warnings about rock music in all of its forms should not be surprised if their young people are worldly and tend toward New Evangelical and emerging church thinking.

This book lays out nine things that every Christian should know about rock music.

1. It represents a moral revolution.
2. It preaches a philosophy of narcissism and licentiousness.
3. It is permeated with blasphemy.
4. It is the music of false christs.
5. It is condemned by the Bible.
6. It is a fulfillment of Bible prophecy.
7. It is at the heart of the one-world church.
8. It is addictive.
9. The only sure protection is to avoid it.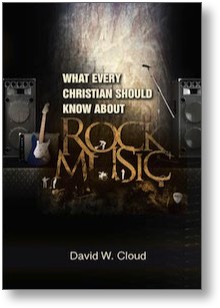 or call... 1-866-295-4143 (toll free: USA & Canada) all other Int'l calls: 1-519-652-2619
If you live in Canada -
For your order to be charged in Canadian funds and to ship within Canada, please place your order by phone. Call toll free 1-866-295-4143.
Note that all cart orders process in US dollars and ship from the USA.

_________

CART TERMS
(if you use the cart)
- Prices shown are US Funds
- Items ship from Port Huron, MI. USA.
- Cart accepts Visa, Master Card, Discover, AmEx, PayPal.
- Shipping is real time USPS lookup base on weight.
- International customers: Call or use cart.
- No refunds. Defective material will be replaced.


SHIPPING

- Orders typically ship in 3-4 days.
- Your order will typically arrive in 2-3 weeks.


DOWNLOADS
- Customer is responsible for backups.
- We cannot guarantee file replacement.