Publisher of Bible Study Materials
The Hyles Effect - A Spreading Blight
by David W. Cloud

The original title of this book, which was first published in March 2012, was The Two Jacks, referring to the ministry and influence of Jack Hyles and his son-in-law Jack Schaap. We have changed the name to The Hyles Effect: A Spreading Blight, because the book is still relevant, in spite of the fact that Jack Hyles is dead and Jack Schaap is in jail. This is for the simple reason that Hyles' vast influence continues unabated and we see it as a spiritual blight.

A major motivation in writing this report is to challenge young preachers not to be man followers and man pleasers, to walk in the fear of God rather than the fear of man, to be serious Bible students and Bereans, to be passionate for Christ and Truth, and to reject pragmatism: whether it be contemporary church growth pragmatism or emerging pragmatism or IFB pragmatism.

The book is a warning about Quick Prayerism, promotionalism, numbers-ism, the abuse of pastoral authority, blind loyalty to man, cover-up and deception and rampant immorality, the neglect of church discipline, and unrepentant heresy. Chapter titles include the following: A Personal Testimony, It's Not Enough to Criticize, A Word about Robert Sumner, Jack Hyles, Jack Schaap, and Shooting the Wounded and Other Silly Arguments.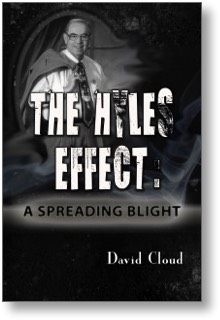 Book: Softcover, 126 pages, 5.5 x 8.5 in.
eBook: PDF, mobi (Kindle), and ePub formats. Select eBook format in cart.
or call... 1-866-295-4143 (toll free: USA & Canada) all other Int'l calls: 1-519-652-2619
If you live in Canada -
For your order to be charged in Canadian funds and to ship within Canada, please place your order by phone. Call toll free 1-866-295-4143.
Note that all cart orders process in US dollars and ship from the USA.

_________

CART TERMS
(if you use the cart)
- Prices shown are US Funds
- Items ship from Port Huron, MI. USA.
- Cart accepts Visa, Master Card, Discover, AmEx, PayPal.
- Shipping is real time USPS lookup base on weight.
- International customers: Call or use cart.
- No refunds. Defective material will be replaced.


SHIPPING

- Orders typically ship in 3-4 days.
- Your order will typically arrive in 2-3 weeks.


DOWNLOADS
- Customer is responsible for backups.
- We cannot guarantee file replacement.