The Joy of Digital SLR Photography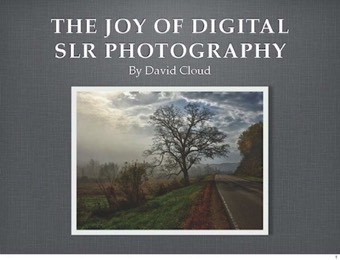 An advanced course on digital SLR (Single Lens Reflex) photography that covers many aspects of technique and technology, including megapixels, aperture, shutter speed, exposure, focus, ISO, flash, tripods, polarizer filters, photography basics, composition, HDR, and care of equipment.

The last section teaches the student how to analyze his or her photos in order to improve them. 525 pages, full color.


The book is only available in PDF digital format.

$24.95

-------
Please Note: Since the pages are all color we do not recommend this book for non-color devices such as the B&W Kindle. This book works well on "larger screen" portable devices such as the Kindle Fire and iPad. It works best with devices and apps that will display single landscape pages full screen. Though a large eBook, we found that the pdf worked well on Kindle for iPad. For other devices try an assortment of apps if available. The pdf also, of course, works great on computers (with appropriate reader software.)

The Joy of Digital SLR Photography